First Look At Star Wars' Newest Ship: The U-Wing From 'Rogue One: A Star Wars Story'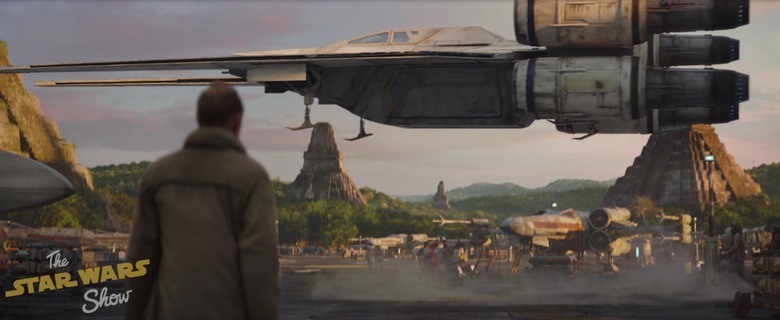 This week's edition of The Star Wars Show gives us our first official look at one of the new spaceships in Rogue One: A Star Wars Story. The above new still is from Gareth Edwards' upcoming stand alone movie. Learn more about the ship and see more images, after the jump.
Lucasfilm Story Group member Matt Martin appeared on the Star Wars Show to give a preview of the newest ship in the galaxy – the INCOM UT-60, which will be better known as the U-Wing:
Its a troop transport and gun ship, so its there to bring in rebel troops through heavy fire zones and get out as quickly as possible. The wings move depending on the situation. Its there to drop off troops and provide air support.
You can see the two different configurations for the ship in the gallery above.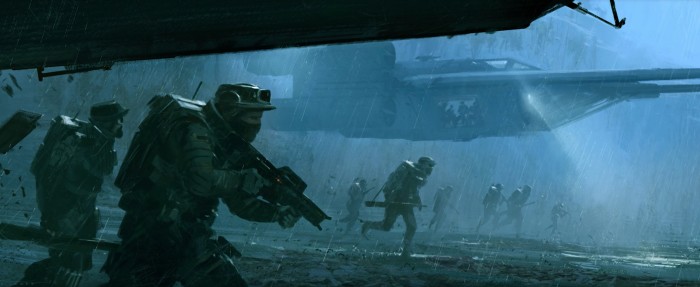 Matt also points out that the ship has been seen before even if you didn't realize it, because it appeared in the first bit of Rogue One concept art that was revealed at a Disney investor meeting and Star Wars Celebration Anaheim 2015. In that concept art, we can see a U-wing dropping off troops.
You might also recall that a few weeks back we talked about a certain Space Monkey who appeared in the Rogue One sizzle reel from Celebration Europe. At the time we told you that rebel alliance member Bistan was a door gunner aboard a U-Wing fighter, one of the new spaceships that appears in the film. So we've seen the inside of the ship in that clip:
It's interesting that we're getting newer and cooler ships from Rogue One, which is set right before A New Hope, than we did from Star Wars: The Force Awakens. I do appreciate that while they are "new and cool" they look like they fit right in during that time period, unlike anything we saw in the prequels which were set just a couple decades earlier.
You can watch the video unveiling of the U-Wing from The Star Wars Show embedded below, whioch includes 360 degree turnaround videos of the ship's two different configurations: