'Fantastic Beasts' Sequel Set For 2018; David Yates Returning To Direct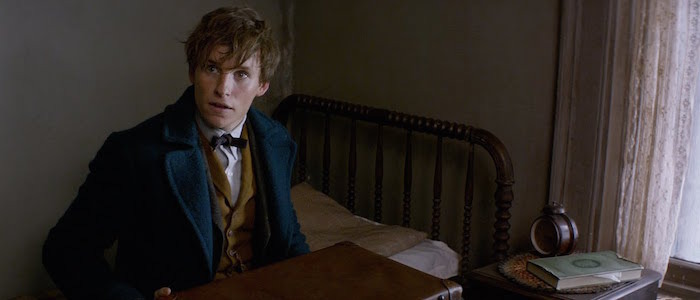 We won't see Fantastic Beasts and Where to Find Them for another few months, but Warner Bros. is already planning its next trip to the wizarding world. The studio has just set a 2018 release date for the next film in the Harry Potter spinoff/prequel series, which will once again be directed by David Yates from a script by J.K. Rowling. 
Warner Bros. will release the Fantastic Beasts sequel on November 16, 2018. It's currently the only film set for that date, although Disney has Gigantic and an untitled live-action fairy tale opening that month and Universal has How the Grinch Stole Christmas. The Fantastic Beasts sequel will be produced by Rowling, David Heyman, Steve Kloves, and Lionel Wigram.
The news is welcome but not surprising. Warner Bros. has had that date set aside since 2014 (in fact, we wondered at the time if they were setting it aside for a Fantastic Beasts sequel), and the studio has been saying for a while now that they expect Fantastic Beasts will be "at least" a trilogy. Plus, just last month Yates revealed Rowling had already written the script for Fantastic Beasts 2. And if you want more where that came from, apparently she's also "got ideas" for Fantastic Beasts 3.
It's a good time to be a Harry Potter fan, at least if you're the kind of Harry Potter fan that wants more Harry Potter. This past weekend marked the official premiere of Harry Potter and the Cursed Child, a play touted as "the eighth Harry Potter story," and the release of its script.
Details on the Fantastic Beasts sequel are being kept under wraps for now. THR vaguely describes it as going "deeper into an increasingly dark time for the wizarding world, where Newt and the story's other heroes have to decide on their allegiances." It seems safe to assume Eddie Redmayne will return as the magizoologist Newt Scamander. Presumably, he'll be joined by some of his co-stars from the first Fantastic Beasts, which include Katherine Waterston, Alison Sudol, Dan Fogler, Ezra Miller, and Colin Farrell.