'Papillon' Remake Casts 'Mr. Robot' Star Rami Malek In The Dustin Hoffman Role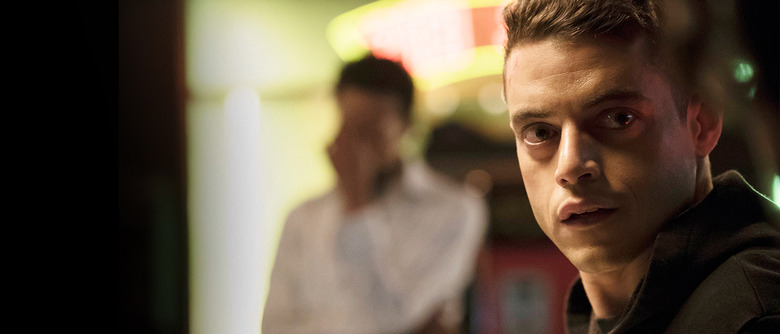 The folks behind the Papillon remake faced the massive challenging of finding an actor worthy of succeeding Steve McQueen in the lead role, and eventually they decided Charlie Hunnam was the guy to do it. Now they've moved on to filling the Dustin Hoffman role, and this time they've got their eyes on a small-screen standout. Mr. Robot's Rami Malek is reportedly looking to join the film being directed by Michael Noer (Northwest) from a script by Aaron Guzikowski (Prisoners). 
Deadline got the scoop on the potential Papillon remake Rami Malek casting. Malek is in negotiations to join Hunnam in the movie, which begins shooting in September. Red Granite is backing the project and Joey McFarland, Riza Aziz, David Koplan, Ram Bergman, and Roger Corbi are producing.
The original 1973 film starred McQueen as Henri Charriere, a safecracker who is wrongly convicted of a murder and sent away to a prison in French Guiana. He befriends a fellow inmate named Dega (Hoffman), and together they stage repeated attempts to escape over the course of several years. As Jacob put it when we first reported on the project, "it's like The Shawshank Redemption stripped of warm feelings and joy." The new version is described as a "contemporary retelling," which presumably means it'll be set in the modern day.
Malek has really blown up in the past year thanks to USA's Mr. Robot, which just recently netted him his first Emmy nomination. But he's been kicking around TV and film for over a decade. His other notable credits include the Night at the Museum movies, Paul Thomas Anderson's The Master, Destin Cretton's Short Term 12, and HBO's The Pacific. It may be hard to get too excited about a re-do of Papillon, but it's easy to be happy for Malek, who deserves to be an even bigger star than he already is.