POTD: 'Boy Meets World' Meets 'Girl Meets World' In A Big Cast Reunion Photo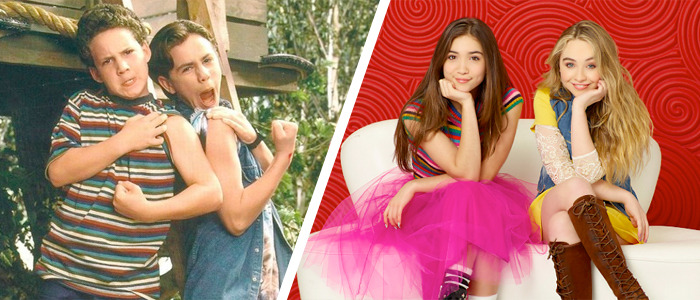 A couple of years ago, during a surge of nostalgic revival of shows from decades past, The Disney Channel brought Girls Meets World to air. The comedy series is a follow-up to the ABC sitcom Boy Meets World from the 1990s, which followed best friends Cory (Ben Savage) and Shawn (Rider Strong) as they grow up into young men and learn life lessons from their teacher Mr. Feeny (William Daniels). Girl Meets World follows that same formula, but instead it follows Cory's daughter Riley (Rowan Blanchard) and Maya (Sabrina Carpenter) as they navigate adolescence as young girls, learning some of the same lessons, but entirely new ones as well.
While the sequel series has brought back several cast members from Boy Meets World in recurring guest roles, it has never seen the kind of reunion that was teased in a cast photo featuring all of the primary players from Boy Meets World united with the cast of Girl Meets World. Check out the photo after the jump.
Here's the Boy Meets World reunion along with the Girl Meets World cast from TV Line: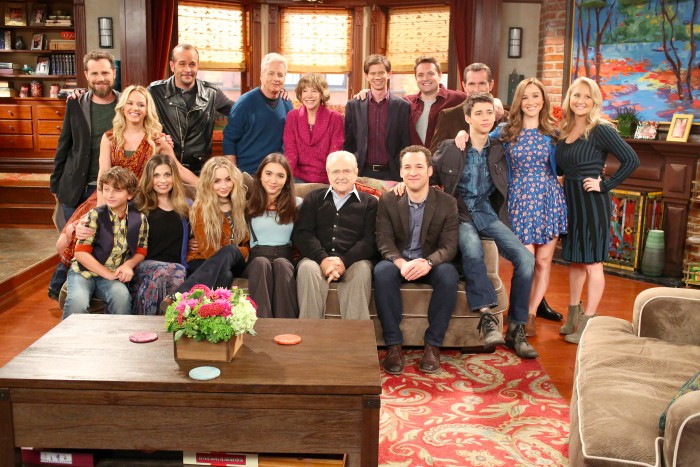 Ben Savage (Cory) and Danielle Fishel (Topanga) are regular cast members on Girls Meets World as Riley's parents, but the show has only intermittently seen the likes of Rider Strong (Shawn), Will Friedle (Eric), William Russ (Alan), Betsy Randle (Amy), Danny McNulty (Harley), Lee Norris (Minkus), Anthony Quinn (Mr. Turner) and of course, William Daniels (Mr. Feeny). Now they're all coming together with the regulars from Girl Meets World, and with a couple bonus cast members too.
Actresses Lily Nicksay and Lindsay Ridgeway played Cory's younger sister Morgan during different periods of the show. Nicksay played her during the first and second seasons while Ridgeway played her for the rest of the series. The character actually had a weird age jump where she went from being an adorable child to an annoying preteen, even though Cory had only aged three years during that same time. The writers even made a joke about it in the show when the new Morgan debuted. It's crazy that sitcoms got away with that back then.
Anyway, if a tweet from young co-star August Maturo (who plays Riley's younger brother) is accurate, then both Lily Nicksay and Lindsay Ridgeway will trade off playing a grown up Aunt Morgan. Surely there will be a couple meta jokes about their role in this episode. Speaking of which, all we know about this special reunion is that all of the old cast members stop by to help make some kind of decision.
TV Line points out that Girl Meets World has yet to be renewed by The Disney Channel for a fourth season, so this episode could be a sort of last hurrah for everyone to get together one last time in front of the camera. Perhaps the big decision is the Matthews family moving back to Philadelphia or something like that. We're not sure when the episode airs, so just stay tuned to your channel guide for this nostalgic episode.