'One More Time With Feeling' Trailer: Andrew Dominik Directs Nick Cave In A Doc Playing For One Night Only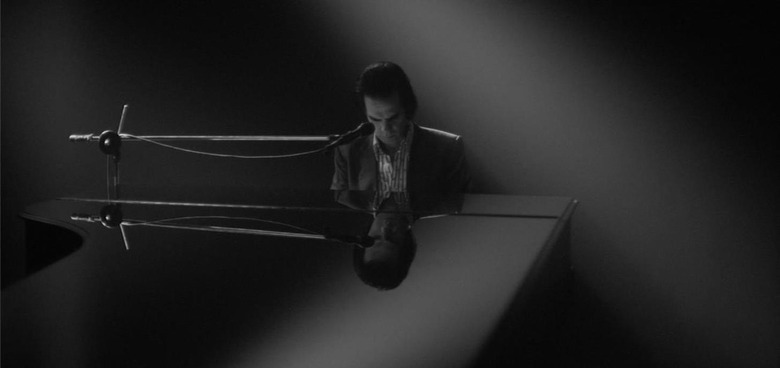 Nick Cave and Warren Ellis' score for Andrew Dominik's The Assassination of Jesse James by the Coward Robert Ford is astonishing. Once you've heard it, the duo's beautifully haunting piece of music is impossible to shake. Almost a decade after Cave and Dominik collaborated on that epic, they've reunited for One More Time With Feeling. The filmmaker directed a doc partially about the making of Nick Cave & the Bad Seeds' new album, Skeleton Tree.
Below, watch the One More Time With Feeling trailer.
Back in 2014, we saw Cave's process depicted in Jane Pollard and Iain Forsyth's 20,000 Days on Earth. That quasi-doc followed a fictitious day in the life of Nick Cave when he was working on his previous record — the very good Push the Sky Away –with his band. It was an intimate glimpse into Cave's world, and it looks like the same might be said of Dominik's film.
Here's the One More Time With Feeling trailer:
The doc will show Cave struggling with the tragic loss of his teenage son, Arthur. His passing is an integral part of the doc. Originally, One More Time With Feeling was going to focus on the bands' live performance, but it became a more personal documentary.
There's an intensity and sadness to the trailer, with Cave's narration accompanying some striking, sometimes eerie black-and-white imagery. Although the trailer is entirely black-and-white, Dominik shot some scenes in color, and he also shot some sequences in 3D. The film features band interviews, narration from Cave, and a live-performance.
For one night only, the Killing Them Softly director's doc will play in theaters. On September 8th, you can see the film in one of the 650 theaters it's playing in around the globe. You can find ticket and theater information here. The day after the event Nick Cave & the Bad Seeds' Skeleton Tree is available to purchase.
Here's the film's official synopsis:
Originally a performance based concept, One More Time With Feeling evolved into something much more significant as Dominik delved into the tragic backdrop of the writing and recording of the album. Interwoven throughout the Bad Seeds' filmed performance of the new album are interviews and footage shot by Dominik, accompanied by Cave's intermittent narration and improvised rumination. Filmed in black-and-white and colour, in both 3D and 2D, the result is stark, fragile and raw.
Nick Cave & the Bad Seeds' sixteenth studio album, Skeleton Tree, will be released globally on vinyl, CD and across all digital platforms on 9th September 2016. The album began its journey in late 2014 at Retreat Studios, Brighton, with further sessions at La Frette Studios, France in autumn 2015. The album was mixed at AIR Studios, London in early 2016.
One More Time With Feeling plays in select theaters on September 8th.