'Death Note' Adds Willem Dafoe As Death God
Justice League good guy Willem Dafoe is ready for a return to the dark side. And when he goes dark, he goes really dark. Dafoe has just joined the cast of Adam Wingard's Death Note in the role of Ryuk, a literal death god who sets the entire murderous plot in motion. He'll star alongside Nat Wolff (Paper Towns), Keith Stanfield (Straight Outta Compton), and Margaret Qualley (The Nice Guys). 
Mashable first reported on the Willem Dafoe Death Note casting. Dafoe will only voice Ryuk, so the character will probably be a CG creation of some sort. Which is too bad, since Dafoe might be the only actor in Hollywood who actually looks the part. Compare the picture of Ryuk below with the very creepy image of Dafoe in Spider-Man above.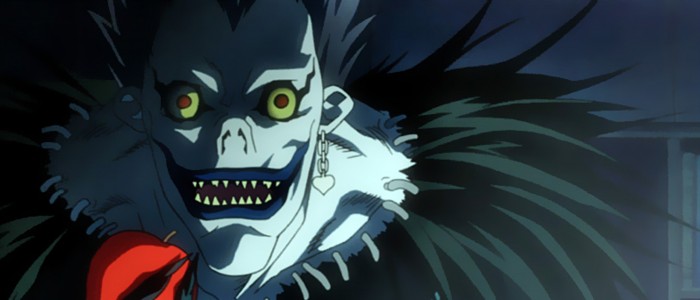 Wolff leads the Death Note cast as a student who comes across a mysterious magical notebook that allows him to kill anyone in the world simply by writing their name and picturing their face. He uses this power to cleanse the world of people he deems unworthy. At first, authorities are puzzled by the seemingly random string of deaths. But when a brilliant young detective (rumored to be played by Stanfield) takes an interest in the case, a cat-and-mouse game ensues.
Ryuk is the shinigami (translation: death god) responsible for dropping the notebook into the human world to begin with — he was bored and wanted to see what would happen. He acts as a sort of confidant to the main character, taking a twisted pleasure in sitting back and watching the mayhem unfold. Paul Nakauchi and Shea Whigham also have unspecified roles in the movie.
Death Note is based on the classic Japanese manga by Tsugumi Ohba and Takeshi Obata, which has also inspired an anime series, video games, and multiple live-action Japanese films. The American adaptation of Death Note has been in the works for years, but really started to pick up last year when Wingard and Wolff signed on. Netflix scooped up the film in April after Warner Bros. pulled out. Roy Lee and Dan Lin are producing with Jason Hoffs and Masi Oka.