'The Secret Life Of Pets' Sequel Coming In 2018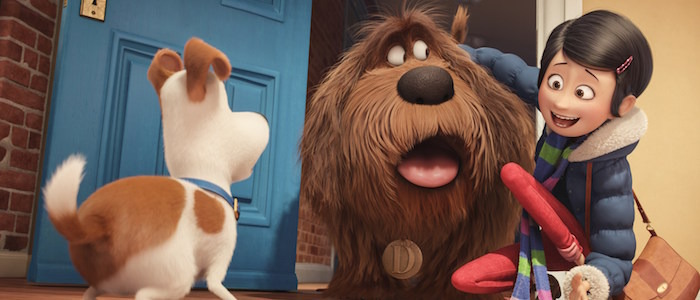 One of the few unqualified success stories to emerge from the barren wasteland that was this summer's box office was The Secret Life of Pets. The animated adventure by Universal Pictures and Illumination Entertainment has earned over $400 worldwide, with several big markets still to go, and was even warmly received by critics to boot. (Well, our own Ethan Anderton excepted.)
Naturally, that means the companies want to cuddle up to Duke and Max and Gidget again. As we've basically assumed all along, Universal and Illumination are planning a Secret Life of Pets sequel, and now they've even set a date. 
According to The Hollywood Reporter, Universal has set the Secret Life of Pets sequel for July 13, 2018. It is currently the only title confirmed to open that weekend, although the rest of the month is filling up fast. Marvel's Ant-Man and the Wasp opens one weekend earlier on July 6, and Fox currently has two movies set for the weekend after, July 20 — the James Cameron-produced Alita: Battle Angel and an untitled animated feature.
Chris Renaud, who directed The Secret Life of Pets with Yarrow Cheney, will helm the sequel. There's no word yet on whether Cheney will be involved this time. Writer Bryan Lynch is also returning, and Chris Meledandri and Janet Healy are back as producers.
While The Secret Life of Pets didn't end with an obvious plot setup for a sequel, it seemed pretty clear that Universal and Illumination were hoping to make one. And the film did a good job of laying the groundwork for an entire franchise. The characters are appealing, and the universe they live in is big and varied enough to sustain more adventures. It may not have been the most original movie in the world, but it felt safe and pleasant and reliable, and — especially when you're looking for something to watch with — the kids sometimes that's enough.
Universal and Illumination already have one phenomenally popular franchise together, the Despicable Me / Minions films. It seems they've taken the big lesson of that film to heart — namely, that audiences will turn out in droves to see cute creatures being cute together. They'll aim for that target again with this winter's Sing, which puts a bunch of anthropomorphic animated animals into an American Idol-style contest, and next summer brings another Despicable Me sequel.