Fantastic Fest 2016 Adds 'Arrival' And New Films From Paul Verhoeven And Park Chan-Wook [Updated]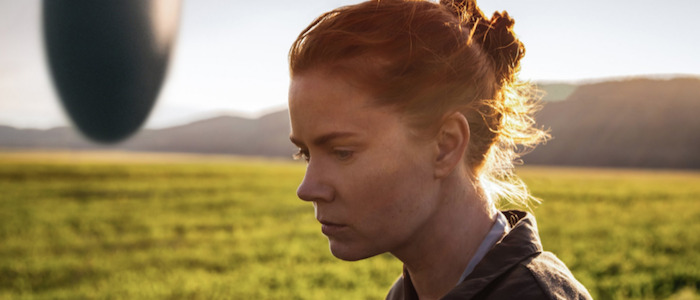 UPDATE: Fantastic Fest has unveiled the second wave of films in this year's line-up, including Denis Villeneuve's Arrival, Paul Verhoeven's Elle, Park Chan-Wook's The Handmaiden, and Sadako vs Kayako (which finds the monsters from The Ring and The Grudge battling it out). We have added the complete list of second wave films to the bottom of this post.Fantastic Fest, the Austin, Texas-based film festival built around showcasing genre movies from the around the world, has announced its first wave of programming and it's a doozy. Sure, the biggest news here is a red carpet screening of Miss Peregrine's Home For Peculiar Children, but that's just the bait. The real appeal of Fantastic Fest, and the real appeal of this first wave announcement, is the collection of odd and unusual films that accompany the headliners. Come for the Tim Burton movie, but stay for the latest from Werner Herzog, Andrea Arnold, Don Coscarelli, and a number of the most unusual filmmakers working on the international stage at the moment.
In addition to the line-up of new movies, Fantastic Fest 2016 will also showcase a block dedicated to Indian cinema, offering a combination of new and repertory screenings. The full line-up hasn't been unveiled yet, but the press release specifically mentions "the director's cut of Psycho Raman, the hyper violent onslaught from India's most notorious filmmaker, Anurag Kashyareap; the sweeping, 400-year epic of masala madness, Magadheera; and the ultra-stylish Bollywood gangster oddity, Khalnayak."
The fest will also offer the world premiere of Phantasm: Ravager, the long-awaited fifth entry in Don Coscarelli's bizarre and beloved horror series. There will also be a repertory screening of the original Phantasm, which was just remastered with the help of J.J. Abrams.
This year will also see Fantastic Fest enter the virtual reality space for the first time, with the VR experiences Mule ("An emotional, fast-paced hell-ride that catapults the viewer through the final shocking moments of a man's life (and beyond)") and Burlap (a disturbed killer who zeroes in on an unfortunate babysitter to complete the creation of his secret 'masterpiece'") being available for those who have the nerve for first-person horror.
More traditional movie fans can look to American Honey (the American debut of Fish Tank director Andrea Arnold), Salt and Fire (the latest from the masterful Werner Herzog), and countless other movies with intriguing log lines. You can find the complete list of wave one movies below.
Fantastic Fest runs from September 22–29. I'll be in attendance to let you know what movies you absolutely need to have on your radar.
First Wave:
24X36: A MOVIE ABOUT MOVIE POSTERS
Canada, 2016
World Premiere, 83 min
Director – Kevin Burke
Through interviews with art personalities from the past four decades, 24 x 36 examines the birth, death and resurrection of illustrated movie poster art.A DARK SONG
Ireland, 2016
World Premiere, 99 min
Director – Liam Gavin
Sophia is a determined young woman who hires a weird occultist to perform a ritual which will risk not only their lives and souls, but also the very essence of their being.ALOYS
Switzerland, France, 2016
US Premiere, 91 min
Director – Tobias Nölle
Aloys Adorn is a lonely private investigator who, after the death of his father, finds himself sucked into a mysterious "telephone walking" game with a mysterious woman who might be his only hope.AMERICAN HONEY
United States, 2016
Texas Premiere, 158 min
Director – Andrea Arnold
Andrea Arnold's first US feature follows 18-year-old Star as she leaves her home in Oklahoma and goes in search of adventure, adulthood and America.BELIEF: THE POSSESSION OF JANET MOSES
New Zealand, 2015
US Premiere, 89 min
Director – David Stubbs
The true story of the Wainuiomata exorcism provides the basis for David Stubbs' striking debut feature, a documentary exploring the tragic death of Janet Moses in a traditional Maori exorcism ceremony.THE CREW
France, 2016
US Premiere, 81 min
Director – Julien Leclercq
It's bad men face versus worse men as thieves face off against dealers in this super slick French heist thriller from the director of Chrysalis and The Assault.DEAREST SISTER
Laos, France, Estonia, 2016
World Premiere, 100 min
Director – Mattie Do
After moving to the city, a poor woman realizes her recently blinded cousin can not only commune with the dead, but they can provide a path to much-needed wealth.DOWN UNDER
Australia, 2016
North American Premiere, 87 min
Director - Abraham Forsythe
In the aftermath of massive race riots, two carloads of dim-witted alpha males set off to defend their respective territory with outrageous results in this sharp edged Australian satire.THE DWARVES MUST BE CRAZY
Thailand, 2016
World Premiere, 92 min
Director – Bhin Banloerit
A Thai village of little people is attacked by evil, butt-munching, fart-tracking Krause spirits – floating heads with attached intestines – in this slapstick horror-comedy.FAULTLESS
France, 2016
North American Premiere, 103 min
Director – Sébastien Marnier
After burning out in Paris, Constance returns to her home town only to find herself in lethal competition with a younger girl for her old job. FRAUD
United States, 2016
Texas Premiere, 53 min
Director – Dean Fleischer-Camp
A family's home movies document a desperate crime, and the subsequent bid to escape the consequences in this impressionistic meta-fiction born from the manipulation of hundreds of hours of innocuous uploads to YouTube. An extraordinary feat of editing, a provocative parable of the pursuit of happiness and a disturbing demonstration of the mutability of the stories we share in the Internet age.THE GREASY STRANGLER
United States, 2016
Special Screening, 93 min
Director – Jim Hosking
Ronnie fears his first love affair is turning his father into a bloodthirsty monster who's covered in grease and has an 18-inch penis that looks like a dead chicken.JUNGLE TRAP : Presented By Bleeding Skull
United States, 1990/2016
World Premiere, 80 min
Director – James Bryan
Exploitation demigod James Bryan's massively entertaining, decapitation-fueled shot-on-video horror masterpiece about a jungle hotel haunted by kill-crazy ghosts in loin cloths, shot in 1990 and unreleased until THIS VERY MOMENT.KHALNAYAK
India, 1993
Repertory Screening, 190 min
Director - Subhash Ghai
Ballu is an unrepentant gangster who has dedicated his life to the celebration of villainy. He is a bad, bad man and not ashamed one bit. However, with the help of his mother and a sympathetic cop, Ballu will rise above his circumstances to gain satisfying redemption.MAGADHEERA
India, 2009
Repertory Screening, 157 min
Director – S.S. Rajamouli
Harsha, a dirt bike racer, lives for thrills. One day he crosses paths with Indu, a girl with whom he feels strangely connected. Through this bond, Harsha discovers his hidden identity: a reincarnated warrior king.MISS PEREGRINE'S HOME FOR PECULIAR CHILDREN
United States, 2016
Special Screening, 123 min
Director – Tim Burton
From visionary director Tim Burton, and based upon the best-selling novel, comes an unforgettable motion picture experience.  When Jake discovers clues to a mystery that spans alternate realities and times, he uncovers a secret refuge known as Miss Peregrine's Home for Peculiar Children. As he learns about the residents and their unusual abilities, Jake realizes that safety is an illusion, and danger lurks in the form of powerful, hidden enemies. Jake must figure out who is real, who can be trusted, and who he really is.ORIGINAL COPY
Germany, 2016
Texas Premiere, 95 min
Directors – Florian Heinzen-Ziob and Georg Heinzen
In the heart of Mumbai, behind the screen of one of the last Hindi Film cinemas, lives Sheik Rahman, the city's last painter of film posters. This is his story.PHANTASM: REMASTERED (1979)
United States, 1979
Special Screening, 88 min
Director – Don Coscarelli
One of the most influential and important horror films of all time, Don Coscarelli's Phantasm returns to Alamo Drafthouse's screens in a gorgeous 4k remaster.PHANTASM: RAVAGER
United States, 2016
World Premiere, 87
Director – David Hartman
The fifth and final film in the classic Phantasm film series, Phantasm Ravager follows our intrepid everyman hero Reggie on his quest across dark dimensions as he struggles to confront and vanquish the sinister Tall ManPOPOZ
The Netherlands, 2015
International Premiere, 85 min
Directors- Erwin van de Eshof & Martijn Smits
Festival favorite Huub Smit (New Kids Nitro; New Kids Turbo; Bros Before Hos) stars as a Dutch cop raised on far too many American action films in this outrageous action comedy.PSYCHO RAMAN
India, 2016
US Premiere, 127 min
Director – Anurag Kashyap
Raghavan is a cop: brutal, violent, and drug-addicted. Ramanna is a criminal: psychotic, unpredictable, and vicious. It's only a matter of time before they meet and when they do, Mumbai's slums will be colored deep crimson.SALT AND FIRE
Mexico, 2016
North American Premiere, 93 min
Director – Werner Herzog
Herzog's most wildly unpredictable film, Salt and Fire is a meticulously slow burning, quasi-ecological thriller punctuated by moments of the lyrically poetic and the inexplicably, outrageously absurd.S IS FOR STANLEY
Italy, 2016
North American Premiere, 82 min
Director – Alex Infascelli
Alex Infascelli's documentary about Emilio D'Alessandro, Stanley Kubrick's personal assistant for more than thirty years, which provides never-before-seen insight into the private auteur.THE VOID
Canada, 2016
World Premiere, 90 min
Directors – STEVEN KOSTANSKI & JEREMY GILLESPIE
Trapped in a hospital with a handful of people, a small town sheriff finds himself caught up in the demented plot of a death-obsessed madman.WE ARE THE FLESH
Mexico, 2016
Texas Premiere, 80 min
Director - Emiliano Rocha Minter
Somewhere within a ruined city, a man makes an offer to a pair of siblings who wander into his abandoned building: food and shelter in exchange for building a strange room...ZOOLOGY
Russia, France, Germany, 2016
US Premiere, 87 min
Director – Ivan I. Tverdovsky
Natasha is a lonely, middle-aged woman who still lives with her mother and feels insecure about her tedious life... until she grows a tail. 
Second Wave:
AALAVANDHALAN
India, 2001
International Premiere, 178 min
Director – Suresh KrissnaKamal Hassan stars in this ridiculously entertaining tale of an Indian commando pitted against his own serial killer twin brother in a deadly race to save the beautiful Tejaswini from certain death.
ARRIVAL
United States, 2016
Opening Film, 116 min
Director - Denis Villeneuve
When mysterious spacecraft touch down across the globe, an elite team – lead by expert linguist Louise Banks (Amy Adams) – are brought together to investigate. As mankind teeters on the verge of global war, Banks and the team race against time for answers – and to find them, she will take a chance that could threaten her life, and quite possibly humanity.
ASSASSINATION CLASSROOM – GRADUATION
Japan, 2016
U.S. Premiere, 118 min
Director – Eiichiro Hasumi
This conclusion to last year's hit finds Class-E running out of time in their efforts to assassinate Koro-sensei, their yellow octopus smiley-faced teacher who is about to destroy Earth.
THE BAD BATCH
United States, 2016
U.S. Premiere, 115 min
Director – Ana Lily Amirpour
Ana Lily Amirpour follows up her alt-cult sensation A GIRL WALKS HOME ALONE with her highly anticipated dystopian cannibal desert trip.
DOG EAT DOG
United States, 2016
U.S. Premiere, 93 min
Director - Paul Schrader
From the brilliant minds of Edward Bunker and Paul Schrader comes this unhinged pulp comedy at a million miles an hour; the story of three hardened criminals and the final, simple crime which will bring them all down.
ELLE
France, 2016US Premiere, 131 minDirector – Paul VerhoevenPaul Verhoeven's debut in French cinema highlights an incredible Isabelle Huppert in a dramedy that first subverts then transgresses the rape-revenge narrative.
EYES OF MY MOTHER
United States, 2016
Regional Premiere, 77 min
Director - Nick Pesce
After a traumatic event, a young girl begins to associate pain and death with love and friendship in increasingly dangerous ways.
GIRL WITH ALL THE GIFTS
United Kingdom, United States, 2016
US Premiere, 111 min
Director – COLM MCCARTHYIn a dystopian future, young Melanie must go on a trip with the soldier who needs to kill her, the doctor who wants to use her and the teacher who wants to help.
GOKE: BODY SNATCHER FROM HELL – PRESENTED BY AGFA
Japan, 1968
Special Screening, 84 min
Director – Hajime Satô'sAn airplane crashes under mysterious circumstances and the survivors find themselves stalked by an evil blobby presence bent on world domination.
THE HANDMAIDEN
South Korea, 2016
U.S Premiere, 145 min
Director – Park Chan-Wook
In the 1930s, country girl Sook-Hee is hired as a handmaiden to Japanese heiress Lady Hideko, who lives a secluded life with her uncle. However Sook-Hee is not what she seems... and neither is Lady Hideko, Count Fujiwara or Uncle Kouziki.
HELMUT BERGER, ACTOR
Austria, France, Italy, 2015
Texas Premiere, 90 min
Director – Andreas HorvathFilmmaker Andreas Horvath (EARTH'S GOLDEN PLAYGROUND) offers a deeply personal and unblinking portrait of Helmut Berger, the Austrian film star of the '60s and '70s best known for his work with director Luchino Visconti.
THE HIGH FRONTIER
Poland, 2016
International Premiere, 97 min
Director – Wojciech Kasperski
Father/son bonding time takes an extraordinarily dark turn when a former guard and his two teen boys receive an unexpected guest in their remote cabin along the Poland-Ukraine border.
KAMMATTIPADAM
India, 2016
North American Premiere, 240 minDirector – Rajeev Raji
Aging gangster Krishnan returns to his hometown after receiving a distressing phone call from a friend, only to find that he's picking up the pieces after thirty years of bloody gang war.
NOVA SEED
Japan, Canada, 2016
U.S. Premiere, 64 minDirector - Nick DiLiberto
Painstakingly hand-drawn by a single animator over four years, this saturated slice of lo-fi sci-fi pulp recalls both Moebius and Miyazaki as it ambitiously realizes an eclectic post-apocalyptic future populated by lion-men, brain-leeching slugs and Saturday Morning Cartoon villainy, the latter most memorably personified by the sublimely named Dr. Mindskull.
RAW
France, 2016
US Premiere, 98 min
Director – Julia DucournauPart sister bonding, part coming-of-age story, part gross-out horror flick, Julia Ducournau's debut feature is the terror discovery of 2016.
THE RED TURTLE
France, 2017
North American Premiere, 81 minDirector - Michaël Dudok De Wit
A castaway ekes out an existence on a deserted tropical island guarded by an enigmatic red tortoise in this magnificent animated fable from the imagination of acclaimed Dutch animator Michael Dudok de Wit (FATHER AND DAUGHTER) and produced in part by the legendary Studio Ghibli.
SADAKO VS KAYAKO
Japan, 2016
US Premiere, 98 min
Director - Kôji Shiraishi
The showdown of the century is about to begin and no one in Tokyo will be spared: Ring's Sadako vs The Grudge's Kayako in a fight to determine the future of humanity.
SAFE NEIGHBORHOOD
Australia, United States, 2016
World Premiere, 85 min
Director – Chris Peckover
Chris Peckover, director of 2010's UNDOCUMENTED, returns to Fantastic Fest with this playfully twisted suburban Christmas thriller in which babysitter Ashley must protect twelve-year-old Luke during an unusual home invasion.
SHIMAUMA
Japan, 2016
International Premiere, 103 min
Director – Hajime Hashimoto
Dora is a lowlife con man who runs a marriage scam with his associates. But a badly timed encounter with a yakuza will plunge Dora into a new, deep world of darkness, both ugly and enticing!
SWEET, SWEET LONELY GIRL
United States, 2016
World Premiere, 76 min
Director – A.D. CalvoAdele is a friendless young woman living with her wealthy but agoraphobic aunt. She meets Beth and the two become fast friends, but Adele may be drawn to a darkness within her new companion, a darkness that threatens to overtake everything.
TERRY TEO
New Zealand, 2016
International Premiere, 92 min
Director – Gerard JohnstoneTeenaged cat burglar Terry Teo turns crime fighter when his estranged father is killed by local gangsters in this revival of the classic New Zealand character.
TONI ERDMAN
Germany, 2016
U.S. Premiere, 162 min
Director - Maren Ade
A father tries to reconnect with his repressed, career-driven daughter in the funniest movie to ever come out of Germany.
THEY CALL ME JEEG ROBOT
Italy, 2015
Texas Premiere, 118 min
Director – Gabriele MainettiA lowlife thug finds his grimy, pornography-filled existence disrupted when he accidentally acquires superpowers that force him to become a better man against his will.YOUNG OFFENDERSIreland, 2015
International Premiere, 84 min
Director – Peter Foott
The day after the largest drug bust in Irish history, with massive packages of cocaine washing up along the shoreline, two go-nowhere teens make a most sensible decision: They will ride to the coast on stolen bicycles and claim a bundle of that wondrous cocaine for themselves.
THE ZODIAC KILLER – Presented by AGFA and SOMETHING WEIRD
United States, 1971
World Premiere, 85 min
Director – Tom HansonAGFA and Something Weird present a brand new 4K transfer of this sanity-defying, tabloid-horror vortex that was produced with one goal in mind: to capture the real-life Zodiac Killer.