VOTD: Let 'Game Of Thrones' Help You Get Through This Abysmal Election Year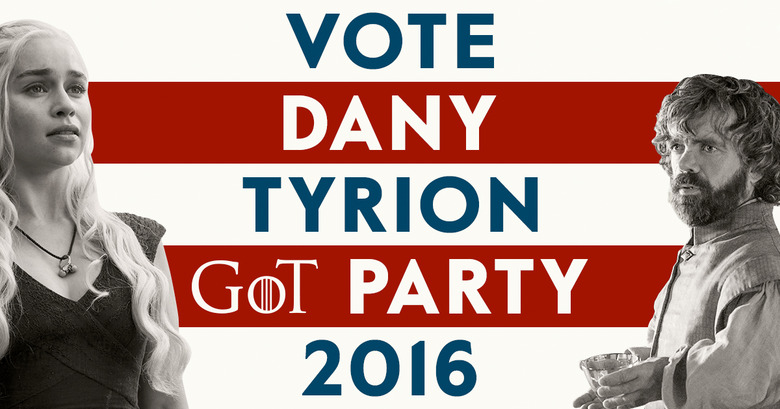 Even though we won't be getting any new Game of Thrones until the summer of 2017, HBO is using their insanely popular fantasy show to help get you through this nightmare of an election year in the United States. The sixth season came to an end a little while ago, but HBO is coasting on the wave of excitement that came with the finale right into the heart of election season with a little Westeros politics fun.
Any Game of Thrones fan will tell you that the show is about the endless struggle for power in Westeros, and now fans can vote to determine who will be the leader of what has been dubbed The GOT Party. There are four primary candidates, each with a running mate, and you can help determine who comes out on top.
Here's The GOT Party video straight from HBO's political campaign website:
Fans can head over to TheGOTParty.com to cast their vote for Daenerys Targaryen, Breaker of Chains, and her running mate Tyrion Lannister; Jon Snow, The White Wolf, and his running mate Lyanna Mormont; Cersei Lannister, The Lioness, and her running mate Qyburn; or Petyr Baelish, Lord Littlefinger, and his running mate Sansa Stark.
You can vote once per day throughout the month of August for your chosen candidate, and a winner will be crowned on September 1st. At the time of this writing, Jon Snow has a commanding lead at 56%, which is well above Daenerys Targaryen with 36% of the votes. Petyr Baelish has a pitiful 5.6% while Cersei is bringing up the shameful rear with 2.4%.
It's not clear if anything significant will come out of this vote, or if it's just a way to keep fans engaged as they wait a year for the new season. Really, this all seems to be a push for fans to buy the sixth season of the show in various digital formats that are available now, which will probably serve you better than watching all the election coverage on cable news.