'Guardians Of The Galaxy Vol. 2' Will Not Involve Infinity Stones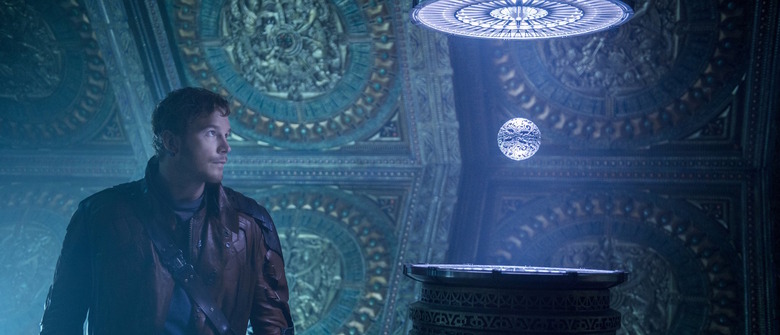 The end credits for 2012's The Avengers first introduced Thanos to the Marvel Cinematic Universe, and his quest to collect all the Infinity Stones will presumably come to a head with 2018's Avengers: Infinity War. But don't look for him to make much progress in Guardians of the Galaxy Vol. 2.
Director James Gunn has stated, in no uncertain terms, that the Infinity Stones will not play a role in the upcoming sequel. Instead, as we saw in the Comic-Con footage, Star-Lord and company will have their hands full with the Ravagers, led by Taserface (Chris Sullivan), and the Sovereign, led by Ayesha (Elizabeth Debicki). 
Thanos has mostly remained in the background of the MCU, but the most screentime he's ever gotten was in the first Guardians of the Galaxy. He is the adopted father of Gamora (Zoe Saldana) and Nebula (Karen Gillan), and allied with Ronan the Accuser (Lee Pace) in an attempt to get his hands on the Power Stone. In the end credits for Avengers: Age of Ultron, Thanos decides to become more proactive in his quest. Some fans wondered if that meant he might return in fuller force for Guardians of the Galaxy Vol. 2, but Gunn insists that's not the case.
"There will be no Infinity Stones in Vol. 2," Gunn revealed on his Facebook page. A nitpicky fan wondered if Infinity Gauntlets could still appear, but Gunn nipped that speculation in the bud as well. "There will be infinity nothing," he replied. "It's a story about the Guardians, and isn't meant to lead to anything else."
This isn't completely new information. In December, Marvel Studios president Kevin Feige hinted that Thanos would not show up in Guardians of the Galaxy Vol. 2. "I wouldn't look too hard in that movie for Thanos," he said. And then in February, Gunn just came out and stated that "Thanos will not appear in Vol. 2." He continued, "Thanos isn't in this movie. I think he's gonna have a little bit to do and say when it comes to certain wars and infinity. We've got other fish to fry in Guardians of the Galaxy Vol 2."
However, we all know things can change during pre-production and shooting — and that filmmakers of highly anticipated blockbusters will straight-up lie about plot twists if needed. So in case you were still skeptical, it's worth repeating that there will be no Infinity Stones in Guardians of the Galaxy Vol. 2. But don't worry, not all the MCU heroes have forgotten about the Mad Titan. As we learned last week, Detective Thor is on the case.
Guardians of the Galaxy Vol. 2 arrives May 5, 2017. Thor: Ragnarok opens November 3, 2017. And Thanos will finally get his day when Avengers: Infinity War hits theaters May 4, 2018.