Starz' 'American Gods' Will Tackle "Race, Gun Control, Gender, And Jesus Christ" [TCA 2016]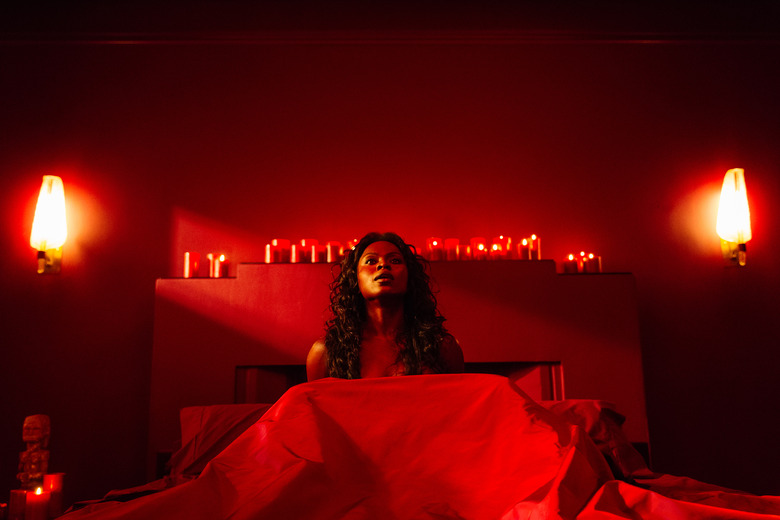 Starz presented a panel on their 2017 series American Gods, based on Neil Gaiman's graphic novel. Co-showrunners Bryan Fuller and Michael Green were in attendance and screened a trailer first. The clips showed Shadow Moon (Ricky Whittle) released early from prison for his wife's funeral. He throws a gold coin on her grave and it sinks into the dirt. His wife, Laura Moon (Emily Browning) returns later in the clip saying, "Who said I died, Bobby?" But not before we see Mr. Wednesday (Ian McShane) recruit Shadow Moon when they meet on an airplane. Other visual clips include Shadow Moon walking through the forest, and swinging a hammer at a cow's head in silhouetted slow motion.
After the panel, Fuller and Green spoke to reporters further about the visual aesthetic of American Gods. "Neil Gaiman's book cracks open a window in a world we wanted to see," Green said. "We started working with David Slade who is an incredible visionary and just immediately started sketching it out physically and conversationally until we could see the ideas really come to life, so we owe a lot of credit to his lens." 
During the panel, Fuller described how the show would show the gods coming to America. "The Coming to Americas, we wanted those in every episode, how the Gods came to America," Fuller said. "In the novel, it is very much a sausage party. It's about two guys on a road trip. We had such fantastic female characters in the piece that we wanted to expand those and let the narrative accordion out and include those. Bilquis [Yetide Badaki] is in one scene [in the book], she's a fully fleshed out character with an arc that's just as exciting as any other characters. Laura is one of our absolute favorites. That was the character for us, it was fleshed out to a good extent in the novel and yet we got to pick up that baton and run with it. There's even an episode that functions as a pilot specifically from Laura's point of view. That was one we really took ownership of and we're really excited about telling her tale."
After the panel, Fuller elaborated on the format of the episodes. "The structure of the show, we like to open with the Coming to Americas and then delve into the different characters," Fuller said. "Most of the time you see that Coming to America character enter into the narrative in a greater way. So we love that structure. It gives us something really fun to build to and also that's easily identifiable in a way."
During he panel, Green spoke about Gaiman's support of their adaptation. "Neil deliberately wrote this as a book," Green said. "He said something that stuck with me about how the punctuation in this novel can be a guideline because things can happen in between it. Every time we say, 'What if this happens between this and this?' He says 'Thank you, I love it.'"
After the panel, Fuller added how Gaiman filled in some of the graphic novel's ambiguity for them. "Without getting into too many specifics, we asked him to explain something in the book and we both looked at each other and said, 'I didn't get that from the book,'" Fuller said. "It's helpful to have somebody who can explain all those things."
American Gods' take on religion is a positive one. It shines attention on lesser known religions and myths to give them more attention in a culture where three major religions dominate the conversation.
"We both have an affection for religion and respect for religion," Fuller said. "It's hard not to recognize that the power religion gives to people and inspiration in their daily lives. When we're talking about issues of religion, we want to continue to reinforce the positive aspects of it."
After the panel, Green added that the show hopes to tackle other issues besides religion. "There are issues we've wanted to get into: race, gun control, gender, Jesus Christ," Green said. "Both Starz and Freemantle have been nothing but encouraging on it."
Other aspects of the adaptation include making Shadow Moon's internal monologue an external narrative force. "It wasn't so much changing who he was, but augmenting him for a television audience who can't be in his head and listen to a monologue," Fuller said during the panel.
Whittle went through a rigorous casting process of 16 auditions. Fuller and Green were looking for an African-American actor specifically. "It was never really a question of doing otherwise for us," Fuller said. "It just felt like in order to be true to the book, you had to cast the character that was written which is somebody who is not white. We're not color blind casting. We're actually very consciously aware of color in the cast and ethnic specificity because he book is so specific. There are times where a character was described as having very dark skin. We make a suggestion to Neil, he says, 'That actor is black. This character is Native American.' It's a map we just stick to."
Fuller also cast Gillian Anderson, whom he worked with on Hannibal. "[I asked her] just like, 'What do you think about American Gods?'" Fuller said. "She was in. She's a massive Neil Gaiman fan. They've become friends out of this process. I think Gillian knows if there's anything I'm doing and she's remotely interested, the door's wide open. She's a fantastic actor and continually surprises us. She's very much a collaborator."
Dane Cook also appears and embraced playing an obnoxious character. "He was a fun one," Green said. "He's really fun. How do you get someone who can be a really entertaining dick? He said yes. It was pretty simple that way." Fuller added, "And [he was] really very savvy as an artist and understands the perception of his brand and how to subvert it in the role."
Fuller and Green also discussed their collaboration, saying they each give 100% and the show requires 200%. They support each others and their writers' ideas by saying "yes, and" when developing, and they have a long term goal for American Gods. "It's the only way to get through the eventual six seasons of this," Green said, turning to Starz managing director Carmi Zlotnik and asking him to get on board with the plan.
American Gods debuts in 2017.