'Sicario' Screenwriter Says The Sequel Is The First Movie On "Steroids"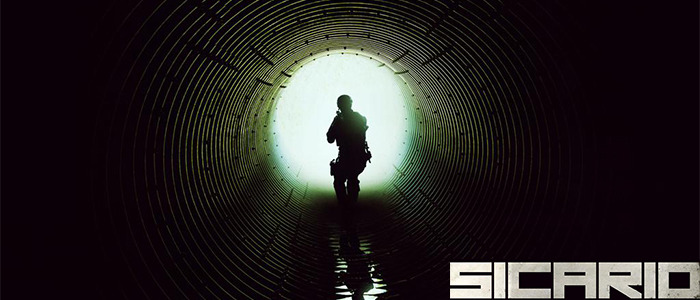 Denis Villeneuve isn't directing the Sicario sequel, as he's busy at the moment with Blade Runner 2. But screenwriter Taylor Sheridan did come back to pen the sequel, which will center around Alejandro (Benicio Del Toro) and Matt Graver (Josh Brolin). Sheridan says he's exploring similar ideas and themes, except on a larger scale.
Below, screenwriter Taylor Sheridan discusses Sicario 2.
Stefano Sollima (Gomorrah TV series) is directing the sequel. Sollima loves the first movie, and his sequel is a "different journey in the same world" with an "incredible amount of huge action sequences." The director claims the new story isn't about drug dealing; it's about immigration. Sheridan, however, doesn't see the first Sicario as being about the drug war.
While promoting the upcoming (and promising) Hell or High Water, Sheridan tells Collider Sicario 2 is the kind of script he dares Lionsgate to make, and he reminds some people of what the first movie is about:
Lionsgate understood that they bought something that was a spec [on the first film]. So there was a certain amount of latitude they had to give me [on the sequel]. What usually would be a long meeting about what's this character about, what's his arc—we didn't have that. They trusted me to just go do it, and with Sicario, which I'm really proud of, it really approaches some difficult subjects. I didn't want to demean that with the second one. So I really wrote something I double dared them to actually make. Ten times more unsentimental, more vicious and really reflective... It's funny a lot of people think Sicario's about the drug war and the cartels. It's not. It's a movie about American policy and the way that we police and [Sicario 2] is that on steroids.
Sicario certainly is unsentimental, vicious ("Time to meet God"), and reflective. Sheridan wanting to tell an even bleaker, more hard-hitting story — which sounds about right for a movie about Alejandro — is good news for the sequel, which apparently won't just go bigger with the action. The screenwriter wrote a lean, mean, and thoughtful thriller the first time around, so his remaining involvement in the potential trilogy is encouraging.
There's no word on when we might see Sicario 2, but we've heard a bit about what Lionsgate and the filmmakers have planned for the sequel. Emily Blunt isn't starring, due to a reported scheduling conflict. She's instead playing the lead in a very, very different kind of sequel, Mary Poppins Returns.