'The Tick' Images: Peter Serafinowicz Steps Into The Big Blue Suit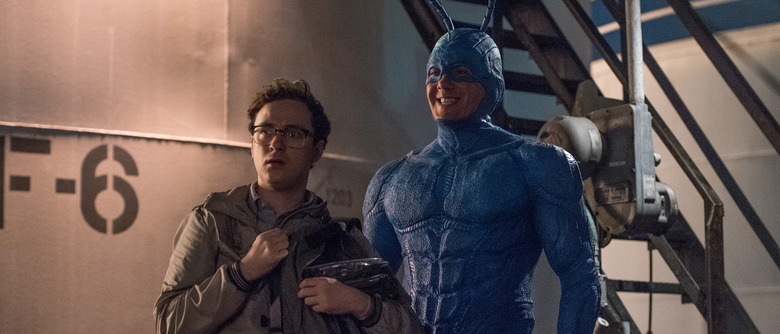 We were initially disappointed to hear that the upcoming revival of The Tick would not have Patrick Warburton returning to the lead role. But by the looks of it, Peter Serafinowicz should be a more than worthy successor. A batch of new The Tick stills have been revealed, showing more of Serafinowicz in that musclebound blue suit, plus Griffin Newman as Arthur, Jackie Earle Haley as The Terror, Brendan Hines as Superian, and more. Check out the latest The Tick images below.
The costume's a little different, but the goofy energy seems to remain the same. Now that you've oohed and ahhed over the Tick images, here's an official statement from creator and executive producer Ben Edlund to go with them:
This has been a labor of love for Amazon, Sony, and all of us. The only way for this to have value was if we found a wholly new expression of 'The Tick' and Arthur's story in live-action, and I think we're on to something! Visually and thematically this new 'Tick' lives in the textures and rhetoric of today's superhero saturation tsunami — and for it to be something you want to watch for hours, it needed to find its way to a story with heart and stakes, as well as absurdism. Is it a radically new hybrid of humor and super heroic action with characters you will care desperately about? YES! Yes it is.
The Tick pilot will hit Amazon August 19, along with two other half-hour pilots.
In a world where superheroes have been real for decades, an underdog accountant with zero powers comes to realize his city is owned by a global super villain long-thought dead. As he struggles to uncover this conspiracy, he falls in league with a strange blue superhero. The Tick stars Peter Serafinowicz (Guardians of the Galaxy), Griffin Newman (Vinyl), Jackie Earle Haley (Watchmen), Valorie Curry (House of Lies), Yara Martinez (Jane the Virgin) and Brendan Hines (Scorpion). The Tick is executive produced by Ben Edlund (Supernatural), Barry Josephson (Bones) and Barry Sonnenfeld (A Series of Unfortunate Events), directed by Wally Pfister (The Dark Knight), and written by Edlund. The Tick is a co-production with Sony Pictures Television.