'The Man Who Killed Don Quixote' Behind-The-Scenes Photos Are Here To Tempt Fate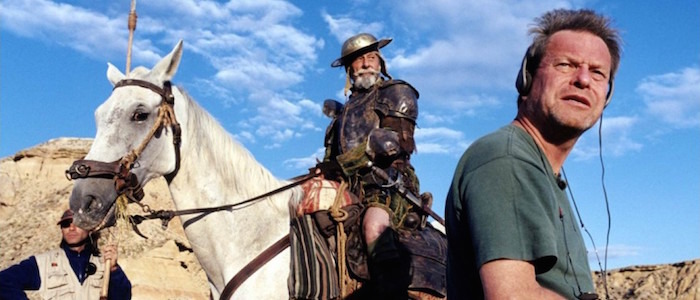 The story of Terry Gilliam's The Man Who Killed Don Quixote has evolved over the years to become the horror story parents tell young filmmakers. Gilliam set out to make his fantastical re-imagining of Cervantes' legendary novel back in 1998, but a series of increasingly insane on-set disasters halted production and the already stretched financing fell apart, forcing the film to shut down early in its shoot. This story was told in the 2002 documentary Lost in La Mancha, which began its life as a future DVD making-of doc and ended up being a tragic and darkly hilarious chronicle of a film production falling apart in slow motion.
And now, after nearly twenty years of false starts, Gilliam is closer than ever to bringing this seemingly cursed passion project to fruition. The film is cast. Location scouting has begun. Shooting starts in October. A bunch of behind-the-scenes photos has been revealed and everything. This could be actually happening.
Of course, there's still plenty of time for a hurricane to slam into Gilliam's chosen locations. Or for a war to break out. Or for the giant two-dimensional foot of God to fall from the sky and squish Gilliam for the arrogance of thinking he could actually will this movie into existence. So I look upon the photos taken during the scouting sessions with mixed feelings. After all, the arrival of a new Terry Gilliam movie is a reason to celebrate! But who knows which kind of plague it will bring to Spain, Portugal, and the Canary Island, where it is set to film...
At the very least, it looks like the production will make good use of some stunning natural and man-made locations. I've included a few images in the gallery below, but IndieWire has a massive gallery worth exploring if you'd like to see more.
In terms of basic plot set-up, this version of The Man Who Killed Don Quixote sounds very similar to the movie that was promised 18 years ago. The story follows a modern-day advertising executive who travels through time and meets up with Don Quixote, the old man who loses his mind, decides to be a knight, and embarks on a series of adventures. He mistakes the time traveler for Sancho Panza, his literary squire, and an alternate riff on one of the most famous novels in all of civilization transpires. After several decades worth of actors (including Johnny Depp, Ewan McGregor, Jean Rochefort, and Robert Duvall) shuffling through the two leads, Adam Driver and longtime Gilliam cohort Michael Palin will headline the film, with Olga Kurylenko, Stellan Skarsgård and Joana Ribeiro filling out the supporting cast.
Despite early reports that filming would begin in September, Screen Daily is reporting that cameras will begin rolling on October 4.