Guillermo Del Toro Gives A Photo Tour Of His Monstrous LACMA Exhibition, Opening Today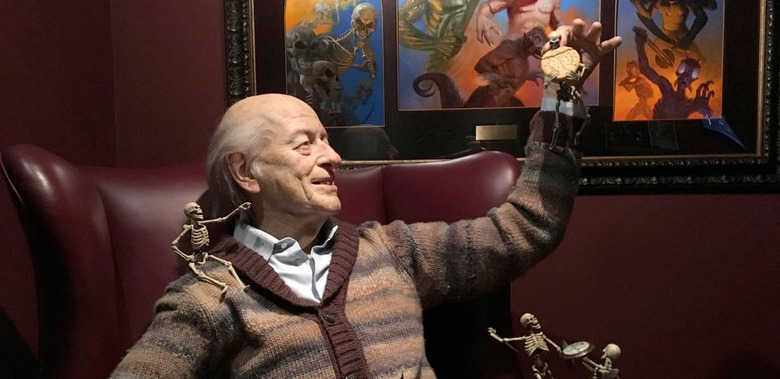 We may receive a commission on purchases made from links.
It's no secret that Guillermo del Toro's Bleak House, his personal home (or "man cave" as he calls it) is a treasure trove of movie props, artifacts, art and collectibles inspired by all the fantasy, horror and sci-fi stories that he loves. We've seen pieces of it in video tours over the years. There's even a book called Guillermo del Toro Cabinet of Curiosities: My Notebooks, Collections, and Other Obsessions that takes a look at some of the art that has inspired del Toro's work over the years, including some of his gorgeous drawings.
Now Guillermo del Toro is bringing his collection of paintings, drawings, maquettes, artifacts, film concept art and more to the Los Angeles County Museum of Art (LACMA) for an exhibition called Guillermo del Toro: At Home with Monsters. The gallery featuring a bunch of del Toro's goodies opens today provides some insight into del Toro's creative process, but for those who can't attend, the filmmaker has posted a ton of photos from the exhibition online for everyone to see.
Check out the gallery of photos from the Guillermo del Toro LACMA exhibition after the jump.
Guillermo del Toro LACMA Exhibition Photos
Here's just some of the pieces on display at the Guillermo del Toro LACMA exhibition:
If you click through in gallery view, you can read the captions that del Toro provided with each photo on Twitter. They're not always the most informative, but they can be a bit helpful. There's also a bunch more photos that del Toro has posted to Twitter, so be sure to scroll through his feed as he has also been retweeting photos from the exhibition that other Twitter users have been posting.
This collection is truly massive and it also perfectly displays the artistic sensibilities that del Toro himself has in his own filmmaking. So much of this art is simultaneously grotesque and gorgeous, an aesthetic that del Toro has succeeded in bringing to into all of his films, from Cronos to Pan's Labyrinth and even the Hellboy franchise.
A quote Guillermo del Toro gave to The Los Angeles Times in an article about the exhibition opening perfectly encapsulates how the filmmaker feels about all the imagery he collects:
"I love praising monsters. I love telling people how great and beautiful horror stories can be. I'm not interested in the mechanics of the scary horror. I'm interested in the sort of kinship it has with fairy tales. The dark, magical beauty of horror."
Even after del Toro has passed away, he hopes that his collection, spread across two houses, will be maintained and would like it to inspire up and coming writers. He says, "My goal, if I can afford it and I can set it up, which I'm trying to, is that these two houses stay put after I go. That I finance a writer-in-residence program that keeps them open for people in the fantasy and horror field to live in them free of charge for six months at a time — and just give us a little credit at the end of the novel or the book or whatever or the film." If that happens, I'm sure reservations will be booked for years.
Guillermo del Toro: At Home with Monsters is open at LACMA today and remains on display through November 27. There's also a book focusing on this very exhibit coming at the end of the month, which you can pre-order right now.
Guillermo del Toro (b. 1964) is one of the most inventive filmmakers of his generation. Beginning with Cronos (1993) and continuing through The Devil's Backbone (2001), Hellboy (2004), Pan's Labyrinth (2006), Pacific Rim (2013), and Crimson Peak (2015), among many other film, television, and book projects, del Toro has reinvented the genres of horror, fantasy, and science fiction. Working with a team of craftsmen, artists, and actors—and referencing a wide range of cinematic, pop-culture, and art-historical sources—del Toro recreates the lucid dreams he experienced as a child in Guadalajara, Mexico. He now works internationally, with a cherished home base he calls "Bleak House" in the suburbs of Los Angeles.
Taking inspiration from del Toro's extraordinary imagination, the exhibition reveals his creative process through his collection of paintings, drawings, maquettes, artifacts, and concept film art. Rather than a traditional chronology or filmography, the exhibition is organized thematically, beginning with visions of death and the afterlife; continuing through explorations of magic, occultism, horror, and monsters; and concluding with representations of innocence and redemption.