'Miss Peregrine's Home For Peculiar Children' TV Spot: Samuel L. Jackson Hunts Kids With Powers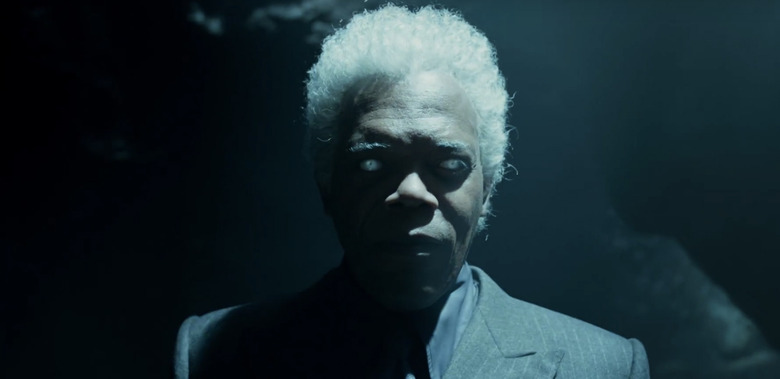 It's been a few years since we've gotten Tim Burton's traditional weirdness on the big screen. The last time the director was at the helm of a film, it was the biographical drama Big Eyes. Before that, Burton delivered a double dose of his signature goofy gothic style with the lackluster Dark Shadows, and the solid stop-motion animated Frankenweenie. Now he's back to bringing a new band of misfits to theaters with his latest project.
Miss Peregrine's Home for Peculiar Children is based on the novel of the same name by Ransom Riggs with a story following a boy named Jake (Asa Butterfield) who discovers a mysterious orphanage populated by kids who have strange powers and abilities. However, as soon as he becomes comfortable in this odd place, he learns it may be in danger from hidden enemies who are hunting these kids for their powers.
Watch a new extended Miss Peregrine's Home for Peculiar Children TV spot after the jump.
The new footage premiered last night during the Teen Choice Awards, because that's clearly the intended demographic for a movie like this. I'm pretty sure Hot Topic will be chock full of Miss Peregrine merchandise sooner than later if there aren't already posters, t-shirts and more popping up at the store, for shoppers who have an obsession with everything Tim Burton does.
Miss Peregrine's Home for Peculiar Children feels like it could have Tim Burton's strangest assortment of characters yet, even more so than Alice in Wonderland. It's just a shame that he doesn't have anything more original up his sleeve like Beetlejuice anymore so he can bring his own creations to the big screen instead of adapting them from books. But if he's going to stick to adaptations, I suppose a project that feels like Harry Potter meets X-Men isn't so bad, especially with animated skeletons involved.
By the way, I'm pretty sure that star Ella Purnell was brought to life from a painting by Big Eyes subject Margaret Keane. If there's any way to have a big eyes competition between her and Amanda Seyfried, I just might pay to see it happen.
If you want to see more from Miss Peregrine, watch the most recent trailer right here.
From visionary director Tim Burton, and based upon the best-selling novel, comes an unforgettable motion picture experience. When Jake discovers clues to a mystery that spans alternate realities and times, he uncovers a secret refuge known as Miss Peregrine's Home for Peculiar Children. As he learns about the residents and their unusual abilities, Jake realizes that safety is an illusion, and danger lurks in the form of powerful, hidden enemies. Jake must figure out who is real, who can be trusted, and who he really is.
Miss Peregrine's Home for Peculiar Children arrives on September 30.