'Suicide Squad' Has Added A Last-Minute Cameo From A Certain DC Character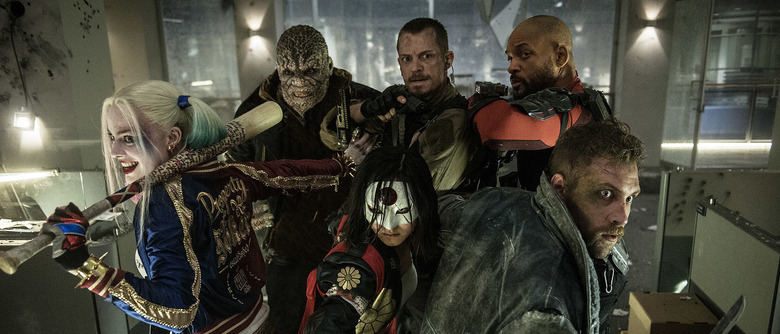 Suicide Squad may star a killer line-up of DC comic book villains, but as we've seen in the trailers, the film will feature at least one sequence where Ben Affleck's Batman pops in to give the baddies a hard time. After all, Warner Bros. is chasing the Marvel Studios model here – everything is connected, with characters and events in one movie having a direct impact on another. Their cinematic universe is still young, the foundation still being established, and all of those connections are being forged.
And now we know that another character from the larger DC universe has a cameo role in Suicide Squad. The film is opening in a week and most folks have gone this far without knowing about this one, so consider this your spoiler warning. If you want to be pleasantly surprised in the theater, feel free to stop reading.
Sill reading? I see that you've made the choice to embrace the spoiler. Welcome to my deeply unhealthy world.
According to The Hollywood Reporter, Ezra Miller's Barry Allen, otherwise known as the Flash, will make a cameo appearance in Suicide Squad. Technically, this won't be the character's cinematic debut since Miller also has a brief and incomprehensible cameo in Batman v Superman: Dawn of Justice, but the less said about that, the better. The report notes that the Flash was not in the original cut of the film and is a fairly recent addition, although it's not clear if he was added during the reshoots that were conducted earlier this year or if is a more recent addition. In either case, don't expect to see too much of Miller in this movie – it sounds like it will only be a single scene.
The article also notes that the cameo will be a part of the actual movie and not some kind of mid-credits teaser.
We received our first extended look at Miller in character as Barry Allen in the Comic-Con teaser for Justice League, which is filming right now. That footage revealed him to be an awkward jokester, a young, goofy, and lonely young man who couldn't be more different from Ben Affleck's older, wiser, and so very serious Bruce Wayne. It's impossible to judge a performance based on just a few scenes in a preview, but he looks like he has the potential to be a character audiences embrace, especially since his default mode doesn't appear to be "broody."
Suicide Squad opens on August 5, 2016. Ezra Miller's Flash will hit the screen again in Justice League on November 17, 2017, before getting his own solo film on March 18, 2018.