'The Get Down' Creator Baz Luhrmann Talks Modern Musical Influences And Tensions On-Set [TCA 2016]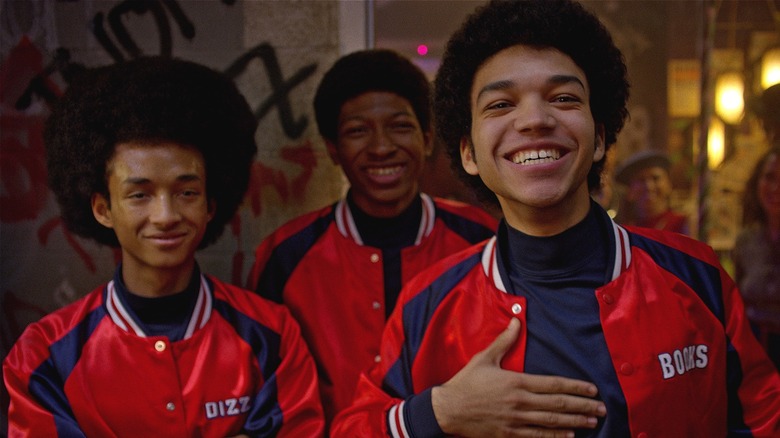 Netflix
Baz Luhrmann was on a panel before the Television Critics Association for his Netflix series The Get Down. The show tells a fictional story about the birth of hip-hop in New York in the 1970s. After the panel, he spoke with reporters more. Grandmaster Flash, who is an associate producer on the series, is portrayed onscreen as a character and there are disco and early hip-hop hits. There is also original music in the style of '70s crooners. Luhrmann's films like Romeo + Juliet and Moulin Rouge! are famous for incorporating anachronistic music. There will be influences of modern music in The Get Down, but only as original music the characters perform.
"We use absolute classic needle drops," Luhrmann said. "For example, there's a very famous track that we've taken and then we'll do like a retooling of it. Because they're mythical characters with a mythical disco style and the boys become a band, so they create their own music. So I do weave some contemporary references or performers in and out of classics, and then sometimes there are just lots and lots of classics. That's because I wanted to show the point between DJs then and now. I mean, Nile Rodgers works with us on making the disco music so we have the greats in disco as well." 
One day before Netflix's TCA session, Variety reported that The Get Down is the most expensive TV show the company has ever produced. Luhrmann also spoke to The Hollywood Reporter about the reasons for those costs, namely that he insisted on reshoots when scenes of DJing came up short. He told us that Netflix has been willing to encourage him, within reason.
"There's always a limit to budget," Luhrmann said. "No matter what they say in Variety, let me tell you. I don't just wave my hands and they go, 'Sure, whatever you want, Baz.' As this is Netflix, the thing about Netflix is they encourage. They want different. They want originality. They want an audience out there that goes wow, or 'I've never seen anything like that.' They had me at, 'Can you make something that people go, I've never seen anything like that.' Now when you do that, though, you're not sitting inside pre-existing mechanisms. There was always limits. There was lots that was difficult. Of course there were tensions sometimes. Ask anyone here. There's only been unbelievable complete positive belief and commitment to the big idea."
Having directed some monumental films, Luhrmann asserts The Get Down is his most challenging project. "And I've been on some difficult shows, but only in this respect," he said. "I am required to be in every aspect of it. Everyone needs my support or help, when you're shooting or with the writing, the music, post-production and all of that. But, as exhaustive and testing as it is, I truly think it's worthwhile because I truly think everyone around me has given so much and they really care. It's not just another show. They really, really, really passionately care."
Music has played a different role in all of Luhrmann's films, from the ballroom music of Strictly Ballroom to the pop soundtrack of Romeo + Juliet to the adapted catalog music of Moulin Rouge! "Of everything I've done, and I've done a lot with music, this is the most complex and sophisticated use of music in the sense that it's not just about music, but music must be text and script," Luhrmann said. "So we had to invent some new techniques. Honestly, when I did Moulin Rouge!, there was barely a process. In terms of the sheer scope of this production, the basic mechanisms for creating the show didn't exist. The music part of it wasn't the only part of it, but it had to be used to make dramatic change. I think as you see the rest of the eps, it gets more and more complicated musically."
The Get Down premieres August 12 on Netflix.