Actors Are Knocking On 'Fuller House's Door To Guest Star [TCA 2016]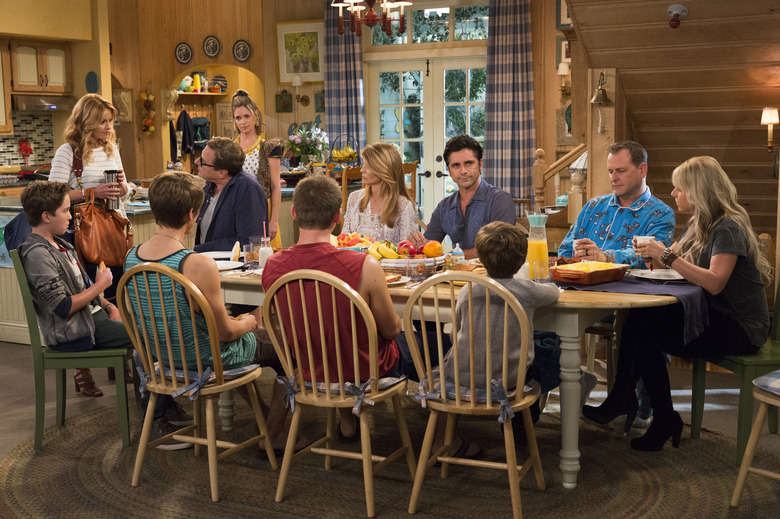 Netflix did not present a session for Fuller House for the Television Critics Association, as they have not decided when the second season of the show will premiere on the streaming service. However, Candace Cameron Bure was at a TCA party for Hallmark Channel, where she stars in The Aurora Teagarden Mysteries, and was happy to preview the second season of Fuller House.
"We have some really, really fun guest cast on this season," Bure said. "Guest cast that are brand new and very current today and then some that are throwback guest cast that people will love. The legacy cast, Bob [Saget], John [Stamos], Dave [Coulier], Lori [Loughlin], they're all back for a handful of episodes as well." 
The first season barely had enough episodes to incorporate the original cast members Bob Saget, John Stamos, Dave Coulier and Lori Loughlin for more than a few episodes each. It's not so much that they left out potential other guest stars, but they're creating new roles for people to fill in season two.
"Just special guest stars," Bure said. "They're brand new characters. Not that they would have been in the first season, but they wrote some really fun parts. Because of the success of Fuller House, there are a lot of actors who want to be on the show now. That's what it is, people are now knocking at the door going, 'Oh, I want to be a part of it.' So it's fun for us."
Season two will also give more focus to the new characters introduced in D.J. (Bure), Stephanie (Jodie Sweetin) and Kimmy Gibler (Andrea Barber) in the first season. "What I love about this season is you're getting to know the kids more and there's a bigger focus on family," Bure said.
Bure also reflected on the reaction once Fuller House dropped on Netflix. Critics could be brutal but Bure has enough positive experience to balance it out.
"It's been nothing but wonderful and great," Bure said. "I know the critics didn't receive it as well as all the fans did but that was to be expected because Full House was never received by critics. It was always the fans and that's why we were on television and a top 10 show for eight years. Fuller House has exceeded all of that, even though Netflix doesn't release their numbers. There have been numbers that have gone out and we've seen the demographics of where we hit because we're such an international show. Netflix instantly goes international. We're overjoyed and ecstatic. Yet we're not surprised that the fans have loved it. We've made this for them."
I tried to find out if Bure, privy to Netflix's secretive numbers, was confirming ratings higher than the glory days of T.G.I.F. on ABC, but she respected Netflix's wishes for privacy.
"Like I said, they don't release the numbers but I believe it's pretty high," she said.