Watch: A Child Went To Disney World Dressed As Kylo Ren And THIS Happened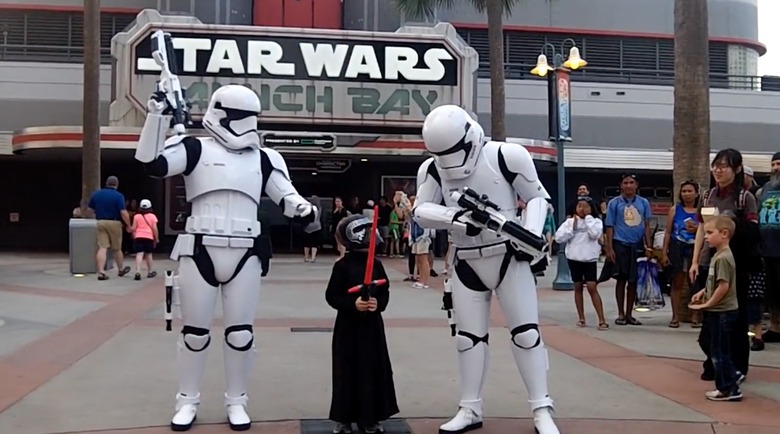 Sure, Disney theme parks can be expensive, a day of long lines and fun rides. But for me, the Disney theme parks are a magical place where, yes, an enormous big megacorporation, provides wonderfully immersive experiences for both young and old. In fact, Disney cast members are encouraged to create magical moments for their guests on a daily basis, and we typically don't hear about or witness many of these experiences.
A new video making the rounds today features a little boy named Nicolas who visited Walt Disney World's Hollywood Studios theme park dressed in a Star Wars: The Force Awakens Kylo Ren costume. While checking out the park's Star Wars Launch Bay area, little Kylo was confronted by a squad of First Order Stormtroopers, who regularly patrol the area. When I visited this park earlier in the year, the Stormtroopers were so much in character that they wouldn't stop to take a selfie with me as that was interfering with their mission. But when these First Order troopers saw young Nicolas as little Kylo Ren, they decided to give the child an experience of a lifetime. Hit the jump to watch the video.
The following video was discovered by InsideTheMagic:
This nine-minute long video should be edited down — it appears to be a video photographed by his father and uploaded online in its entirety from a visit on April 16th, 2016. But the video is worth watching, but feel free to fast forward a bit.
What happens when the First Order Stormtrooper squad come across Nicolas as young Kylo Ren? The Stormtroopers let their tiny First Order ruler lead their patrol around the park. But the coolest part is at the end they escort the child into Star Wars Launch Bay, past a long line to meet his favorite character, Kylo Ren, in person. And I wish we could see Nicolas' face underneath the mask when Kylo Ren asks his mini-me to become his apprentice in his battle against the Resistance.
His father William writes on the youtube page that "this will be an experience he will remember forever!" So very cool.