'Ithaca' Trailer: Meg Ryan And Tom Hanks Reunite For Her Directorial Debut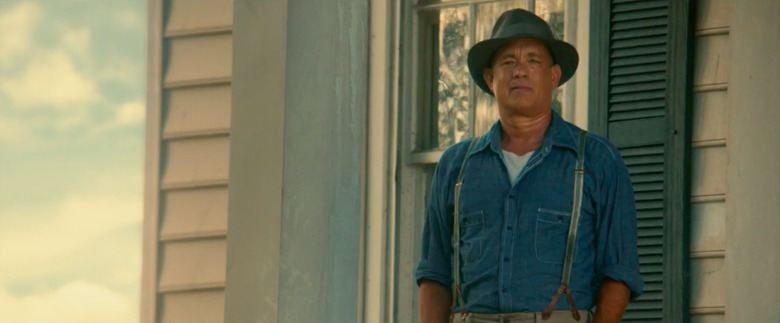 Throughout the 1990s, Tom Hanks and Meg Ryan were the romcom golden couple. They kicked off the decade with Joe Versus the Volcano, reunited for the all-time classic Sleepless in Seattle, and finished up with 1998's You've Got Mail. Now, nearly 20 years later, they're teaming up again for a very different kind of movie.
Ithaca is Ryan's directorial debut, and it's a far cry from the fizzy love stories that were once her bread and butter. The drama stars Alex Neustaedter (USA's Colony) as a young bicycle messenger coming of age during World War II. Jack Quaid plays his older brother, who's off fighting the war, and Hanks and Ryan play their parents. Hamish Linklater and Sam Shepard also star. John Mellencamp provided original music. Watch the first Ithaca trailer below. 
Ryan's Ithaca is based on William Saroyan's 1943 novel The Human Comedy, which took inspiration from Homer's Odyssey. Interestingly, The Human Comedy started out as a screenplay, and it wasn't until after he parted ways with the studio that he decided to publish it as a novel. It was published just before the movie, also titled The Human Comedy and starring Mickey Rooney. Then 70 years later, Ryan dusted it off and decided to try and make it her own. The Ithaca trailer isn't super promising, frankly — it looks kind of treacly — but the story seems sweet and well intentioned, populated by pleasant characters. Sometimes that's enough.
Ithaca is in theaters and on demand October 9.
When his older brother leaves to fight in the Second World War, fourteen-year-old Homer Macauley takes on a job as a bicycle telegraph messenger to provide for his widowed mother, his older sister and his younger brother. Homer delivers messages of love, hope, pain and death to the good people of Ithaca, but soon must grapple with a message that will change him forever. Based on Pulitzer Prize-winning author William Saroyan's 1943 novel The Human Comedy, Ithaca is a coming-of-age story about the exuberance of youth, the abruptness of change, the sweetness of life, the sting of death, and the sheer goodness that lives in each and every one of us.