'The Accountant' Trailer: Ben Affleck Cooks The Books For Some Pretty Dangerous People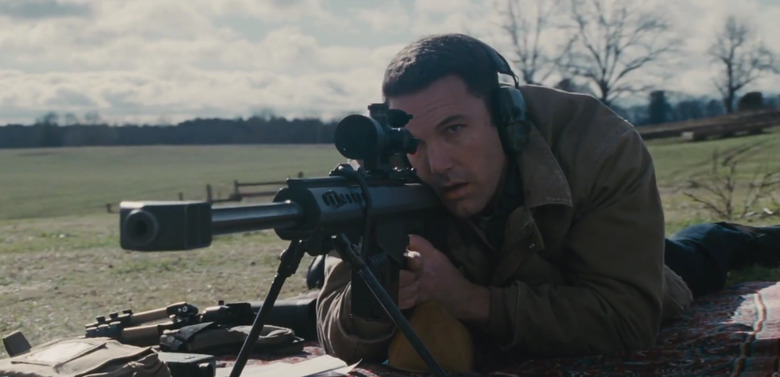 Ben Affleck may be pretty unhinged as Batman in the DC Comics cinematic universe, but another Warner Bros. Pictures project sees the actor playing another character who may be just as dangerous, but in a completely different way.
In The Accountant, the Oscar-winning filmmaker takes the lead role as a gifted accountant who takes care of the finances of some of the most dangerous people on the planet. But his life doesn't end up in danger until he starts looking into the account of a robotics company where he learns that millions of dollars are unaccounted for, thanks to another accounting clerk who may end up getting too close to both her client and the title character for her own good.
Watch a new The Accountant trailer after the jump.
The teaser trailer didn't tell us much about the story, but this new trailer paints a much more detailed picture with the supporting characters involved this time. J.K. Simmons plays an agent at the Treasury Department's Crime Enforcement Division who is investigating Affleck's character while other stars include Jon Bernthal, Jean Smart, Jeffrey Tambor and John Lithgow.
This talented cast is under the direction of Gavin O'Connor, the filmmaker behind Warrior and the troubled production of Jane Got a Gun (a film that he joined when turmoil had already engulfed the project starring Natalie Portman. This looks like a truly compelling thriller with a unique character, to the point that it almost feels like the kind of studio film that rarely gets made anymore. It likely won't end up making the studio a lot of money, but it's certainly something original that we should appreciate.
If you want to see more from The Accountant, watch the first trailer right here.
Christian Wolff (Ben Affleck) is a math savant with more affinity for numbers than people. Behind the cover of a small-town CPA office, he works as a freelance accountant for some of the world's most dangerous criminal organizations. With the Treasury Department's Crime Enforcement Division, run by Ray King (J.K. Simmons), starting to close in, Christian takes on a legitimate client: a state-of-the-art robotics company where an accounting clerk (Anna Kendrick) has discovered a discrepancy involving millions of dollars. But as Christian uncooks the books and gets closer to the truth, it is the body count that starts to rise.
The Accountant opens in US theaters on October 14th.