VOTD: Tour Guillermo Del Toro's Bleak House With Andy Richter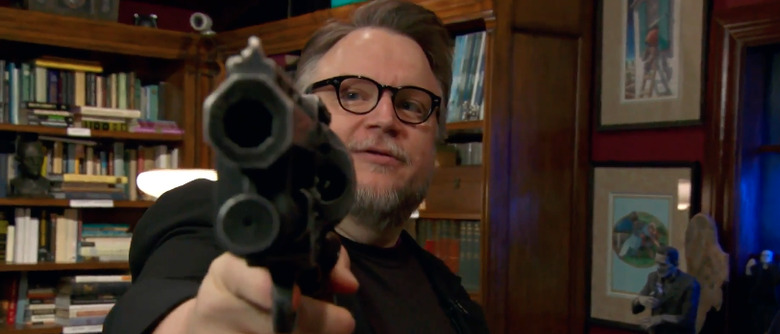 If you're even a casual Guillermo del Toro fan, you've probably heard of Bleak House, the director's second home. It looks like any other San Fernando Valley suburban home from the outside, but inside is a treasure trove of weird and wonderful memorabilia including original art, movie props, medical oddities, books and comics, hyper-realistic live-sized mannequins of H.P. Lovecraft and Edgar Allan Poe, and more. Much more — there are reportedly over 10,000 different items inside.
In other words, it'd be any geek's dream to drop in and explore. Most of us won't ever get to, sadly, but recently Conan's Andy Richter had the opportunity to not only visit, but get a personal tour from del Toro himself. Watch the full Guillermo del Toro Bleak House tour below. 
Del Toro is always full of fantastic stories, and he regales Richter with a few of them. The best is the one about the time his Roomba accidentally set off the motion-control alarm, and the police arrived to see a woman's unmoving silhouette in the window — which turned out to be a full-scale figure of Linda Blair in The Exorcist, because del Toro is just the kind of guy who has a full-scale figure of Linda Blair in The Exorcist sitting around. He also has rooms devoted to horror, vampires and werewolves, fantasy and children's stories (a Haunted Mansion-themed room hidden behind a bookcase), and... cooking. Yeah, the kitchen is pretty boring. "The scariest thing is what is in the fridge," del Toro quipped.
The filmmaker has been collecting memorabilia his entire life, and has shared photo and videos from Bleak House in the past. But starting next month, movie fans will be able to get up close with some of del Toro's prized possessions. Over 500 pieces from del Toro's Bleak House collection will go on display starting August 1 at LACMA, and once it finishes its run there the exhibit will also hit Minneapolis, Toronto, Mexico City, Barcelona, Paris, and New York.