HBO Axes 'Project Greenlight' Again, Matt Damon & Ben Affleck Looking For A New Home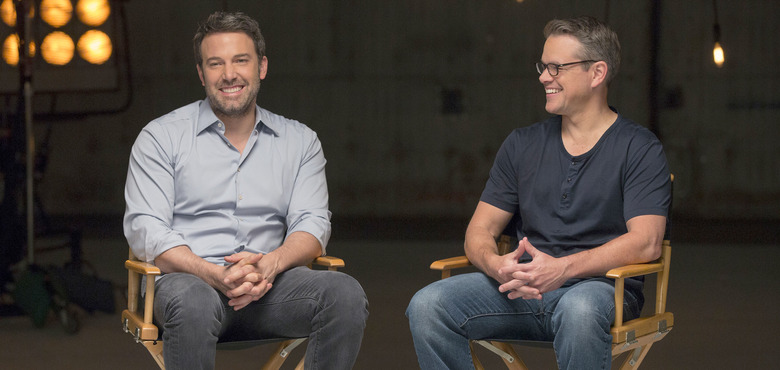 Last year, Project Greenlight made a return to TV after being away for 10 years. The show originated on HBO back in 2001, lasted two seasons on the cable network, and then moved over to Bravo for a third season. The revival last year came as a surprise, but with the advances in the technology of filmmaking, the field of competitors vying for the chance to direct their own feature film was far more interesting, making a new season of the show that much more exciting.
However, it turns out the revival of the show wasn't good enough for HBO as the cable network has decided they won't be renewing the documentary series for a fifth season. Now Matt Damon and Ben Affleck are looking for a new place to take the show. Get all the details on prospects of Project Greenlight season 5 after the jump.
Speaking with The Associated Press this week while promoting Jason Bourne, Matt Damon revealed the news and expressed his shock at HBO's decision to pass on another season:
I really liked it and thought that the show went great. I'm not one to question (their programming). They do such a great job. But we have to take it out again. There are places where I think we could do really well.
It's not clear why HBO passed on the next season of Project Greenlight, but I can't imagine the show was a huge ratings grabber for the cable network. Plus, they might be keen to avoid anymore controversy after last season resulted some criticism about the lack of diversity on the film's set with regards to the cast and the crew. Even comments made by Matt Damon during the documentary stirred up some controversy, and there was a lot that we didn't see in the show that happened behind the scenes, which might change your perspective on some of the events in the show.
The best place for Project Greenlight would be Netflix, if only because they can also be the exclusive home for the film which the documentary series follows the making of. In the end, the final cut of the film is usually the most uninteresting part of the series, but documenting the making of the film is fascinating, especially for cinephiles like you and me.
There's undoubtedly a place for Project Greenlight elsewhere in the entertainment world, and I hope we get to see this series continue. How about you?