'Rick And Morty' Creators On The Possibility Of More Meeseeks, More Interdimensional Cable [Comic-Con 2016]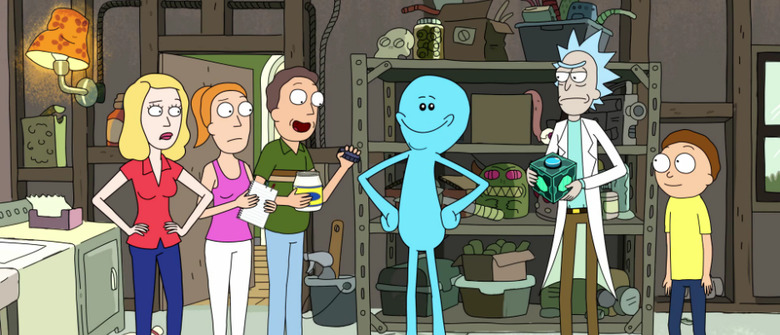 Adult Swim's sci-fi comedy Rick and Morty had a panel at San Diego Comic-Con. We spoke with the show's creators Justin Roiland and Dan Harmon along with writer Ryan Ridley in a roundtable interview. In only two seasons, Rick and Morty has established a sub-franchise within the show, with two episodes of "Interdimensional Cable." They said a third episode is possible, but also tease a season three episode that could launch a different recurring element.
"Possibly, yeah, we're figuring it out," Roiland said. "It's very rough on production. It's not an easy episode to make.We're introducing something amazing we can't say much about, but there's probably room for both ultimately. I'd be down to do it. The connective tissue has to be different and Ridley's got a really good pitch that [Harmon] hasn't heard yet so we're not going to talk about it here. It's spoiler alert territory." 
The creators are also toying with bringing back Meeseeks, a popular character from the season one episode "Meeseeks and Destroy." The Meeseeks are little blue creatures like the old Microsoft Word paperclip who help Rick's family with real life tasks. Only they become destructive, like most helpful A.I. who learn that humans can't take care of themselves.
"I was very alarmist about callbacks because of Community getting a reputation so early on for being insular and you have to have a relationship with the show in order to decode it," Harmon said. "I never wanted to have that reputation. So going into season two of Rick and Morty, if we don't have to do another Meeseeks episode, let's not do it. This time, that next year, I was like we should have done another Meeseeks episode. Justin's point is if we had had a great idea, we would have done it. I will say that this season, going into it, because of that experience, I was more like, 'Yeah, can we bring back such and such?' We still haven't done it yet but I definitely want to see another episode with Keith David's character as President because that was specifically designed to be a thing. That was another option for the show to do. It's definitely inspired by the Doctor Who lieutenant who I remember in the Rick Baker years who was called back to Earth to help the British government with something in between traveling the cosmos."
Roiland said he has pitched Meeseeks again but ultimately hasn't found the right episode for them to return. "Throughout the course of season three, we've had Meeseeks in two or three episodes and ultimately cut it," Roiland said. "It's just like a background. It's not really servicing something new. It feels too cutesy."
Ridley thinks the Meeseeks could provide an opportunity to spoof Star Trek: The Next Generation. "There's a [potential] episode where Meeseeks is like Q and the Borg in the Next Generation mythology. Meeseeks is different. I'm not saying we're doing that. If we're going to do that, it's motivated by what do we know about the Meeseeks and how can we open up that mythology instead of just having Justin going, 'I'm Mr. Meeseeks.'"
Harmon leans towards having Meeseeks as background characters in a different plot. "However, we can also do an episode where it's not about that as a topic and just have him like Dr. Seuss, use him as a tool," Harmon said. "As long as it tracks for a first time viewer, oh, I guess that's some kind of guy that says, 'I'm Mr. Meeseeks' and does his thing. You have to serve those masters I guess. What if a brand new person is watching the show that's never heard of it? Are they going to be able to understand what's going on."
The opening titles of Rick and Morty feature many creatures that have not yet appeared on the show. Roiland would not say if any such as the Cthulu would appear in season three but Ridley offered a hint. "You're going to see things that people have been wanting to see," Ridley said.
Rick and Morty returns later this year on Adult Swim.