'Blade Runner 2' Adds 'The Walking Dead' Star Lennie James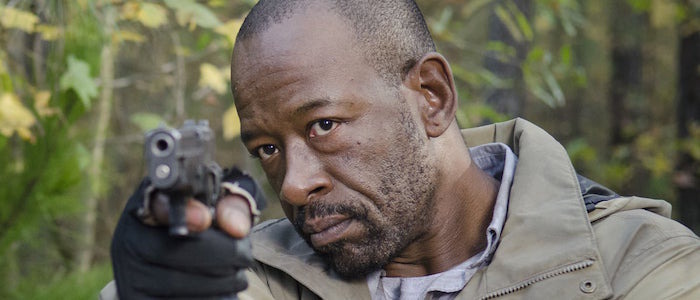 The jury is still out on whether or not a sequel to Blade Runner is a good idea in the first place, but I'll say this much: director Denis Villeneuve has been assembling a cast that certainly makes it look like a good idea. The latest actor to join the increasingly large ensemble is British character actor Lennie James, best known to audiences for playing Morgan Jones on AMC's The Walking Dead.
Although his role on that ever-popular zombie drama has made him known to much larger audience, James has been acting steadily since the '90s, appearing in films like Snatch, 24 Hour Party People, Lost in Space, Sahara, and Get on Up. More recently, he's become a familiar face on the small screen, taking on roles in Critical, Hung, Low Winter Sun, Line of Duty, Human Target, Jericho and Lie to Me. He's very much a working actor, the kind of guy who's been in good stuff and terrible stuff but always delivers a fine performance. Even when The Walking Dead stumbles (and few shows stumble quite as often as The Walking Dead stumbles), you'll never find him phoning in his performance.
James joins a cast that already includes Harrison Ford, returning to the role of Replicant-hunting detective Rick Deckard, and Ryan Gosling, playing the mysterious second lead of the the film. Plot details remains tightly guarded, but we do know that it will take place decades after the events of the first film, which was released in 1982 but took place in a dark and dystopian Los Angeles circa 2019 (wow, things really are going to get bad in a few years). The supporting cast includes the great Robin Wright, Guardians of the Galaxy star Dave Bautista, Knock Knock star Ana de Armas, Dutch actress Sylvia Hoeks, Wetlands star Carla Juri, The Martian star Mackenzie Davis, Captain Phillips star Barkhad Abdi, The Dark Knight star David Dastmalchian, and Munich star Hiam Abbass.
In other words, James is in very good company, surrounded by a promising collection of newcomers and veterans. The big question now: is he playing a human or a Replicant or a Replicant who thinks he's a human?
Blade Runner 2, or rather The Untitled Blade Runner Sequel, is set for an October 6, 2017 release date. The film reunites Villeneuve with legendary cinematographer Roger Deakins (who was nominated for an Oscar for shooting Villeneuve's Sicario), so at least we know this stellar cast is going to look very, very pretty on screen.