'Agents Of S.H.I.E.L.D.' / Netflix Marvel Crossover Unlikely To Happen, Says Clark Gregg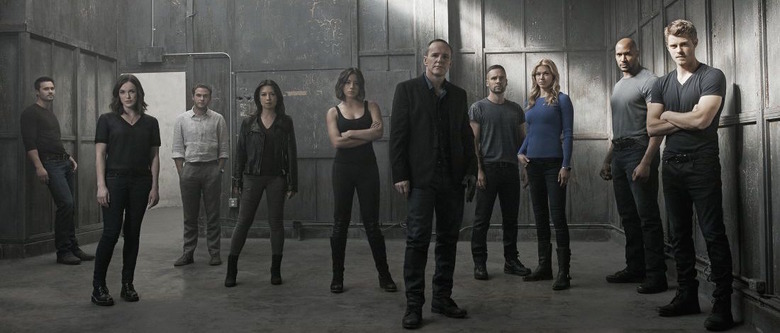 In theory, the entire Marvel Cinematic Universe is connected, from the films to the Netflix and ABC shows. In theory, though, the big- and small-screen sides intersect only rarely, and that disconnect has only seemed to widen since corporate restructuring put Marvel's series and Marvel's movies under different leadership. But what about within the Marvel TV universe? Currently, Marvel's small-screen properties are split between ABC and Netflix. Could Matt Murdock give S.H.I.E.L.D. an assist, or vice versa?
Don't count on it, says Agents of S.H.I.E.L.D. star Clark Gregg. The actor admits he'd love to see Iron Fist or Luke Cage drop by his show someday, but blames "corporate stuff" for keeping the ABC and Netflix sub-franchises separate. Read what he has to say about the possibility of a SHIELD Netflix Marvel crossover.
While at Comic-Con, Gregg and a couple of his co-stars sat down for a conversation at Nerd HQ. Asked which Marvel characters they'd like to meet on Agents of S.H.I.E.L.D., Gregg answered:
Because it was one of my favorite comics as a teen, I would have said Daniel Rand, Iron Fist, but suddenly there's a gigantic invisible force-field barrier called "Corporate Stuff." Unless, who knows, maybe we will develop a weapon that will break through that, and get me over to Netflix for a minute. I would like that, I would like that. But if that barrier came down, then God knows I'd want to talk to Luke Cage. After seeing that footage... oh, yeah. Absolutely. [Mike] Colter's a beast.
The Marvel movies cross over with each other all the time, and the Netflix-Marvel shows are building to a Defenders event (kind of like how all the Phase One films led up to the entire team getting together in The Avengers). But so far, Agents of S.H.I.E.L.D. has remained curiously separate from most of the rest of the Marvel universe, and attempts to build off of it haven't been terribly successful either. Agent Carter struggled in the ratings for two seasons before getting cancelled, and the S.H.I.E.L.D. spinoff Marvel's Most Wanted was axed before it even aired.
A S.H.I.E.L.D. crossover would have to be careful not to undermine the ground-level vibe of the Netflix shows. Part of what is so fun about Daredevil, Jessica Jones, and (we assume) Luke Cage and Iron Fist is the fact that these characters aren't tangled up with government agents and aliens — they're relatively ordinary people trying to make a small difference in the corner of their world. But if they could find a way to make it work, it'd be cool to see the Defenders drop in on S.H.I.E.L.D., and it'd go a long way toward binding that show to the rest of the MCU.
If you want to see the Clark Gregg quote for yourself, crossover talk begins around 3:45 below.