Watch Comic-Con Trailers For New Seasons Of 'Gotham', 'Arrow', 'The Flash' & 'DC's Legends Of Tomorrow'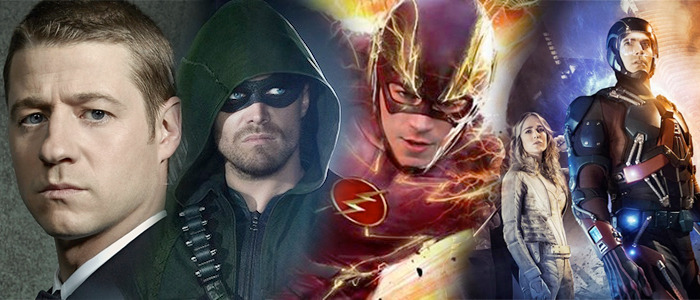 As you're probably all aware, Comic-Con was last week, and we're still poring over some of the details that went unnoticed while covering panel after panel at the convention. For some fans, who didn't get into Hall H for some of the bigger movie presentations from Marvel Studios and Warner Bros. Pictures, the next best thing was getting into Ballroom 20 for a sneak peek at what's coming on the next season of their favorite DC Comics television shows, and those fans didn't go home disappointed.
This past weekend, Warner Bros. Television debuted new trailers for almost all of their DC Comics TV series. Gotham, Arrow, The Flash and DC's Legends of Tomorrow all received new trailers teasing their new season coming this fall. Sadly, Supergirl didn't have any footage to show, but they teased the second season with a panel at Comic-Con that you can watch online. So without further adieu, see what's coming with this batch of DC Comics TV show Comic-Con trailers.
Since this show is over on Fox and doesn't have any ties to the DC Comics television universe over at The CW, it's a bit of an outlier here. But the Batman prequel TV series still has plenty of fans, no matter how ridiculous the show continues to be. In this nearly 5-minute sneak peek at the new season, we get a tease of the huge roster of villains that continue to develop on the show, from Mr. Freeze to The Riddler. There are also the continued exploits of The Penguin and the return of Jada Pinkett-Smith as Fish Mooney.
But perhaps more importantly, it looks like this season will put a focus on young Bruce Wayne setting out to find the man who killed his parents, even though he's still a long ways off from becoming Batman. Meanwhile, Detective Jim Gordon still has plenty of problems of his own to deal with as he has taken some missteps as a man of the law. Gotham returns on September 19th this fall.
This season of The Flash really shakes things up by introducing the Flashpoint story arc where the entire timeline of Barry Allen's life has changed. The relationships he once formed with friends and allies aren't there anymore. The life Barry Allen once had is gone and in its place exists a "brave new world" where there's a new speedster in play and a lot of problems to solve. The Flash returns on October 4th this fall.
With the lost of one of his closest friends and allies in his past, Oliver Queen must now strike out on his own to rebuild his life and help Star City stay safe. This time he has a team of new vigilantes that he's training into heroes like himself. Stick around to the end for a tease of a mysterious new vigilante who doesn't appear to have a helpful agenda on his mind. Arrow returns on October 5th this fall.
The Justice Society of America is now a big part of DC's Legends of Tomorrow, along with all of the time traveling action that you've come to love about the show. This time it looks like there's a big explosion in New York City that needs to be prevented back in World War II, and just like everyone else, DC's Legends of Tomorrow doesn't like Nazis. DC's Legends of Tomorrow returns on October 13th this fall.
There's likely a big crossover between all The CW TV series coming sometime this upcoming season, including the recently transferred Supergirl, so stay tuned to see when that happens.