'Office Christmas Party' Trailer: "Hey Santa, Wanna Party?"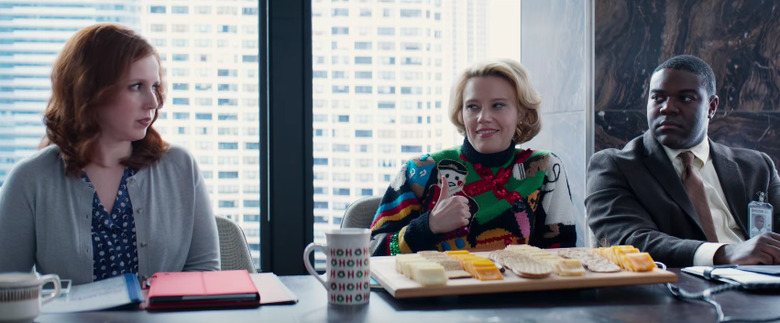 If you've ever worked in an office, you're surely familiar with the tradition of awkward holiday parties. You know the drill: everyone gets a little too drunk, says some things they'll probably regret, maybe engages in an ill-advised hookup with a colleague, and then comes back to work the next morning hoping everyone else can just agree to pretend that nothing happened. But the office Christmas party in Office Christmas Party will surely put even your sauciest, most scandalous shindigs to shame.
Jason Bateman, Jennifer Aniston, T.J. Miller, Kate McKinnon, Courtney B. Vance, and Olivia Munn play co-workers who enjoy an epic rager for the holidays. How epic are we talking? Well, it involves drugs, burning Christmas trees, drunken Santas sledding down staircases, a reindeer drinking out of the toilet, and, perhaps most telling of all, the fantastically terrifying Jillian Bell. Watch the Office Christmas Party trailer below.
From here, it doesn't look like there's a whole lot to Office Christmas Party. The entire joke seems to be, "wouldn't it be funny to see these stuffy officemates let loose?" It's like Project X, but with grown-ups. The only part that actually made me laugh is when Bell shows up near the end to yell, "Hey Santa, wanna party?" Bell has a wild, unpredictable energy that's been put to great use in Idiotsitter and 22 Jump Street (among other projects) and that smile on her face says stuff is about to go sideways.
And it's a shame this doesn't look better, because that's an incredibly funny cast. In addition to all the actors named above, Office Christmas Party also features Rob Corddry, Randall Park, Matt Walsh, Jamie Chung, Vanessa Bayer (Saturday Night Live), Abbey Lee (Mad Max: Fury Road), Karan Soni (of Deadpool and Ghostbusters), and Sam Richardson (Veep). Hopefully the movie itself will give them a little more to do.
While we wait to find out, here's a different Office Christmas Party for you to enjoy. This one also involves Kate McKinnon.
The movie Office Christmas Party is directed by the Blades of Glory duo of Josh Gordon and Will Speck. It opens December 9, which is just about the time actual office Christmas parties start taking place across the country.