'The Flash' Producers On Putting A New Spin On Flashpoint [Comic-Con 2016]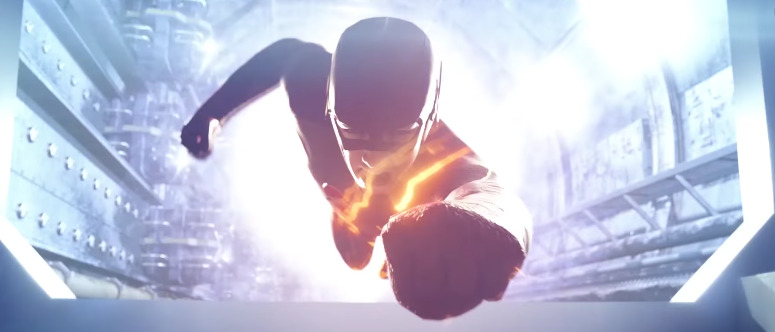 The Flash returned to Comic-Con for the third time in anticipation of its third season on The CW. We spoke with producers Todd and Aaron Helbing in a roundtable before their panel. The season premiere is called "Flashpoint," based on the classic comic book alternate universe story. Like other classic comic book titles, like "Worlds Finest" on Supergirl and "The Brave and the Bold" on Arrow, The Flash will put a new twist on "Flashpoint."
"It's like any of those iconic moments in Flash," Todd said. "You want to make sure you do right. But it's also, the way we approach all these stories are we know what happened in the comics but we take that event and we sort of run it through the Flash television show filter so we can tell the same story with our spin. It was challenging but it wasn't impossible." 
The Flash has already juggled time travel and alternate Earths. The producers were sensitive to make sure "Flashpoint" would be accessible to all audiences. "One part that was hard is you're asking the audience in the first episode to experience, very much like Earth-2 the first time, to experience a different reality," Todd said. "We always approach it like would our mother understand what is going on right now? Because she doesn't read comic books. If we can get her to get it, I feel like we've been successful and I feel like she'll understand it."
The Flashpoint story arc in DC comics included Thomas Wayne, Bruce Wayne's father. He probably won't be in The Flash, but the Helbings promised some surprise appearances. "I think there's a long list of people and characters we would have loved to do and maybe did, maybe didn't do," Todd said. "There's the realities of what we can and can't use. We work very closely obviously with DC and Geoff Johns and Dan Evans. What can we use in this version? Then they tell us and that's what we do."
"Flashpoint" will cause ripples in the other DC shows, Arrow, Supergirl and Legends of Tomorrow, which remain to be seen. Since all the shows are produced by the same team, they were able to coordinate.
"We're lucky because we work with Greg Berlanti who oversees everything," Aaron said. "It's the most amazing thing I've ever seen, someone who can know exactly what's happening on every show at the exact same time so he knows exactly how to balance them and what's going to affect which particular show. We're just really lucky because we get to work with Greg really closely and Marc [Guggenheim] and Phil [Klemmer] and Andrew [Kreisberg] and Ali [Adler], and be mindful of what's going to happen in each show and what's going to affect them."
The Comic-Con trailer revealed Dr. Alchemy would be a season three villain. The Helbings promised a second big bad to be revealed later. "The other one we're not going to reveal for a little bit," Todd said.
The CW and DC also promised a four-way crossover now that Supergirl is on the network. It has already been built into the story of each show. "Storywise, we know what we're doing," Todd said. "It was quite a juggle. You've got to figure out scheduling issues. Adding another show last year was very difficult, adding another show this year. We basically with Greg worked out that story."
The Flash returns Tuesday, October 4 on The CW.