'Arrow' Season 5 Will Return To Its Season 1 Roots [Comic-Con 2016]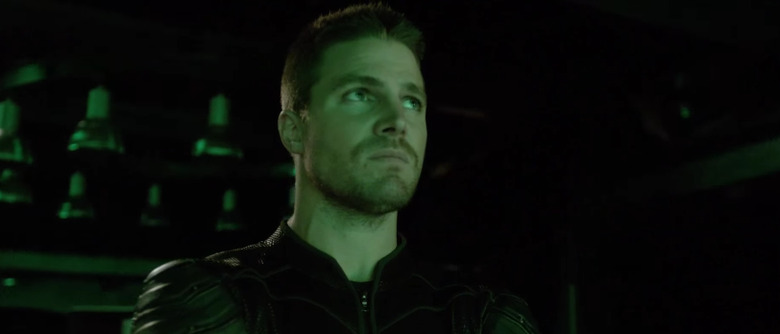 Arrow returned to San Diego Comic-Con for the fifth time in advance of its fifth season on The CW. We spoke to producer Wendy Mericle in a roundtable where she shared the show's plan to return to its roots. After several seasons of year-long story arcs, Arrow plans to return to villains of the week and standalone episodes, culling from the history of DC comics.
"There will be more standalone episodes this season," Mericle said. "We are looking to go deeper into the bench of villains from the DC universe. Again, go back to our roots, more season one." 
Season five still picks up where season four left off, with Oliver Queen (Stephen Amell) the mayor of Star City, having finally killed Damien Darhk. "He's going to still be in the mayor's office but the city's going to be in a slightly different state," Mericle said. "We're not going to have any sort of terrorist attacks or anything happening this season but as a result of what happened with Damien Darhk and the general decline of Star City, we're going to have a lot of criminals. There's going to be a huge mob element and this is all in the spirit of going back to basics, a little bit answering to season one. So it'll be more villains of the week, more hand to hand, going back to gritty crime of the week type things. Oliver will be a big part of that."
Oliver will also have to deal with what the Green Arrow has wrought, well intentioned citizens trying to do their part fighting crime. "We're also going to have a lot of vigilantes who are inexperienced and inspired by the Green Arrow killing Damien Dahrk," Mericle said. "They're going to be popping up all over the city and that's actually going to become more of a problem than a help."
The Flash is introducing the Flashpoint storyline in their third season with Barry Allen (Grant Gustin) traveling to an alternate earth. Since all the DC shows are connected, the creators have teased fallout of Flashpoint impacting the other shows too.
"We had that question when we found out about Flashpoint," Mericle said. "We were like oh, hey, how's that going to work, guys? Fascinating. Obviously we live in this universe now where we have things like that happening. We have super powers, we have metas. It will have an effect on the show. That's about as much as I can say. The characters that are affected will feel it.
Arrow received a good deal of criticism for leaning into the romance between Oliver and Felicity Smoak (Emily Bett Rickards). They have broken up, but the show won't completely ignore those fans of the relationship.
"What's interesting about Ollicity is it's become this huge thing online," Mericle said. "Everyone has taken sides but for us, it was really a byproduct of if you cast someone like Emily Bett Rickards and there is obviously chemistry and you start to write to that. It really felt in season three and four that if we didn't go in that direction, it was going to do a disservice to the show and to the characters, so we leaned into it. We went that way. We saw what it can do and I think in season five, we're going to do the same thing which is we left them ambiguous at the end of the season and I will say you will get some clarity in episode five of season five. Even then, we are going to be exploring it in real time to see where we feel like the characters are taking us and where we feel like the best stories are going to be told."
More time will be spent on Oliver struggling to maintain his double life. "One of the things that I'm most excited about is that element. In the past we've had him be the CEO, we've seen him have somewhat of a public face but this is a public face that he, for lack of a better term, he can't B.S. this. He's the mayor. He has to show up. When he's not there, people know he's not there. So we're going to drive story both in the mayor's office and in the bunker. It's actually a real challenge from a storytelling perspective because you have to figure out where is his real emotional drive coming from. It'll be fun. We'll have a lot of fun with the sort of Superman element of him having a new identity, one that's very, very public."
Arrow returns October 5 on The CW.