'Wonder Woman' Trailer Breakdown: A Frame By Frame Analysis Of Gal Gadot Being A Badass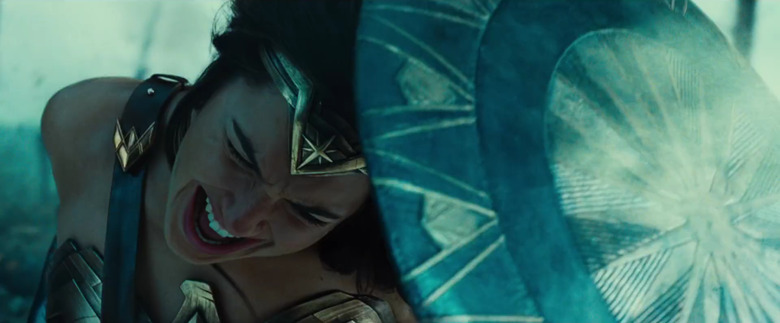 This past weekend, Warner Bros. Pictures unleashed a barrage of footage upon Comic-Con with their presentation in Hall H. Thankfully for fans at home, every single piece of footage they showed at the convention ended up online, from the Justice League sizzle reel to The LEGO Batman Movie trailer. But honestly, the best thing to come out of the panel was the first trailer for Wonder Woman. You've probably watched it plenty of times by now, but we wanted to do a little breakdown of the footage we see in the tease for the first solo adventure of the DC Comics superhero.
Read out Wonder Woman trailer breakdown after the jump.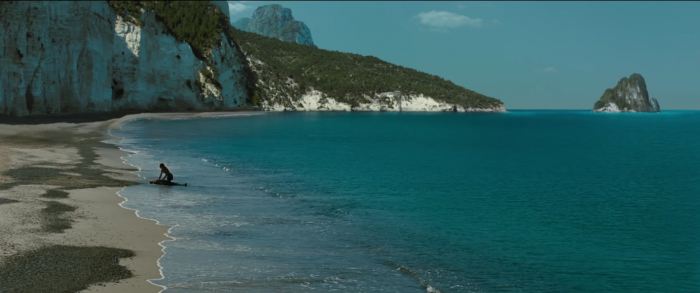 Welcome to paradise. A woman leans over a body in the shores of a gorgeous beach. Comic book fans undoubtedly know where we are, but we won't get to see that this isn't an ordinary island until a bit later.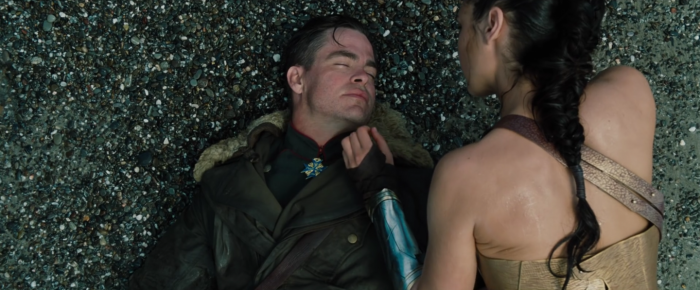 The man is Chris Pine as Steve Trevor, passed out on the beach. Trevor is a United States Air Force pilot, so presumably his plane was shot down over the ocean, leaving him to wash up on the shores of this beautiful place with this stunning woman, who is confusingly surprised to see a man (again, we all know why).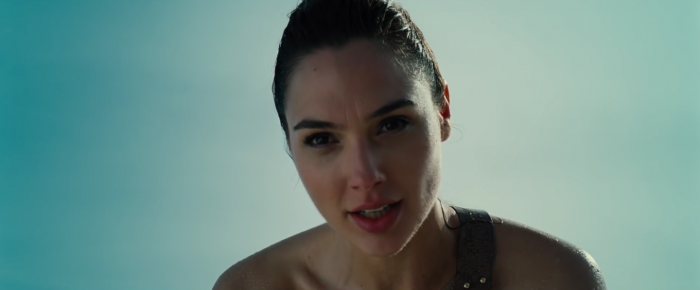 Here's Gal Gadot as Diana, who we all know as Wonder Woman. In this (or any) light, she looks like a goddess, and as Chris Pine learns about her origins later in the trailer, there's a good reason for that.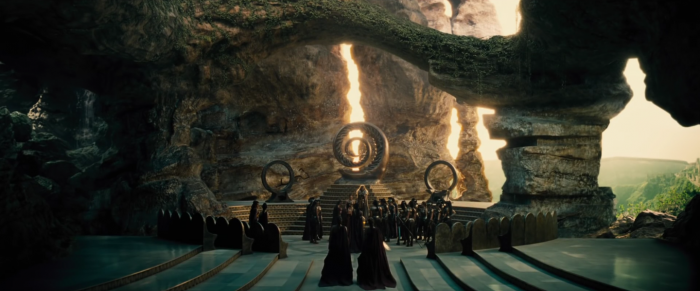 We arrive at Themyscria, home of the Amazons. This looks like it could easily be a throne room with the spiral structures in the back perhaps being some uncomfortable chairs for royalty. But more likely this could be some kind of senate where the Amazons meet to make important decisions regarding the future of their people. The most likely decision on the docket in this scene is whether they allow Diana to accompany Steve Trevor back to the mainland.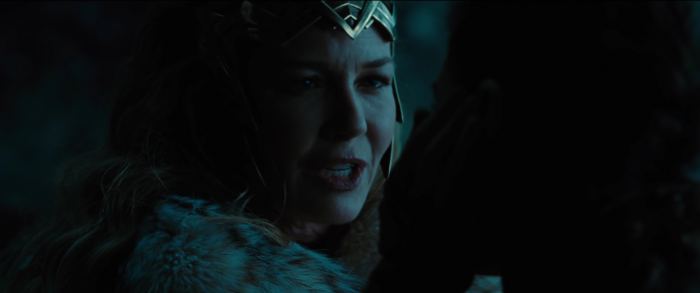 It's a fair assumption that the above scene is regarding approval for Diana to leave Themyscria for the mainland because there's a moment where Queen Hippolyta (Connie Nielsen) shares a tender moment with her daughter, before she heads off to the war torn world.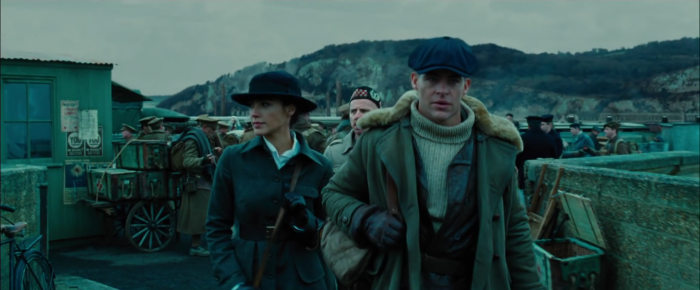 Diana and Steve Trevor arrive back in the world that the latter has lived and fought in. Voiceover from Queen Hippolyta cautions, "Be careful, Diana," as we see shots of a populated train station full of people and soldiers, a sight not uncommon during World War I.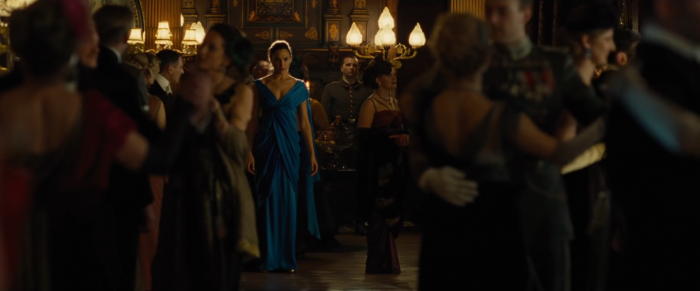 This shot sees Diana entering a rather upscale event, her blue dress making her standout against everyone else. This shot by itself is a fantastic one, and then it's immediately contrasted by the introduction of...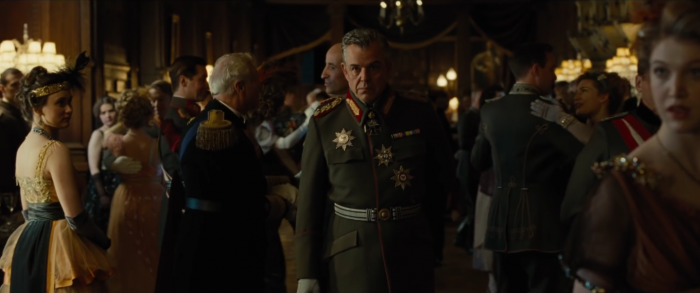 Danny Huston appears in an unknown role, though he's clearly a high-ranking military official of some sort. Apparently being William Stryker in X-Men Origins: Wolverine wasn't enough superhero torture for his liking. We hear Queen Hippolyta in voiceover again when Huston appears, saying, "They do not deserve you."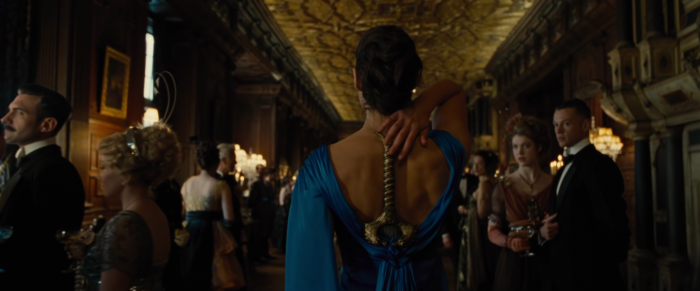 Immediately following this line we get a gorgeous shot of Diana reaching back for the sword she has concealed in her dress. I'm not sure that's the most inconspicuous place for her sword, but the handle does blend in with the dress, almost as some kind of ornate accessory. Is she about to kill Huston?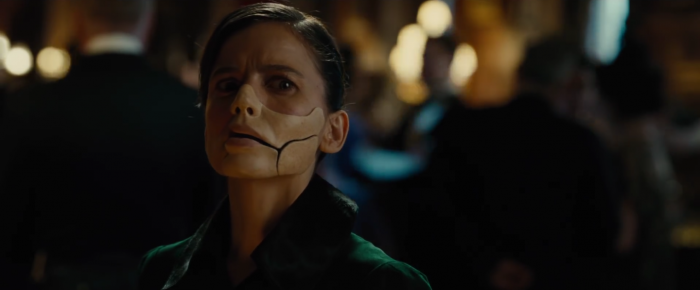 Then there's this somewhat menacing shot. The actress we're looking at is Elena Anaya. Judging by this photo alone, you would guess that she's some kind of villain. But considering the time period, she may just be a woman wounded from war. During this time, facial injuries were covered with artificial face pieces, not unlike the one Jack Huston wore in the HBO series Boardwalk Empire. I'm fascinated to see how this character comes into play since she's featured so prominently in the teaser trailer.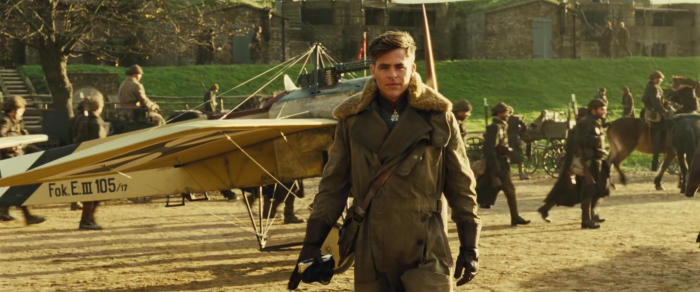 Here's another shot of Steve Trevor, this time looking a little more heroic as he walks through an airfield with planes around. Perhaps this is before he ends up getting gunned down and ends up in the presence of Diana.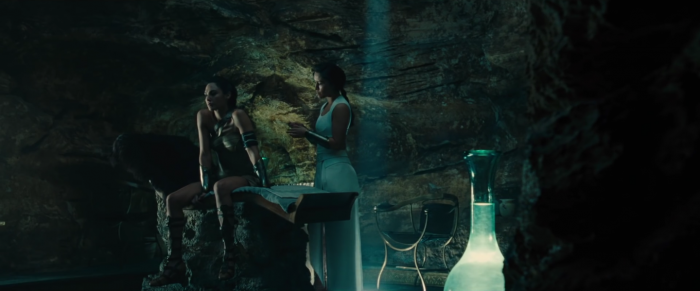 In voiceover, Steve Trevor asks how Diana had never met a man before, inquiring about her father. As we see a shot of Diana, appearing to having a wound treated by a healer in Themyscria, we learn that Diana has no father. Instead, she was brought to life by the god known as Zeus. Trevor's response is predictably one of bewilderment but in a polite way.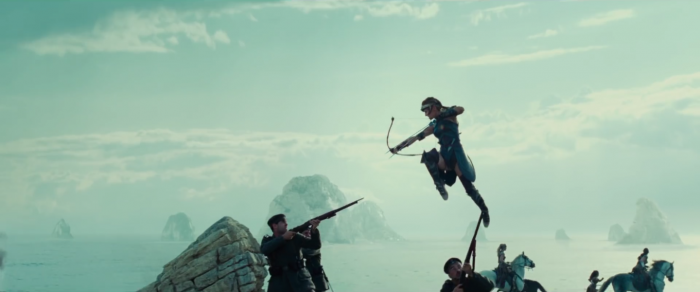 Next we get a quick montage of battle scenes. A trio of shots show Diana riding a horse through the woods, shedding some kind of blue cloak or maybe the dress she was wearing in the previous dinner scene. It's tough to grab a shot that doesn't look like garbage from that quick sequence, so let's just move on to seeing the Amazons kick ass. There's this incredible slow-motion shot of General Antiope (Robin Wright) jumping through the air as she draws an arrow to be shot from her bow.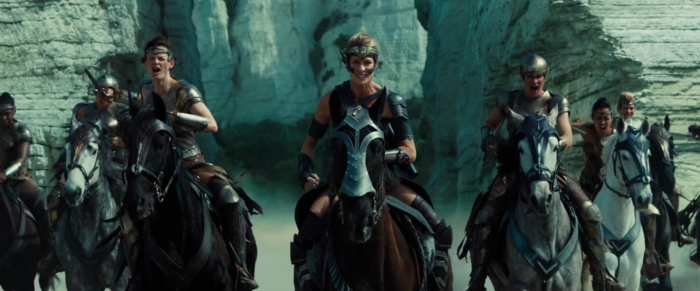 Then we see General Antiope riding with the rest of the Amazons on their horses, and they look like they're pissed. I can't be sure, but I think that's Diana riding with them on the far right side towards the back. Perhaps this is how Diana gets injured and needs treatment in that previous scene.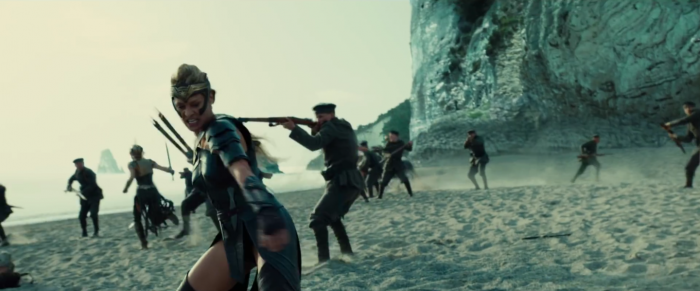 Here's another shot of Robin Wright looking like a total badass as she takes what appears to be a handful of arrows and jams them into an enemy on the ground. They're fighting male soldiers in these quick scenes, so I wonder where this comes into play in the movie. Could the military come to invade Themyscria at some point? Could this maybe be the reason Wonder Woman turned her back on humanity for so many years only to return in Batman v Superman: Dawn of Justice?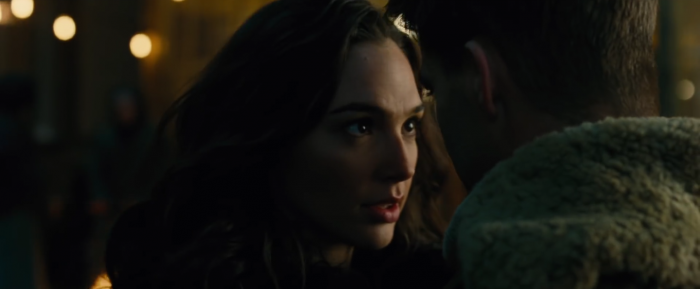 Diana and Steve get a little close at what appears to be a social gathering of some sort. There's definitely going to be some romance that flies between these two. But that moment is brief as we move on to an incredible montage of battlefield action.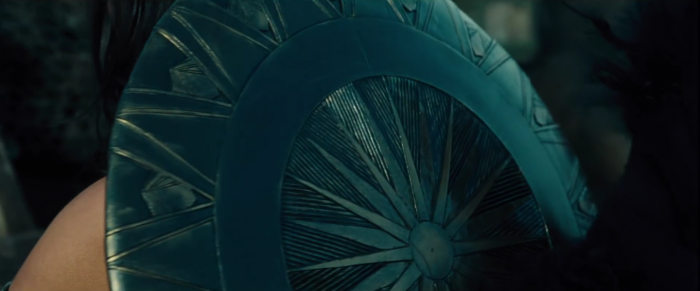 We get a close-up of Wonder Woman's shield as she looks to be heading into battle. The detail on it is phenomenal, and I'm glad that it's not a brighter, golden color, making it look like it's been used.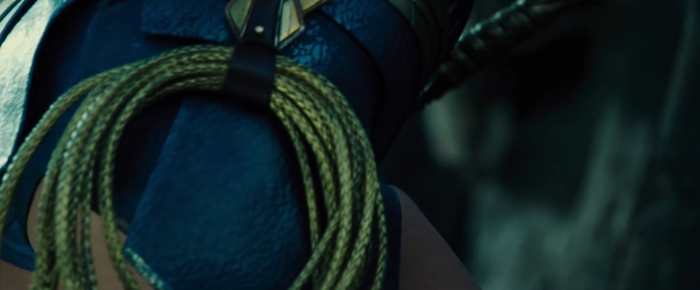 World War I battlefield scenes appear before we cut to this shot of Wonder Woman's trusty lasso, which the crowd in Hall H went nuts for despite the fact that it was just sitting on her belt. More soldiers are fighting in other quick shots throughout this montage as Wonder Woman emerges from a trench in her signature red, blue and gold armor.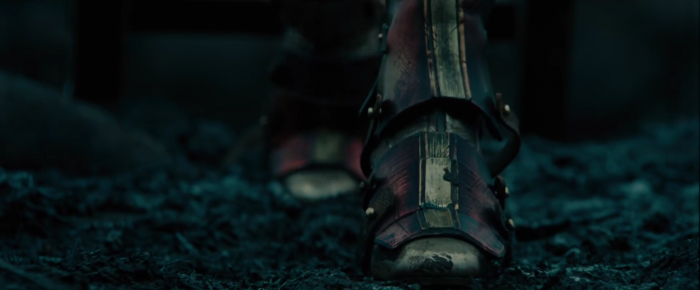 Wonder Woman's lower leg guards look a little different than comic fans may be used to, but they clearly served a functional purpose, especially in a battle like this.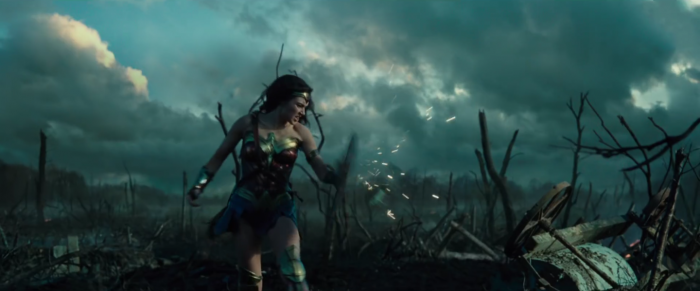 Speaking of battle, Wonder Woman is in full badass mode as she walks right into the middle of the war. With her shield in hand, she knocks a mortar out of mid-air, which explodes next to hear.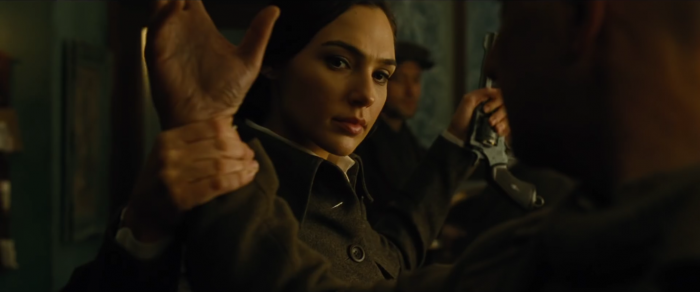 Next she appears to apprehend a soldier in a bar, removing his weapon from his hand and grabbing his arm. More than likely he said something disrespectful to her, and Wonder Woman just isn't going to take that and throws him across the bar.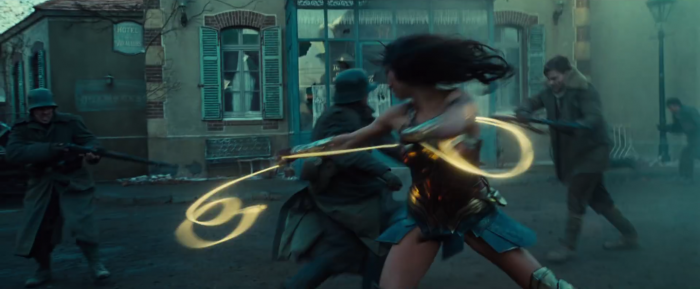 There's a great cut that follows the motion of this man that she throws across the room into another quick montage of Wonder Woman kicking ass as she side-flips through a group of soldiers. But the money shot is her whipping out her lasso, now glowing a brighter gold, and fighting more soldiers with it.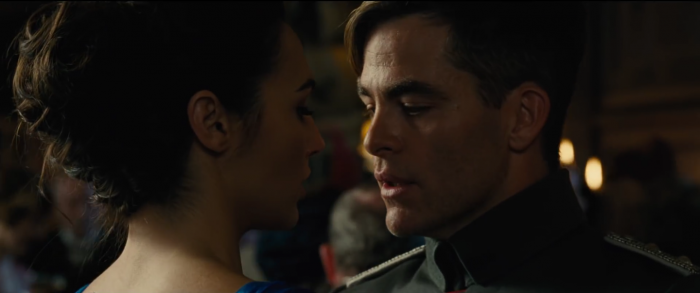 In another shot of Steve Trevor and Diana getting close, this time he tells her, "I can't let you do this." There's no clear reference as to what "this" might be, but as you can see in this shot, she's wearing that same blue dress from earlier in the trailer, so maybe it's Trevor who steps in and stops her from killing Huston until the time is right.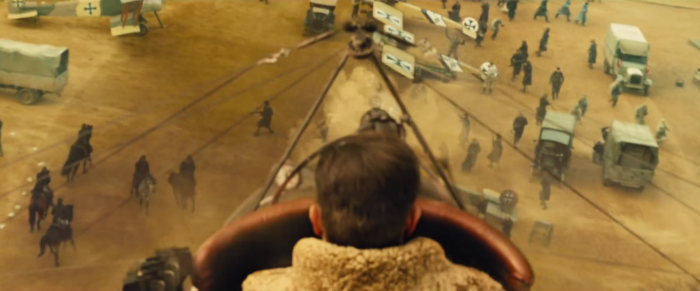 Another montage of Wonder Woman fighting soldiers comes along, this time with some snippets of Steve Trevor. One particular fantastic cut has him running and sliding under a plane which is followed fluidly by Wonder Woman showing off more of her moves until we see Steve Trevor being an ace pilot.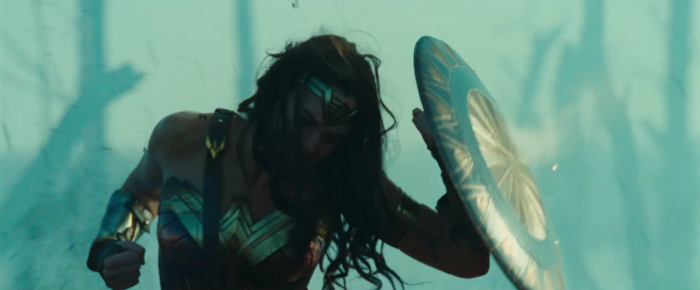 But then Wonder Woman takes the cake with this fantastic shot of her wielding her shield in battle, deflecting tons of bullets, until she tells Steve Trevor, "What I do is not up to you."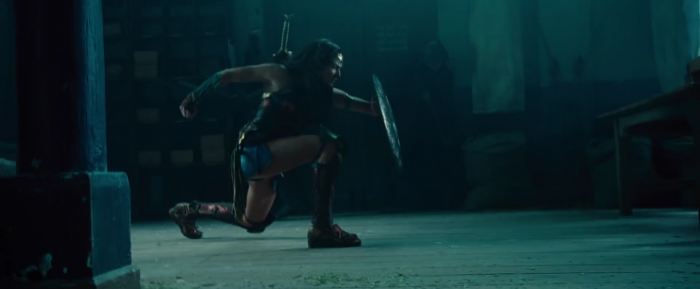 This is when the trailer really gets into full swing as she strikes an iconic hero pose in the middle of a room of soldiers before she begins to take them out.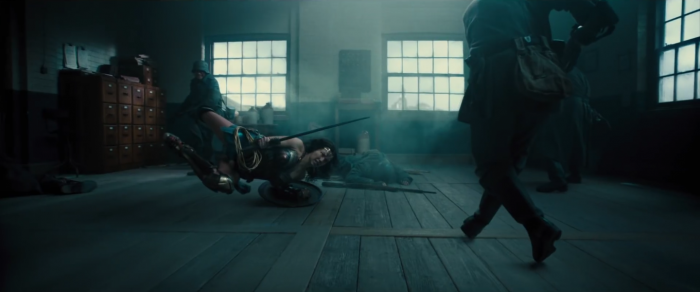 There's a slow motion shot that would make Zack Snyder blush as Wonder Woman slides across the ground on her shield in slow motion, preparing to sweep the leg of another soldier. Wonder Woman wields her sword and shield while riding a horse and whips her lasso around again.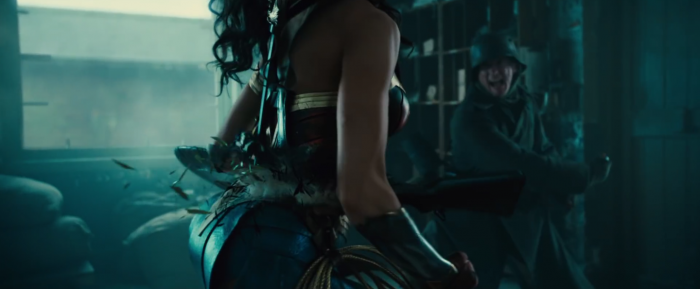 Then we get another slow motion shot, one that wasn't entirely clear to me when I first watched the trailer in Hall H. Wonder Woman has looped a gun around her back and snaps it in half around her hips.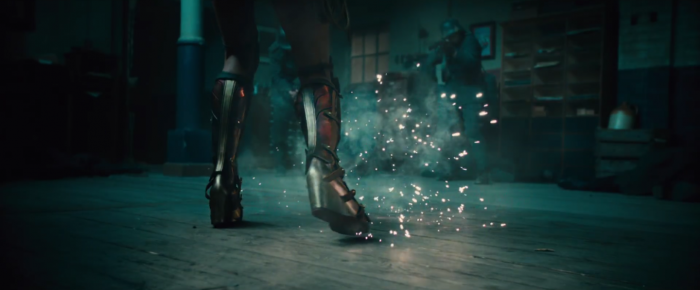 Some more bullet deflection from her leg armor with sparks flying around. As you can see, her boots have a heel to them, because that's just what female superheroes wear most of the time apparently. She does some more kicking of ass, and then slices her sword to reveal...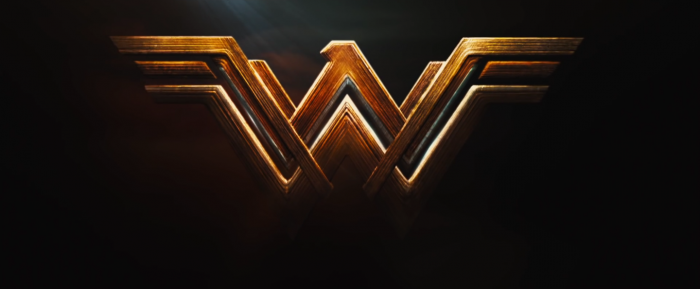 The title card accompanied by that killer Wonder Woman theme that played in Batman v Superman: Dawn of Justice, easily the best track from the entire score.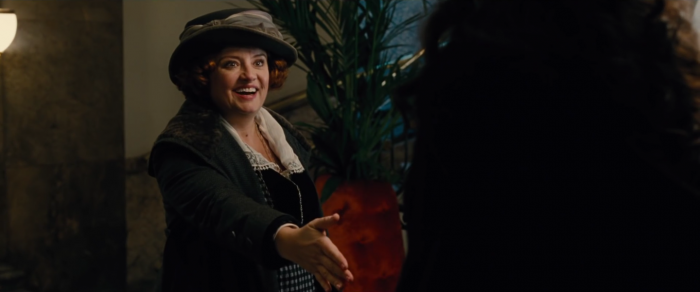 Finally, we get one more lighthearted comedic moment as Steve Trevor introduces Diana to his secretary Etta Candy (Lucy Davis). There's a great joke here, and it's a fun way to end the trailer.
***
That's all for now. This trailer was probably my favorite thing to come out of the convention that was publicly released online. There should be no doubt that Patty Jenkins knows how to direct action based on the shots in this trailer alone. This very quickly became one of my more anticipated films of 2017, and that's in spite of the fact that I wasn't crazy about Batman v Superman: Dawn of Justice.
Stay tuned for anymore details we may hear about Wonder Woman as the June 2, 2017 release date gets closer.