'The Rocky Horror Picture Show' Trailer: Who's Ready To Do The Time Warp Again?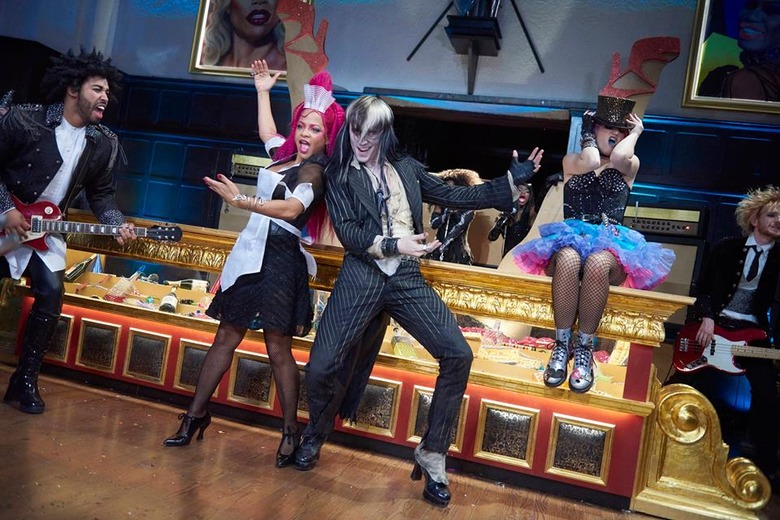 After the success of Grease Live!, Fox set their sights towards The Rocky Horror Picture Show. At Comic-Con this past weekend, the network showed the first trailer for their take on the 41-year-old cult classic, which provides another look at Orange Is the New Black's Laverne Cox as Transylvania's Dr. Frank-N-Furter and a glimpse at Tim Curry's cameo.
Below, watch The Rocky Horror Picture Show trailer.
Kenny Ortega (Hocus Pocus and Newsies) directed the remake, which stars Victoria Justice and Ryan McCartan as Janet and Brad, musician Adam Lambert as Eddie, Penny Dreadful's Reeve Carney as Riff Raff, Staz Nair as Rocky, Annaleigh Ashford as Columbia, and Christina Milian as Magenta. Curry, who played Dr. Frank-N-Furter in the original film, returns to the world of The Rocky Horror Picture Show to provide narration as The Criminologist.
The trailer and the TV movie, surprisingly, acknowledge the midnight shows fans famously participate in for The Rocky Horror Picture Show. Here's the trailer:
Another adaptation of the British musical was bound to happen, and it's actually been talked about for almost a decade. Back in 2010, Fox 2000 was courting Ryan Murphy (American Horror Story) to direct a new version; he would've been a rather obvious pick for the project. Two years before that, MTV was working on a TV movie like Fox's production, but for whatever reason, it never happened. MTV's scrapped remake of The Rocky Horror Picture Show would've used the original script but incorporated some new songs.
Here's the official synopsis:
The Rocky Horror Picture Show follows sweethearts Janet (Justice) and Brad (McCartan), who stumble upon Dr. Frank-N-Furter's (Cox) bizarre abode. Frank-N-Furter, a sexually ambiguous, flirtatious alien mad-scientist – with the help of his faithful servants, Riff Raff (Carney) and Magenta – is holding an annual, Transylvanian science convention to showcase the birth of "Rocky Horror" (Nair) – a fit, attractive man created solely to fulfill Frank's desires.
Executive-produced by Lou Adler (Grammy Award winner and Rock and Roll Hall of Fame inductee), Gail Berman (TV, film and Broadway producer) and Kenny Ortega ("High School Musical" franchise, "This Is It," "Descendants," "Hocus Pocus," "Newsies"), The Rocky Horror Picture Show is a reimagining of the cult classic, which is celebrating 40 years of theatrical distribution – longer than any other film in history. One of the most popular films of all time, it still plays in movie theaters around the world.
The Rocky Horror Picture Show will air on Thursday, October 20th at 8/7c.