'Spider-Man: Homecoming' Supporting Characters Revealed By Jon Watts, Including Flash Thompson & More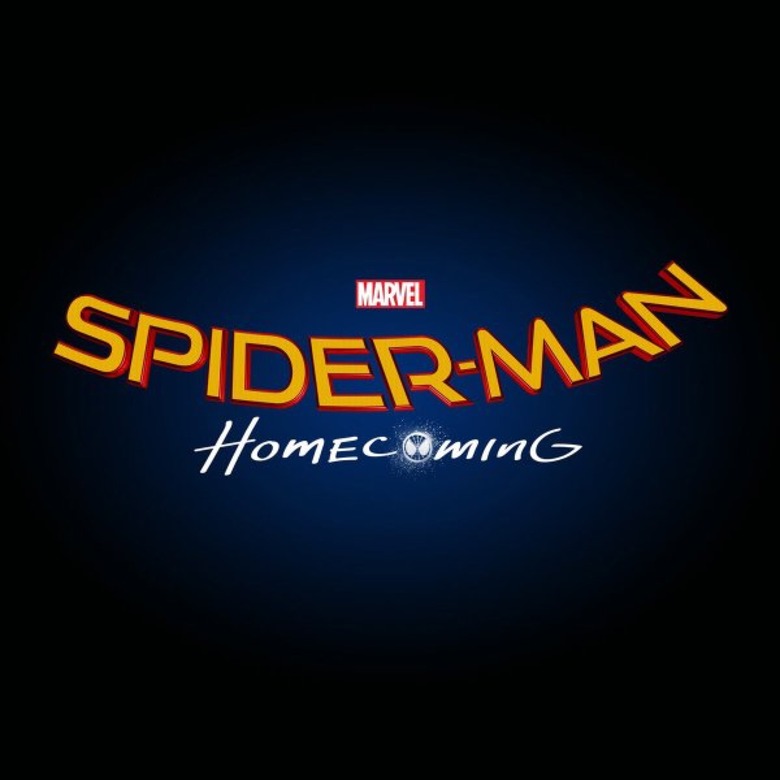 Even though Spider-Man: Homecoming is currently in production down in Atlanta, Georgia, details on the franchise reboot's story have remained largely under wraps. For example, even though we've heard about the parade of supporting stars who have been cast in the movie, we haven't heard who any of them are playing in the movie. However, that changes today as director Jon Watts has revealed some of the characters who will be played by the young co-stars who are surrounding Tom Holland as the new Spider-Man.
Find  out who the supporting members of the Spider-Man Homecoming cast will be playing after the jump.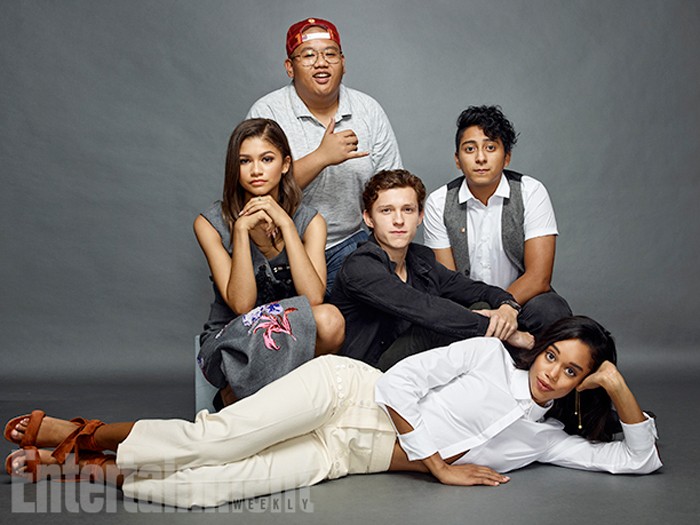 In an interview with Entertainment Weekly (where the above photo comes from), director Jon Watts revealed the characters who will be played by Zendaya, Tony Revolori, Jacob Batalon and Laura Harrier in Spider-Man: Homecoming. Zendaya is playing Michelle, Revolori plays Flash, Harrier is Liz, and Batalon will be Ned. Well, only one of those sounds like a name casual Spider-Man fans would be familiar with, but thankfully our friends ScreenRant know a little more about the comics to break down who these actors are likely playing.
Flash Thompson (Tony Revolori)
This is the easy one for even casual Spider-Man fans. Flash Thompson is Peter Parker's bully in high school, always tormenting the science nerd. Funnily enough, the character comes to idolize Spider-Man, unaware that Parker is the guy under the mask. Perhaps that could be something that comes into play in this iteration of Spider-Man since Watts mentioned during the Comic-Con panel that one of the hurdles for Parker is having to keep the fact that he's Spider-Man secret from his friends.
Flash Thompson was played by Chris Zylka in The Amazing Spider-Man and Joe Manganiello in Sam Raimi's Spider-Man franchise, and now he'll be played by Tony Revolori (right) of The Grand Budapest Hotel. That's an interesting casting decision since Revolori doesn't exactly have an intimidating presence has played a bit of a nerdy kid himself in Dope. What could also be interesting is it's been pointed out to us that Flash plays a new iteration of Venom in a current comic book arc, so maybe that's something that could come to fruition in a later film.
Michelle (Zendaya)
Even though she hasn't been given a last name officially, there have been rumblings that the character played by Zendaya will be Michelle Gonzales. In the comics, the character is a new addition to Spider-Man's story as a character that Peter interacts with as an adult. She ends up as Peter Parker's roommate and the two have a one night stand that complicates their relationship. This likely isn't the angle her character will have in the movie as we've seen the character as a sort of punk kind of girl who gives Peter a playfully hard time in school. Could Zendaya (left) be the new love interest for Peter instead of Mary Jane Watson?
Liz Allan (Laura Harrier)
In the comics, Liz Allan is another potential love interest for Peter Parker, but nothing ever really comes out of it because she used to be Flash Thompson's girlfriend in high school (a trait that was transferred to Mary Jane Watson in Sam Raimi's Spider-Man), making things a bit complicated. For a time, she wasn't in the comics at all, but she became a key player as the stepsister of the villain The Molten Man and eventually married Harry Osborn. As a high school student played by Laura Harrier (bottom), it's unlikely the latter portion will come into play, but I wouldn't be surprised if she was Flash Thompson's girlfriend in the movie.
Ned Leeds (Jacob Batalon)
Finally, Jacob Batalon (top) is playing Ned Leeds. In the comics, Leeds works for the Daily Bugle and becomes a bit of a rival to a teenage Parker, who had a crush on Betty Brant, the secretary of J. Jonah Jameson. Perhaps the high school version of this character will give Parker a run for his money with another potential love interest. Maybe they even work for the high school newspaper together. Leeds' comic book history sees him getting brainwashed and turned into the second Hobgoblin, but again, that's not something we'll likely see in the movie either.
***
So there you have it. Those are the primary high school supporting players in Spider-Man: Homecoming who will surround Tom Holland as Peter Parker. As for the rest of the cast, we know Robert Downey Jr. will have a role as Tony Stark and Michael Keaton has been said to be playing the villain Vulture. While it's confirmed that Keaton and Vulture will be part of Spider-Man: Homecoming, we've yet to get confirmation that they will be one and the same.
On a related note, a Comic-Con presentation from the toy company Diamond Select (via ScreenRant) may have given some details on a couple other villains we may see in Spider-Man: Homecoming. The company revealed they would be producing a line of toys based on characters from the new Spider-Man movie and they mentioned the villains The Tinkerer and Shocker as being part of that line-up. There's a good chance they won't be primary villains and may only be quick criminals to be dispatched with, but it's hard to say for sure.
Stay tuned for more details on Spider-Man: Homecoming as they become available.