Charlie Hunnam Won't Be Back For 'Pacific Rim 2' But A Lot Of The Original Cast Will Be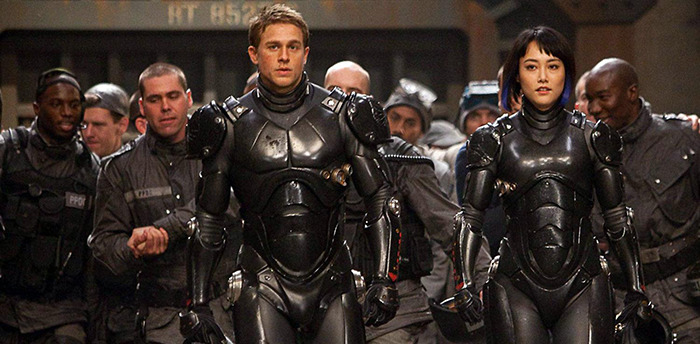 UPDATE: Charlie Hunnam is not coming back for Pacific Rim 2. Over the weekend, he spoke to Yahoo Movies and said that he "was forced to exit the production at an early stage due to scheduling conflicts." So his character Raleigh Becket will not be in the sequel, though Hunnam says he's still excited to see what they do with the follow-up. Our original story follows.
For a short while, the possibility of a Pacific Rim 2 appeared doubtful. Universal scrapped the sequel's original release date, but soon after that a new date was announced and it was announced that John Boyega (Star Wars: The Force Awakens) will play the son of Idris Elba's Stacker Pentecost in Steven S. DeKnight's sequel. But what about the original cast? Will Raleigh Becket (Charlie Hunnam) and Mako Mori (Rinko Kikuchi) return? What about everybody's favorite black market Kaiju salesman, Hannibal Chau (Ron Perlman)?
Producer Guillermo del Toro confirmed we'll see a lot of the original film's cast members come back. Below, learn more about the Pacific Rim 2 cast.
Guillermo del Toro is rather busy at the moment. He has his exhibit at LACMA coming up, and he's about to start shooting his Cold War drama. As a producer, he's working on Pacific Rim 2, which he discussed with The Hollywood Reporter. When asked why Charlie Hunnam and Mako Mori aren't returning, del Toro responded:
That's not entirely true. As a producer I learned not to declare anything about a movie I'm not directing. I can tell you this — a lot of the cast from the first movie is coming back. I leave those communications to Steven DeKnight. He's not only a director, but he's actually a guy I respect and admire and it's his movie.
Hunnam has talked about the sequel to press, but his return has yet to be announced. The first film ended with Raleigh and Mako closing the portal from the aliens' dimension with a nuclear bomb, presumably ending the war. When the Kaiju return, it would be surprising if Raleigh and Mako didn't suit up for the drift.
As for one of confirmed Pacific Rim 2 cast members, John Boyega, del Toro discussed his involvement:
I admire him tremendously. The idea for me is that this is a continuation of the great leadership character that was Idris Elba. It's a very different character but I love the idea of having a main character who is not a white Anglo-Saxon guy. Before the heated conversation about diversity in film started we were doing Pacific Rim. And I think that universe is a huge proponent of that.
Del Toro wants to see the universe continue expanding. There have been talks about a Pacific Rim animated series, and the director said the ideas they had for it inspired the sequel:
If and when the animated series happens, we are mixing them. In fact the sequel takes some ideas that we created for the animated series originally. I think we need to let the live-action lead. When we went with Steven we showed him everything we were developing and he said, 'I like this from this universe, I like this from this element, I want to bring them into the movie.' It's easy to expand cause you have not only the Jaeger-human universe and the Kaiju-alien universe, but (also) the fact that you are now able to play in a very history-filled universe. We started the war with the Kaiju, we won the war with the Kaiju and now it's a postwar of those two universes.
Recently it was reported Scott Eastwood (Snowden) might join the cast of Pacific Rim 2. Derek Conolly (Jurassic World), Travis Beacham (Pacific Rim), Zak Penn (Ready Player One), and Jon Spaihts (Passengers) all worked on the script. The sequel's story is currently unknown, but del Toro said the story takes place after the war, and likely when the war starts up again.
Pacific Rim 2 opens in theaters February 23rd, 2018.