VOTD: Henry Cavill Disguises Himself In 'V For Vendetta' Mask At Comic-Con, Fools 'Suicide Squad' Cast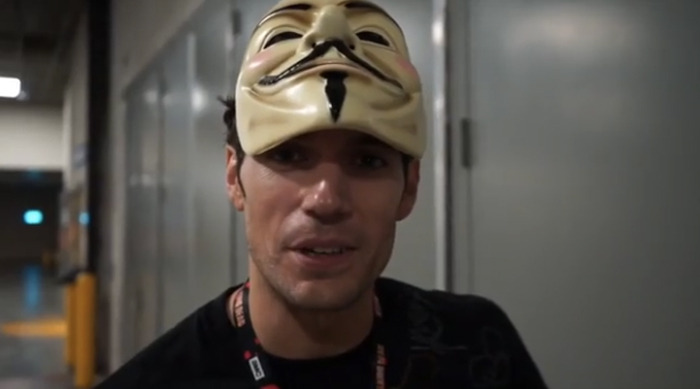 Some of your favorite actors and actresses can be just as geeky and nerdy as you and me. However, since they have some of the most recognizable faces on the planet, they can't walk around places like the Comic-Con show floor without being bombarded with fans looking to snap a picture or get an autograph. That means celebrities often have to have some kind of disguise in order to enjoy Comic-Con like an average attendee, and Henry Cavill did just that this past week.
In a video posted to the actor's Instagram, Henry Cavill shows how he donned the Guy Fawkes mask from V for Vendetta in order to walk around Comic-Con. He even snapped some photos with fans wearing Superman shirts and ended up surprising some of the cast members of Suicide Squad during an autograph signing sessions at the DC Comics booth. See the Henry Cavill Comic-Con disguise fun after the jump.
Here's the video Henry Cavill posted to his own Instagram account:
Best Comic Con yet. I got to be here for Justice League but couldn't miss Suicide Squad. #SDCC2016 #JusticeLeague #SuicideSquad
Even though Henry Cavill may be easily recognized at Comic-Con enough that he requires a disguise, he didn't have a problem going unnoticed one day in New York City. A few months ago, Henry Cavill wore a Superman t-shirt and no mask while standing and walking around the tourist center that is Times Square, where some massive Batman v Superman: Dawn of Justice billboards were all around him. And yet, in the video he posted to Instagram, no one seemed to notice that it was Henry Cavill. There's a part of me thinking that it's sad no one noticed Henry Cavill like this, but then again, maybe New Yorkers are just so busy that they just don't give a shit either way.