New 'T2: Trainspotting' Teaser Recreates A Classic Scene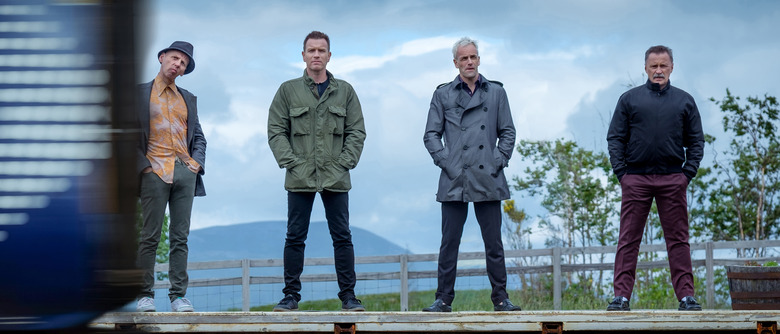 They're 20 years older, but apparently they haven't lost their lust for life. Sony Pictures has unveiled the new T2: Trainspotting teaser, which brings back director Danny Boyle and stars Ewan Mcgregor (Renton), Ewen Bremner (Spud), Jonny Lee Miller (Sick Boy), and Begbie (Robert Carlyle). It's just the briefest of looks at the madness that's sure to come, but it's still kind of a thrill to see the guys back together again. 
The music, of course, is Iggy Pop's "Lust for Life." And the scene itself is a nod to moment from the original Trainspotting, which you can see below. One of the weird things about looking at the original train scene now is that since '90s fashion is back in again, the clothes don't really look that dated — there are guys dressed just like this walking around Brooklyn's trendier neighborhoods at this exact moment.
Since Tommy (Kevin McKidd) didn't survive the original Trainspotting, Begbie subs in for him in the new version of the train scene. The gang looks older and more clean-cut. In fact, half of these guys look like they could be hip dads picking up their kids from the local elementary school. But since this is still a Trainspotting movie, we're guessing they'll find themselves in crazy trouble again before too long.
Not much has been revealed about the plot of the new film, which was written by John Hodge and which Carlyle has called "one of the best scripts I've fucking read." It will not be a strict adaptation of Porno, the book sequel written by Trainspotting author Irvine Welsh. But the 20-year gap will definitely be a huge part of the story, as explained by Carlyle:
People who came to see the original film when they were in their early twenties are very different people now. And the way John Hodge has put this thing down, obviously with the help of Danny Boyle, is to make it about how the characters' lives have moved on... or have they?
T2: Trainspotting arrives February 2017.