LOL: Watch The Young Han Solo Audition Tapes With Bill Hader, Jeff Goldblum, Will Arnett & More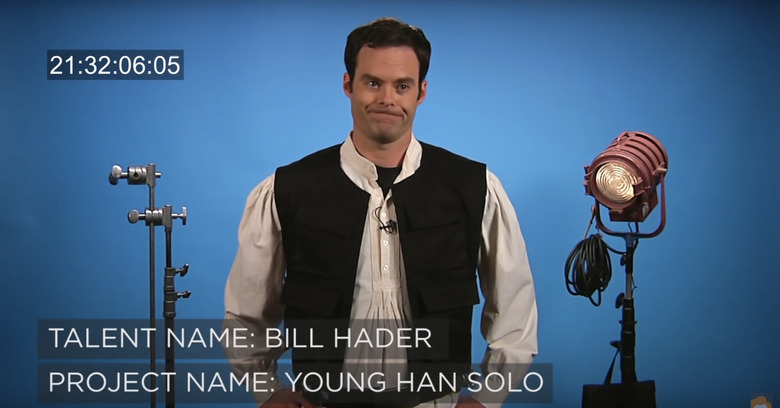 Last week during the chaos of Comic-Con in San Diego, late night host Conan O'Brien brought his TBS show to join all the geeks and nerds who descended on the city, and broadcast a batch of episodes featuring the casts of Game of Thrones, Suicide Squad and more. As usual, all of his shenanigans during these shows took aim at all things nerdy and geeky, and one of the highlights included laughs inspired by a forthcoming Star Wars project.
We all know there's a Han Solo spin-off coming in a couple of years with Alden Ehrenreich playing the role originated by Harrison Ford. However, there were plenty of other actors who were desperate to get that role. Conan was able to get the Han Solo audition tapes featuring a cavalcade of well-known names such as Bill Hader, Will Arnett, Jeff Goldblum, Adam Sandler and even Jodie Foster, all doing their "best" to get the role of Han Solo.
This sketch idea is nothing new as Saturday Night Live featured some auditions for Star Wars: The Force Awakens last fall, but it didn't have quite as many special guests outside of the cast as this particular video. Sure, it was cool have Daisy Ridley and John Boyega in on the joke, but it doesn't get much better than Jeff Goldblum's Han Solo audition in this video. Plus, this particular sketch has Adam Sandler, who never takes the time to appear on SNL except when it's a milestone anniversary celebration episode that requires his appearance.