'Prison Break' Revival Is "All Killer, No Filler" [Comic-Con 2016]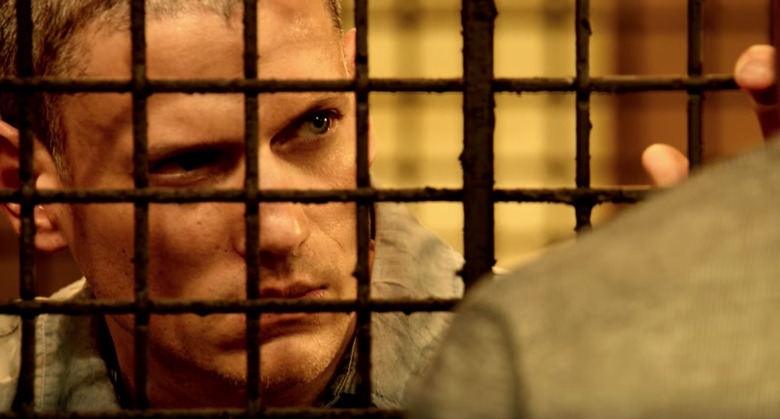 San Diego Comic-Con got a first look at the upcoming limited series Prison Break, picking up after the original four seasons and straight to video movie. Series creator Paul Scheuring got the band back together, after leaving the show in capable hands for seasons three and four. We spoke to the new series' producers Vaun Wilmott and Michael Horowitz in a roundtable about bringing Prison Break back.
While sequel series like The X-Files and Fuller House revel in nostalgia, Prison Break won't be interested in that. "I feel like Paul doesn't care that much about nostalgia," Horowitz said. "Paul just wants to tell a great story and tell a story that he was excited about and involving our main cast. Yeah, I think there were times where we probably wish we could have had more people back at times, but it was more important just to tell the great story. We also don't want to be just nostalgic. There's a bunch of new characters who are exciting that we think the audience is going to be really excited about." 
The fact that Wentworth Miller returns as Michael Scofield is a big deal. If you watched Prison Break: The Final Break, you know it gives Michael a definitive conclusion. Although it would be just like Michael to create that appearance when he has some other agenda.
"I think the excitement about this was that Paul finally figured out a really cool way to bring him back and bring him back from the dead," Horowitz said. "I suppose we should not tell anybody that he's alive but I think it's pretty obvious that Wentworth Miller's in it."
Scheuring's concept for the nine-episode Prison Break return has ancient mythological overtones. "You guys have probably heard a little bit about it which is this idea of The Odyssey and Odysseus," Wilmott said. "That mythological journey was really the structure which he used to formulate the idea for the season."
Robert Knepper also attended Comic-Con. He played T-Bag, the baddest criminal in the prison. Amaury Nolasco and Rockmund Dunbar have also been confirmed, but they couldn't bring everyone back.
"I think it's really challenging because you know the fans love these guys and they want as much of these other characters as they can get," Horowitz said. "But you've got to tell a coherent story that moves the whole time. It's just this fun freight train so you need to have good, creative reasons to involve the characters and give the fans what they want."
The new characters will be just as important as the original cast returning. "In the same way that the original series had all these really distinct, interesting characters like T-Bag and Sucre and C-Note with their own stories and vibes, this new season has a group of characters that have similar attributes," Wilmott said. "They're really distinct, they're really interesting and they feel like a whole nother group like they did in season one. It's a cool group."
The Prison Break fan base has also grown since the show went off the air, thanks in part to Netflix keeping the library of episodes online. The producers assured new fans they would not have to binge watch all four seasons to enjoy the new series.
"I don't think you have to have watched the first four at all," Wilmott said. "It'll help but I don't think it's necessary."
Horowitz added, "It'll help and there are Easter eggs and little lines and callbacks, but absolutely. As long as you know they're brothers, they love each other, there was this prison thing in the past."
Prison Break: The Final Break gave the series closure, but here we are. The producers feel their series has a definitive ending, but being Prison Break they've learned never to close all the doors.
"It has a lot of the elements and the feel of season one," Wilmott said. "It has all of that. All the things that I think the audience loved, which is the brothers connecting, the love of family, the tattoos that are the mysteries and the things that need to be solved, the big twists and turns. And I think at the end they are going to be so satisfied, and I also think you never know in terms of going forward."
What Prison Break won't have are filler episodes stalling to save the big moments for sweeps weeks. The nine episodes will be jam packed. "It's also exciting just to have nine episodes so you can tell a cool, fun, close ended story," Horowitz said. "It's kind of all killer, no filler. You don't have to get lost in the middle of the season and meander around."
Prison Break returns in 2017 on Fox.