'Preacher' Producers On Their Cinematic Influences And Considering James Franco [Comic-Con 2016]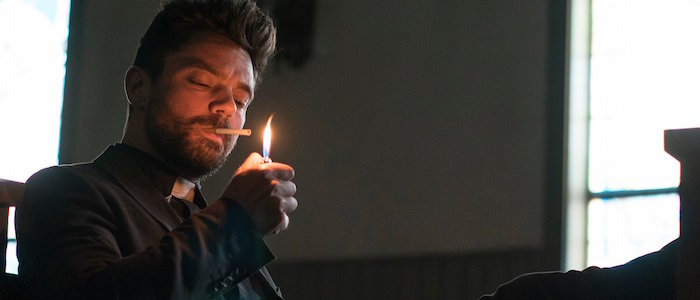 With two episodes left in its first season – and now only one as of publication – Preacher came to San Diego Comic-Con. The cast and creators of the show gave a press conference, where Seth Rogen and Evan Goldberg dodged questions about the finale or second season with jokes. They did reveal some noteworthy behind-the-scenes stories though, particularly that a frequent collaborator of theirs was once considered for the lead role of Jesse Custer.
"We had a nice conversation with James Franco at one point," Goldberg said. "He looks very Jesse-ish. He was into it but just literally he has to make 4,000 things in 20 different formats. It would take up his time and he wouldn't be able to do a Tori Spelling movie or whatever the hell he was going to do." 
Rogen added that this was years ago, so Franco was never seriously in talks. Dominic Cooper was their Jesse. "[Franco] was dangling from a crane in Venice at the time so he couldn't work us in," Rogen joked. "I think that was even before, that was in a very preliminary phase."
Another reference that will mean something to movie buffs came in regards to the show's fight scenes. In particular, a bloody knock down drag out fight in a hotel room that goes on forever was influenced by a landmark modern martial arts movie.
"We watched Kill Bill a lot actually in preparing to do the show," Rogen said. "It just had such a deliberate... and Sam Raimi we're big fans of. Again, the very deliberate shot choices and angle choices when it came to the fight were very important to us. In the past, me and Evan did a lot of fight scenes that were very handheld and kind of scrappy. With Preacher we wanted them to have a much more definitive style and a much more confident choice in how they look. Because of that, it does really make it that you can't just shoot a bunch of guys wrestling, just cover it with a few cameras and hope it cuts together. It is all about the amount of setups and how much time we have to do them."
The season finale shouldn't be too much of a spoiler. There is existing source material that reveals the overall plot, and Cooper suggested the season finale would see Jesse (Cooper), Tulip (Ruth Negga) and Cassidy (Joseph Gilgun) hit the road. "He's with the girl he loves and he's met a new great friend and they're going on the road," Cooper said. "I hope people will be left excited and compelled by what may happen once these three go in search of this thing I won't say yet."
As for that source material, Rogen was conflicted about whether viewers should read Garth Ennis's books ahead of the show, even if the show takes major departures. "It's funny because now that we've been making it, people are like, 'I've started reading the comic,'" Rogen said. "Part of me is very thrilled to hear that and part of me's like, 'It's kind of just going to ruin the show.' I'm actually torn. I partly think the comic's not going anywhere, maybe wait until the show's over and then read the comic. Or, if you're the type of person who loves comics then read it, but it will for sure put you a few steps ahead of what we imagine to be our average viewer."
Goldberg did confirm that the Saint of Killer subplot would pay off. "The Saint of Killer stuff has been so fun," Goldberg said. "People just have no clue what it is and how it ties in and it looks different. That's been the funnest thing."
The season finale of Preacher airs Sunday, July 31 at 9PM on AMC.