'The Walking Dead' Producers On Ezekiel, Shiva, And More New Characters In Season 7 [Comic-Con 2016]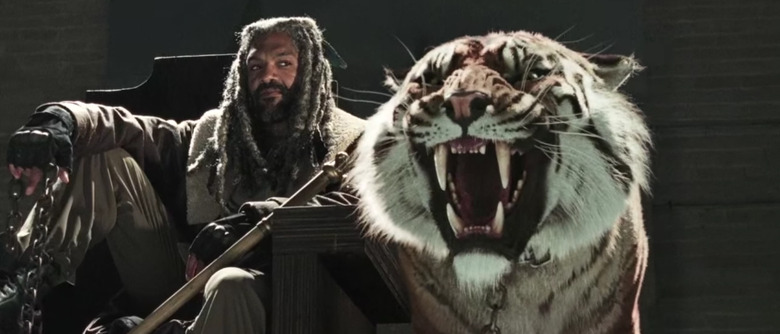 The producers of The Walking Dead gave a press conference at San Diego Comic-Con. This included Robert Kirkman, Scott Gimple, Greg Nicotero, Dave Alpert and Gale Anne Hurd. In their panel, The Walking Dead showed a trailer revealing new characters Ezekiel (Khary Payton) and Shiva, a tiger, both of whom fans of the comic book will recognize. Kirkman said even more familiar characters are coming, but we should focus on Ezekiel and Shiva.
"We'll always be bringing characters from the comics," Kirkman said. "We were reaching that point where Ezekiel is in the storyline so it was just a natural progression. As we move through the storyline, we'll be bringing some characters in episodes, some characters later and stuff like that but there will definitely be other characters that you can see this season and some surprises coming I think. Right now it's all about Ezekiel and Shiva as far as new characters." 
Shiva will be entirely visual effects, mainly to avoid abusing a real tiger. It also helps Kirkman, who is afraid of tigers. "Gale pointed out that it's not particularly humane to have a live tiger on set, and is also very dangerous for the actors," Kirkman said. "So I was like great, no real tiger, I can still come to set. That sounds awesome. Because I would not have gone to set if there had been a real tiger anywhere near set. So there's no real tiger involved. It's all magic."
Like other events from the comic books, the war brewing will play out differently on the show. "I think from season one, the goal was always to use the comic as a road map, but never make it so that if you read the comic, you would be bored in the show," Alpert said. "This season and the plan to come is very much the same in the sense that we're going to be hitting a lot of the milestones that those of you who are familiar with the comic will recognize. Ezekiel coming is a big thing. Having Shiva, that's a big thing. That's not going to play out exactly the same as it did in the comic. There'll be a lot of swerves. There'll be things that you don't expect. There'll be things that you'll be like, 'Oh, I recognize that beat. It was Herschel who had his head cut off outside the prison. That's a different take on having Tyreese.' So it's the same moment done in a different way. There's going to be a lot of that type of stuff, but it'll be the same sort of strategy of zigging and zagging around the milestones of the comic."
Gimple also reminds viewers that there are other survivors the show is not following, so there is more going on in the world than Rick Grimes. "We have these groups in these different areas and some of these groups we've only seen hints of, like the Saviors," Gimple said. "They exist in their own society and we see that. We've talked about The Kingdom. That's their own place. We saw Tara and Heath in some weird place. There's Alexandria. With these places, have different characters, have different situations, different ways of life. So we're expanding, literally, in these different locations but also in the types of characters we see and the kind of lives that they lead."
Of course, The Walking Dead just introduced a major new character at the end of season six. Jeffrey Dean Morgan plays Negan, and he killed one of the survivors in the cliffhanger. He also swears much harder on the DVD and Blu-ray versions, and they will continue to shoot explicit Negan scenes.
"Yes, we will," Gimple said. "Not every scene. It's the notable stuff. We're doing two takes of every scene where we just add the word f*** randomly."
We'll have to wait for the season seven premiere to find out who Negan killed, but Nicotero assured fans that it was not an easy decision. "I think the biggest challenge is you know it's coming," Nicotero said. "Ever since issue 100, we were at breakfast four years ago today when that issue was out. I remember reading it and just thinking how brutal and unexpected and senseless it felt. So we're going into that moment where we know it's going to happen. I think that is the trickiest aspect of the first episode is living up to, number one, the expectation of that moment and then what's even more interesting for me as the director of the episode was how that changes the direction of the survivors forever. When we shot the episode, that to me was as critical as the actual moment which is the five minutes after, the ten minutes after, the 20 minutes after. When the smoke clears in the battlefield sort of scenario. So it's a fascinating exercise in emotion because shock and denial, all these things play into it."
Hurd also stressed the importance of giving Negan a proper introduction. "So many of us are so familiar with the comic book ad know all of this, but for those fans who aren't, the introduction of Negan is so important because they don't have the expectation already from the comic book," Hurd said. "They get to see him and experience him in the comic books now being expanded from the end of season six into the beginning of season seven. It really sets up just what a formidable, but somehow incredibly charming character Negan is. We just get really up close and personal with Lucille. For those of you who even know who Lucille was, by the end of seven, they will know that Lucille is a very close friend of Negan's and also an inanimate object, a baseball bat."
Filming in Georgia gives The Walking Dead a hot and sweaty look. One reporter asked if we ever might see zombies in snow, and the answer was quite possibly. "I will say one way or another, I make no promises, but I would be shocked if we didn't," Gimple said. "But, it would be special if we did it."
Kirkman added, jokingly, "Look, if we can CGI a tiger, we can CGI some snow. Come on."
The Walking Dead returns October 23 at 9PM on AMC.