Spider-Man: Homecoming Footage Reveals The Vulture [Comic Con 2016]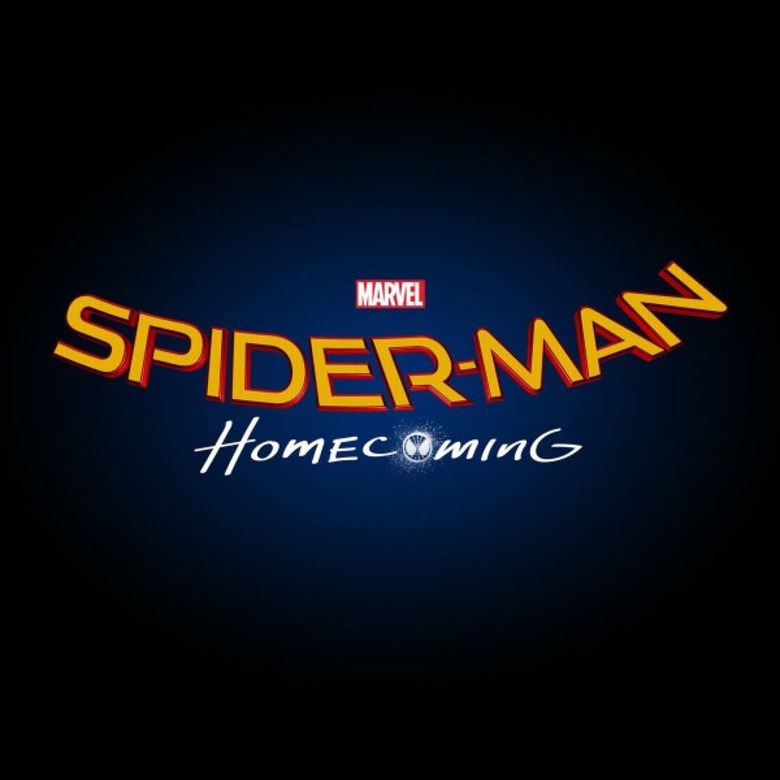 One of the biggest surprises to come out of Marvel Studios' Hall H presentation at San Diego Comic Con International 2016 was an appearance from Sony's Spider-Man. Produced by Marvel, Spider-Man: Homecoming is currently in production but director Jon Watts and crew showed up in San Diego to give fans a special treat.
Director Jon Watts describes the film as a "straight high school movie, it's about a 15 year old kid." He says that he often says "this is the ground level of the marvel universe," as opposed to Iron Man which is about a millionaire inventor or Guardians which is set outside this galaxy. Spider-Man: Homecoming is set on the lowest of levels, following a high school student dealing with high school problems in the 10th grade.
Spider-Man Homecoming has only been shooting for ten days now but they brought along some footage that was shot during the first two weeks. The footage won't likely be uploaded online son what follows is a description of the clip screened. The below concept art was also revealed following the panel.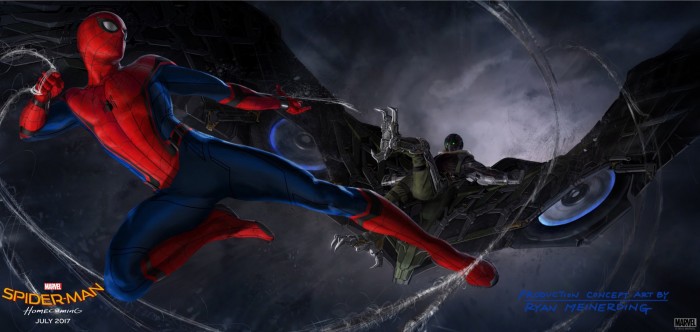 Spider-Man: Homecoming Comic Con Footage Description
The clip starts with the song "Bad Reputation" by Joan Jett. "Every story, every hero, has a beginning". We see high school yearbook photos of all the marvel characters , which appear to be real high school yearbook photos of the marvel stars. We zoom into one of the yearbook photos and cut to live action.
Peter Parker is walking down the hallway at Midtown High School. He looks up at a banner for the upcoming Homecoming dance which is being hung above some lockers.
Peter is now in science class not paying attention. Instead he is watching a video on YouTube, footage of Giant Man from the Civil War airport battle (not sure how anyone got that). The teacher notices that he's not paying attention.
Cut to "women's studies class." Peter talks with his nerdy friend about a bunch of cute girls on the other side of the classroom. A girl at the table next to them notices them and gives them a dirty look, tells them they're losers.
We see a montage of Peter Parker's day at high school, from 1pm web design class (where he's actually trying to secretly make his webbing) to his gym period where a group of girls plays the game "Fuck Marry Kill" with Marvel superheroes as Parker does pushups. The girls are infatuated by Spider-Man.
Later in the day, Peter tells one of his classmates that he has to go. She responds, "What are you hiding Peter?"
We see a quick cut montage of Peter jumping on top of a moving truck, now in his Spider-man suit climbing a wall and more. Cut back to Peter not being able to respond to the high school girl, who says she was just messing with him.
We end on the Spider-Man: Homecoming logo on high school notebook cover.
Oh, and a button to the Comic-Con sizzle reel shows a character who appears to be Vulture falling down from the sky towards the camera. That's right, Vulture is finally confirmed for Spider-Man Homecoming, although we still don't know if he will be played by Michael Keaton or another actor. But that's him in the concept art above.
Marvel head Kevin Feige has often likened Spider-Man: Homecoming to a John Hughes movie, and its easy to see why — this looks and feels like a John Hughes movie. I am so excited to see this film.
Spider-Man: Homecoming stars Tom Holland as Peter Parker aka Spider-Man. We first saw Holland in the role in Captain America: Civil War earlier this summer. Marisa Tomei also reprises her role as Aunt May, and Robert Downey Jr is rumored to appear in the film as Tony Stark aka Iron Man. Michael Keaton plays the film's villain, which has been rumored to be Vulture.  Martin Starr, Logan Marshall-Green, Angourie Rice, Zendaya, Donald Glover and Hannibal Buress also co-star.
Directed by Jon Watts (Cop Car) from a screenplay by John Francis Daley and Jonathan M. Goldstein (Horrible Bosses), Homecoming follows the story of a 15 years old Peter Parker. Spider-Man: Homecoming will hit theaters on July 7th 2017.