'Thor: Ragnarok' Footage: Hulk Vs Thor, Surtur The Demon & More [Comic-Con 2016]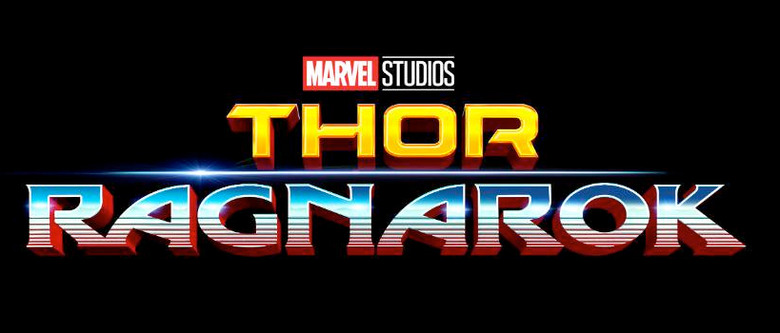 Marvel Studios closed out the Comic-Con shenanigans of Hall H with a bang as they always do. One of the many Marvel movies that were teased during the panel was Thor: Ragnarok, which is currently in production in Australia.
The film has only been shooting for a few weeks, but more often than not, Marvel likes to schedule their shoots so they'll have footage prepared to unveil for the Comic-Con audiences. It happened with Captain America: The First Avenger, Guardians of the Galaxy and now Thor: Ragnarok. We already got a tease of Hulk's gladiator armor that the big guy will wear in the movie, but what else was revealed here in San Diego?
Check out our recap of the Thor Ragnarok Comic-Con panel after the jump.
First up, Kevin Feige explained that they haven't been shooting Thor: Ragnarok for very long, so they didn't have any footage with completed effects or anything like that. However, they did want to show what Thor was up to while the rest of the Marvel heroes were involved in Captain America: Civil War.
Director Taika Waititi shot a documentary short that featured Thor living down in Australia with a guy named Daryl Jacobsen, in a small apartment. He's wearing board shorts, sitting around not doing much in a cheap apartment. Daryl has some difficulty vacuuming around Mjolnir sitting in the middle of the floor. We also get to see Thor volunteering at an elementary school, asking them to identify poor drawings of The Avengers. Thor is surprised that the kids know who "the purple weirdo" is in the line-up.
But easily the best part about this little short are the letters that Thor dictates for Daryl to send to Tony Stark and Steve Rogers. Thor writes to Tony, "How's it going? Remember that time you created the possessed robot that nearly destroyed Earth? That was funny." Then to Steve Rogers he writes, "Do you remember when I goaded you into killing those prisoners and you made me swear not to tell the other Avengers? I haven't told them yet."
Thor shows us his bedroom that tells Daryl to "keep out" in Asgardian. Inside his room we find Thor's costume hanging up near his window. And next to his bed is a tiny bed with Mjolnir all tucked in. Then on the wall there's a homemade, crafty chart trying to explain what Infinity Stones are. It looks like he's investigating a crime. Asks who the purple man in the chair is, notes he doesn't like to stand and has a magic glove. It's not all business though as there's also a drawing of Mjolnir wearing sunglasses and holding a Thor action figure.
Easily the best part though is when Thor hangs out with Bruce Banner (Mark Ruffalo), and he learns that Tony Stark has been contacting Banner really frequently, asking him to join his side in Civil War. But Stark doesn't feel the need to talk to Thor on the phone at all. Tony says he'll call Thor another time, but the God of Thunder reminds him he doesn't have a phone, so he should call a raven.
This was all a silly little short, but it was hilarious, and I hope you guys get to see it someday. But let's get to the juicy stuff.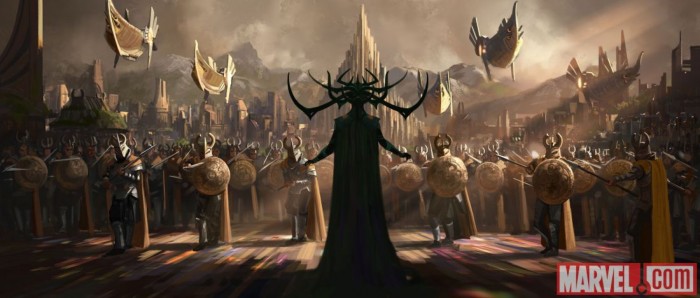 Thor: Ragnarok Footage Recap
It should be noted that all of the footage shown was unfinished or behind the scenes footage. There were lots of blue screens and unfinished effects. But most of the footage was actually storyboards and concept art.
Perhaps the most shocking shot in the footage was Chris Hemsworth with a really short haircut, war paint on his face, without his signature suit. There were other painted warriors and strange creatures that appeared to be part of the same scene. It's not clear if this is some kind of vision Thor has, but it's certainly a drastic change from how we're used to seeing Thor. There was also a shot of Loki with a bit of a different look but nothing quite as drastic as Thor's change.
Other concept art showed off the sets, but much of it flew by much to fast to latch onto any specific details. But it ended with a bang by showing an animatic on a computer screen with Hulk in his full gladiator armor that was revealed at the Marvel booth followed by a shot of Hulk and Thor jumping at each other, about to engage in a battle in an arena.
Other shots included an animatic of Cate Blanchett as Hera, basically a motion shot of the concept art that was already revealed. However, the final shot had those knowledgeable with the comics going crazy because it features Thor jumping through the air towards an absolutely giant fiery demon. That demon is none other than Surtur. In the comics, Surtur is a villain who has been previously been defeated by Odin, but gets freed by Loki along with other enemies of Asgard. They all descend upon the city and eventually bring about Ragnarok, which will result in the destruction of all the Norse gods.
That sounds like something that could easily make its way to the big screen in this sequel, but we'll have to wait for more specifics on the story as production continues and we get closer to the release in just over a year. We'd also like to point out that the new logo at the top looks very similar to the old logo for the Masters of the Universe cartoon and toy line. Perhaps that's the kind of fantasy action movie that Taika Waititi is going for with this sequel.
Directed by Taika Waititi (What We Do in the Shaodws, Hunt for the Wilderpeople), the cast of Thor: Ragnarok also includes the return of Idris Elba, Jaimie Alexander and Anthony Hopkins, plus new cast members Tessa Thompson, Karl Urban, Cate Blanchett and Jeff Goldblum.
Thor: Ragnarok arrives on July 28, 2017.