'Fantastic Beasts' Trailer Looks Like 'Harry Potter' Meets 'Pokémon' [Comic-Con 2016]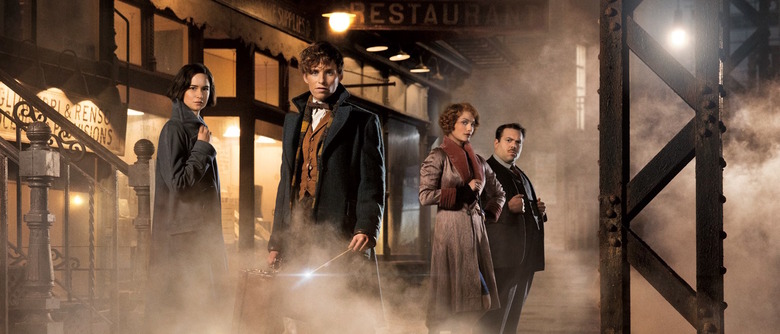 For a few minutes on Saturday, Comic-Con's Hall H was taken over by magic. In a sweet Comic-Con surprise, Fantastic Beasts and Where to Find Them star Eddie Redmayne handed out wands to the entire audience, and then led all 7,000 people in shouting "lumos maxima" to bring more light into the room.
But that wasn't the most exciting thing to come out of the panel. That would be the new Fantastic Beasts and Where to Find Them trailer, which you can see below.
Fantastic Beasts and Where to Find Them Trailer
Maybe it's just because we've all been playing Pokémon Go, but there's something of that classic game in this trailer, as the characters run around trying to wrangle all sorts of strange magical creatures. But what really makes Fantastic Beasts unique in the Harry Potter canon might be the No-Maj (i.e., Muggle) angle.
"Magical beasts are terrorizing No-Majs, and when No-Majs are afraid, they attack," says a concerned voice in the trailer, and indeed we see a line of policemen pointing guns as Newt tries to reassure them, "Don't panic, there's nothing to worry about." To be sure, though, they've got good reason to be afraid: they're facing a giant creature coming their way down a city alleyway.
Meanwhile, Newt points out those magical creatures have every reason to be scared, too. "They're on alien terrain, surrounded by the most vicious creatures on the planet — humans," he explains.
During the panel, Ezra Miller (returning to the Hall H stage just minutes after he stepped up for the Justice League panel) gushed about the opportunity to step into J.K. Rowling's wizarding world. "It's like getting your Hogwarts sweater way late in the game, but you're still getting it," he said.
Fantastic Beasts and Where to Find Them also features the first major character in the Harry Potter universe who doesn't have magical powers — Jacob, played by Dan Fogler. But Fogler didn't seem to mind being the "No-Maj" among wizards. "You know, Han Solo wasn't a Jedi," he pointed out.
Directed by David Yates and scripted by J.K. Rowling, Fantastic Beasts and Where to Find Them opens November 18, 2016. Eddie Redmayne, Katherine Waterston, Dan Fogler, Alison Sudol, and Colin Farrell star.
'Fantastic Beasts and Where to Find Them' opens in 1926 as Newt Scamander has just completed a global excursion to find and document an extraordinary array of magical creatures. Arriving in New York for a brief stopover, he might have come and gone without incident... were it not for a No-Maj (American for Muggle) named Jacob, a misplaced magical case, and the escape of some of Newt's fantastic beasts, which could spell trouble for both the wizarding and No-Maj worlds.