'Kong: Skull Island' Teaser Trailer: The Biggest King Kong We've Ever Seen [Comic-Con 2016]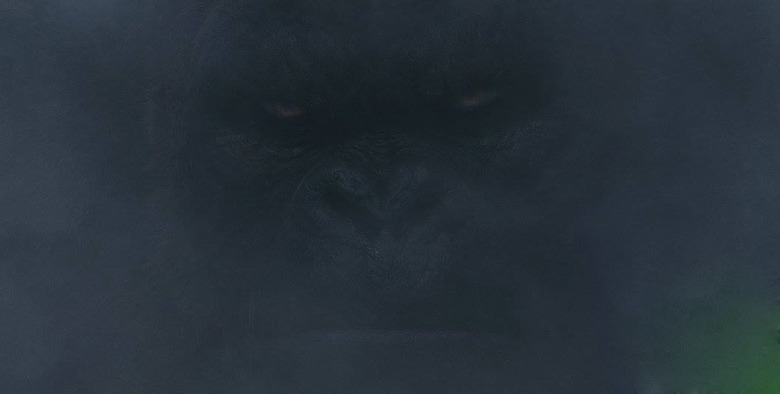 The development of Kong Skull Island has been a staple of Comic-Con for a couple years now. The project was first announced as a surprise back in 2014, and now the film is coming to theaters next spring. Now here we are, two years later, and Warner Bros. Pictures and Legendary Pictures have unveiled the official teaser trailer, showing off the new version of the giant ape in all his glory.
Watch the Kong Skull Island trailer after the jump.
This definitely has the same vibe as Warner Bros. and Legendary's Godzilla. The teaser itself even goes with the less is more approach by only showing some snippets of Kong himself. We get to see just how big he is and also how threatening since he throws a palm tree through a helicopter.
There's an interesting vibe here that feels like Apocalypse Now and Predator. There's also in an indication that maybe there are other monsters out there which we don't know about, which could lead to future movies, which makes sense since Godzilla will at least meet King Kong in 2020.
As previously indicated, this version of Kong will be the largest that the big screen has ever seen. Director Jordan Vogt-Roberts went on the record to say, "This is going to be the biggest Kong there's ever been. Not 10 foot or 30 foot, but a 100-foot ape." Kong was already intimidating in his previous sizes, so I can't imagine how difficult it will be to deal with the beast when he's 100 feet tall.
The cast is led by Tom Hiddleston, Brie Larson, Corey Hawkins, and Jason Mitchell with Samuel L. Jackson, John Goodman, Thomas Mann, Shea Whigham, Eugene Cordero, Tian Jing, and more rounding out the cast. You can see them on the set in the previously released featurette from earlier this year.
This is the first film Jordan Vogt-Roberts has tackled since arriving on the scene with his indie coming of age comedy The Kings of Summer. It will be the second in the new wave of monster movies from Warner Bros. and Legendary Pictures as the studios have previously released the new Godzilla, which will be followed by Godzilla 2 in 2018 and finally the two monsters colliding in Godzilla vs King Kong in 2020.
Kong: Skull Island hits theaters on March 10, 2017.
Warner Bros. Pictures and Legendary Pictures' "Kong: Skull Island" reimagines the origin of the mythic Kong in a compelling, original adventure from director Jordan Vogt-Roberts ("The Kings of Summer").
In the film, a diverse team of explorers is brought together to venture deep into an uncharted island in the Pacific – as beautiful as it is treacherous – unaware that they're crossing into the domain of the mythic Kong.
"Kong: Skull Island" stars Tom Hiddleston ("The Avengers," "Thor: The Dark World"), Samuel L. Jackson ("The Hateful Eight," "Avengers: Age of Ultron"), Oscar winner Brie Larson ("Room," "Trainwreck"), John Goodman ("Transformers: Age of Extinction," "Argo") and John C. Reilly ("Guardians of the Galaxy," "Step Brothers").  The international ensemble cast also includes Tian Jing ("Police Story: Lockdown"), Corey Hawkins ("Straight Outta Compton"), Jason Mitchell ("Straight Outta Compton"), John Ortiz ("Steve Jobs"), Thomas Mann ("Beautiful Creatures"), Shea Whigham ("The Wolf of Wall Street"), Toby Kebbell ("Dawn of the Planet of the Apes") and Eugene Cordero ("The Kings of Summer").
Vogt-Roberts is directing the film from a screenplay by Max Borenstein, John Gatins, Dan Gilroy and Derek Connolly.  "Kong: Skull Island" is produced by Legendary's Thomas Tull and Jon Jashni with Mary Parent.  The executive producers are Eric McLeod and Alex Garcia.
The creative behind-the-scenes team includes director of photography Larry Fong ("Batman v Superman: Dawn of Justice"), production designer Stefan Dechant (supervising art director "True Grit," "Avatar"), editor Christian Wagner (the "Fast & Furious" films), and costume designer Mary Vogt (the "Men in Black" films).  The team also includes Oscar-winning makeup supervisor Bill Corso ("Lemony Snicket's A Series of Unfortunate Events," "Star Wars: The Force Awakens") and supervising stunt coordinator George Cottle ("Interstellar," "The Dark Knight Rises").  The legendary Kong is being brought to life at a whole new scale by Industrial Light & Magic, with two-time Oscar winner Stephen Rosenbaum ("Avatar," "Forrest Gump") serving as visual effects supervisor.
To fully immerse audiences in the mysterious Skull Island, director Jordan Vogt-Roberts and his cast and filmmaking team are filming across three continents over six months, capturing its primordial landscapes on Oahu, Hawaii – where filming commenced on October 2015 – on Australia's Gold Coast, and finally in Vietnam, where filming will take place across multiple locations, some of which have never before been seen on film.
Warner Bros. Pictures and Legendary Pictures Present a Legendary Pictures Production, "Kong: Skull Island."  The film will be released worldwide in 2D, 3D in select theatres, and IMAX beginning March 10, 2017, from Warner Bros. Pictures, a Warner Bros. Entertainment Company.