Alan Tudyk's 'Con Man' Panel Recap: Nathan Fillion Runs A Tight Ship [Comic-Con 2016]

The layers of meta are thick with Con Man. Alan Tudyk created and stars in the series about an actor famous for starring in a brilliant-but-cancelled sci-fi classic, with Nathan Fillion playing his good friend and former co-star. The show follows said actor as he tours geeky conventions — you know, not unlike the one Tudyk and Fillion stopped by this year to tease season 2 of Con Man.
It should come as no surprise that former Firefly stars Tudyk and Fillion got the warmest of receptions in Hall H at this year's Comic-Con, where they offered audiences a glimpse of not just Con Man season 2 but Con Man: The Game and the Spectrum comic book series (inspired by the show-within-a-show that Fillion and Tudyk's characters used to star in). Below, read our Con Man Comic-Con panel recap. 
Fillion told the Hall H crowd that while he'd been to Comic-Con before, the Con Man panel was his first time moderating. But he had no trouble winning over the audience, and as he frequently reminded us, he ran a very tight ship. ("A tight sinking ship," a panelist joked at one point.) Also present for the panel were Tudyk, executive producer PJ Haarsma, and actors Alison Haislip, Casper Van Dien, Lou Ferrigno, Nolan North, Liam McIntyre, Felicia Day, and Mindy Sterling.
Hall H was a success! @AlanTudyk @NathanFillion @nolan_north @Liam_J_McIntyre @feliciaday @ConManSeries pic.twitter.com/EZn5jgHUcV

— PJ Haarsma (@PJhaarsma) July 22, 2016
Con-Man Season 2 Trailer Recap
Even if you've never seen a single episode of Con Man, the season 2 trailer offered a pretty good idea of the show's humor and tone. It opens with Wray (Tudyk) suiting up in an astronaut costume as the 2001: A Space Odyssey theme plays and a dramatic voiceover explains, "He's changing his stars this season on Con Man. He is in charge, the master of his own fate..." only for Wray to stumble and drop his helmet. "I'm losing faith," sighs the narrator. "This is going to be a trainwreck, but it could be fun to watch."
We learn that Jack (Fillion), Wray's more successful co-star, might not be so successful anymore. Desperate to get his career back on track, Jack decides to mount a Spectrum movie sequel, much to Wray's dismay. Wray, meanwhile, signs up for an exciting project with Lou Ferrigno... that turns out to be a stage adaptation of John Steinbeck's Of Mice and Men. More specifically, a musical stage adaptation of Of Mice and Men. Called I'm With Stupid. Yeah.
The trailer also introduces Liam McIntyre's character Girth Hemsworth, "the lost Hemsworth." And we see the Spectrum guys hit Shocker Con, where they see Stan Lee walking by with a cardboard cutout. "I've got a couple cameos to do," he says.
Con Man Comic-Con Panel Recap
Below, a few things we learned from the Con Man Comic-Con panel.
Not surprisingly, much of Con Man is based on Tudyk's own real-life experiences on the convention circuit. Like the amazing Lou Ferrigno plot, which came from Tudyk and Ferrigno crossing paths at conventions and saying they should do a project together.
Oh, and speaking of that Lou Ferrigno plot: the Con Man team wrote and performed "four or five" songs for the musical. Ferrigno, who had never sung before, asked if he had to sing, but the show actually dubbed in an opera singer for Ferrigno's numbers.
Girth Hemsworth is part of a running thread about how, as Tudyk put it, "Australians are taking all the jobs because they're just more American." And yes, the last name is a conscious reference to the real-life Hemsworth brothers, Chris, Liam, and Luke.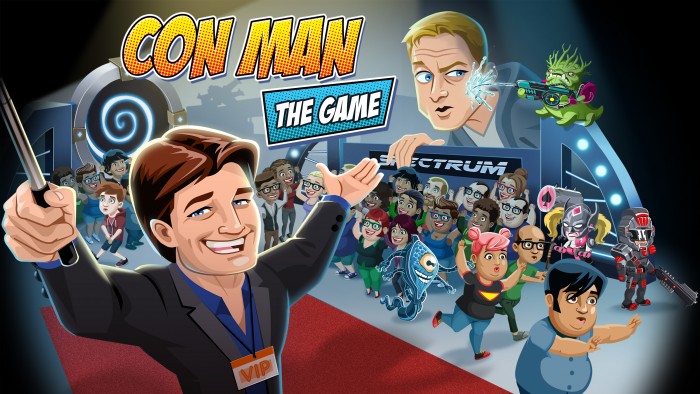 Con Man: The Game
Revealed at the Con Man Comic-Con panel was Con Man: The Game, which is exactly what it sounds like. The game will be available starting August 24. Here's a description:
Have you ever tried to run your own comic book convention? We'll, it's not easy. There are toilets to clean, garbage cans to empty and naked grannies running loose who need to be covered up. Join Alan Tudyk, Nathan Fillion and friends as they help you reach for the greatest con ever: Shock-A-Con! But watch out for the aliens of cancelled-to-soon sci-fi show, Spectrum as they try and destroy what you've built.
Based on their hit show, Con Man – now airing on Comic Con HQ, the game brings together the cast of season 1 while you take on the role of Convention Manager. Good luck!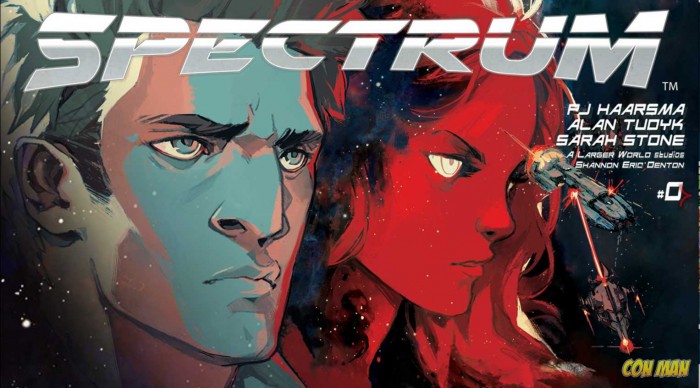 Spectrum Motion Comic
Also coming up for Con Man fans is the Spectrum motion comic, based on the show that Wray and Jack used to star in. You can see a little preview image above.
***
Con Man centers on the post-show life of Wray Nerely (Alan Tudyk) the co-star of "Spectrum," a sci-fi series, which was canceled before its time and went on to become a cult classic beloved by fans. Wray's good friend, Jack Moore (Nathan Fillion) starred as the series Captain and has gone on to become a major celebrity, while Wray (Tudyk) hasn't found his desired level of stardom. Wray is the begrudging guest of sci-fi conventions, comic book store appearances, and different pop culture events; however, everything is not as it seems from the outside. The series will explore these events and all the weird and crazy things that happen to them along the way.