'American Gods' Trailer: The Old Gods And The New Prepare For War [Comic-Con 2016]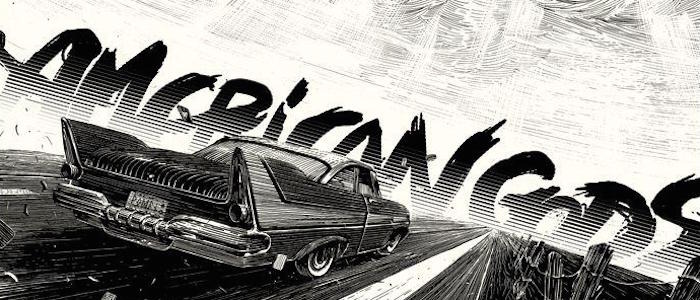 This year, something doesn't feel quite right with Comic-Con. That's true for a variety of reasons, but it's mainly because Hannibal is no longer making appearances. A room packed with the enthusiasm of a large pack of Fannibals was always a treat. Hannibal may be off the air and out of Comic-Con, but that's not stopping Bryan Fuller from attending. Yesterday, he brought with him his new show, American Gods (co-created by Michael Green).
Below, watch the American Gods trailer.
American Gods is an adaptation of executive producer Neil Gaiman's novel about a brewing war between the old gods and the new. Shadow Moon (Rick Whittle) is an ex-convict protecting one of those gods, Mr. Wednesday (Ian McShane), who's disguised as a con man. On their cross-country road trip, the god amasses forces for the war to come.
Check out Shadow, Mr. Wednesday, Laura Moon (Emily Browning), Media (Gillian Anderson), and the rest of Gaiman's characters in the first American Gods trailer:
American Gods looks gorgeous, which isn't surprising in the least considering how visually lush Hannibal and Pushing Daisies are. While Fuller's shows' visuals are often appealing to the eye, their dialogue is also music to the ears. He typically follows endlessly listenable characters. They generally have a way with language, and that seems to be the case with American Gods as well. Maybe that's partly because Ian McShane is capable of bringing a musical quality to even the most mundane dialogue.American Gods is also a bit of reunion for Bryan Fuller. David Slade (Hannibal) is an executive producer on the project and directed the pilot, and it was announced today that Pushing Daisie's Kristin Chenoweth had joined the cast. Chenoweth is playing the goddess Easter. When Shadow hits a low point, Easter is there to lend him a hand. Here's the actress with the almighty Ian McShane:
WORSHIPPING THE GODS @KChenoweth #IanMcShane @AmericanGodsSTZ @neilhimself @andmichaelgreen pic.twitter.com/yWBhNwXVNH

— Bryan Fuller (@BryanFuller) July 23, 2016
Here's the official synopsis for American Gods:
American Gods been translated into over 30 languages and earned numerous accolades including Hugo, Nebula and Bram Stoker Awards for Best Novel. The plot posits a war brewing between old and new gods: the traditional gods of mythological roots from around the world steadily losing believers to an upstart pantheon of gods reflecting society's modern love of money, technology, media, celebrity and drugs. Its protagonist, Shadow Moon, is an ex-con who becomes bodyguard and traveling partner to Mr. Wednesday, a conman but in reality one of the older gods, on a cross-country mission to gather his forces in preparation to battle the new deities.
American Gods debuts on Starz in 2017.