'Fear The Walking Dead' Trailer: Who Will Outlast Death? [Comic-Con 2016]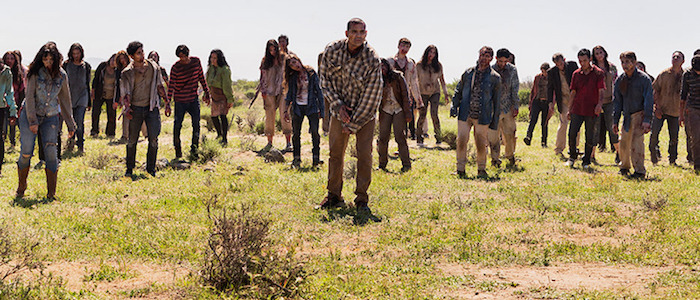 The upcoming midseason premiere of AMC's Fear the Walking Dead gives its characters a change of scenery. Following the previous six episodes from season two, the story now takes place in Mexico. The move from California to Mexico "was the right move for the story, and hopefully, that'll continue," writer and producer Dave Erickson told a packed Hall H.
Below, you can watch the Fear the Walking Dead trailer and read what else Erickson and the cast had to say at Comic-Con.
The last we saw of Madison (Kim Dickens), Alicia (Alycia Debnam-Carey), and Ofelia (Mercedes Mason) they were invited onto Victor Strand's (Colman Domingo) boat, Alicia, which was an invitation Travis (Cliff Curtis) denied. To catch a glimpse of how that boating trip is going, watch the Fear the Walking Dead trailer:
Here are a few things we learned from the Fear the Walking Dead panel:
"For the first time, we'll have to see the characters survive the apocalypse in a new way," Erickson said, and you can see some of those new ways in the trailer above. "I think they understand there's no turning back. They have to survive. I think we're going to see a little intensity that you hadn't seen before." The shows' writers are also having more fun with the characters' fight for survival, like showing a boat's propeller tear apart the dead. Erickson said there's a lot of great "animatronic stuff" coming up.
The people of Mexico have a slightly different way of dealing with the dead. The newest cast member, Danay Garcia, said "the rules and Mexican culture of dealing with the dead," including the "three kinds of death for Mexican culture," will play a role in the show.
In this new setting, executive producer David Alpert said the characters are now "battle-hardened warriors" that are "shedding their skin" and evolving.
Mercedes Mason hinted Ofelia and Nick will see each other again. On what to expect from Ofelia in the rest of season two, Mason explained: "When you have nothing to lose, you have nothing to lose, so you can make some crazy, fatalistic decisions."
Alicia (Alycia Debnam-Carey) is seeking a fresh start. As for the rest of the characters, they're still having difficulty adjusting to the new world. Kim Dickens added she's hoping to see Madison finally accept things for the way they are and to see more of her past.
Fear the Walking Dead returns to AMC on August 21st.