UPDATED: Ghost Rider Is Coming To 'Agents Of SHIELD' And The Actor Playing Him Has Been Revealed [Comic-Con 2016]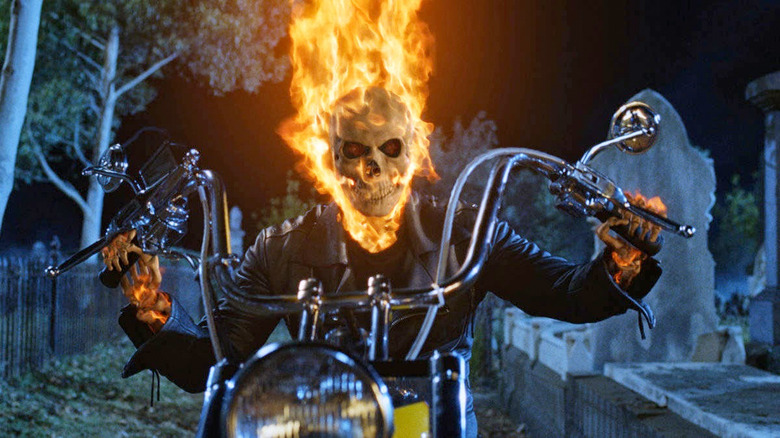 If you've found yourself disinterested in Agents of SHIELD for one reason or another, Marvel Studios may have a good reason for you to start tuning in. At the Comic-Con 2016 panel for the ABC television series, it was revealed that Ghost Rider will be coming to the show. However, it may not be the version of Ghost Rider that most audiences are familiar with, and he may not even have a fiery motorcycle to ride.
Find out about the Ghost Rider Agents of SHIELD news after the jump, including an update on who's playing the new Ghost Rider after the jump.
Fans started connecting the dots earlier today when Marvel's Ryan Penagos posted this shrouded vehicle that was waiting to be unveiled at the Marvel booth following the Agents of SHIELD panel this afternoon:
HMMM. what is this mysterious new object taking up a huge section of the #MarvelSDCC booth?! #seeeekrits pic.twitter.com/iFkSiDz7SE

— Ryan Penagos (@AgentM) July 22, 2016
Then Marvel made the big announcement at the end of the Agents of SHIELD panel:
This fall, Ghost Rider will ignite on Marvel's #AgentsofSHIELD. ⛓🔥 pic.twitter.com/GvwchWJ9uE

— Marvel's Agents of S.H.I.E.L.D. (@AgentsofSHIELD) July 22, 2016
Plus, this was also posted online after playing at the end of the Agents of SHIELD panel:
Here's the unveiling of the Ghost Rider car from later on Friday:
Just revealed at the #MarvelSDCC booth: Ghost Rider's wheels, coming this fall to #AgentsOfSHIELD! 🔥 pic.twitter.com/O2GkKirq1a

— Marvel Entertainment (@Marvel) July 22, 2016
So why does Ghost Rider have a car instead of a motorcycle? Well, that's because this isn't the Johnny Blaze version of Ghost Rider (who was brought to the big screen by Nicholas Cage in the two-film franchise) or even Daniel Ketch, another bike-riding version of the fiery bonehead. Instead, this version of Ghost Rider appears to be the character named Robbie Reyes, who cruises around in a vehicle known as the Hell-Charger, which is a 1969 Dodge Charger imbued with hellfire.
The new vehicle came about because Robbie Reyes was gunned down by Dr. Zabo and his hit squad, dying in an explosion of a nearby car. But in this explosion, the spirit of Eli Morrow gives him new life and his fiery new powers. So it only makes sense that he would get a flaming new car to cruise around in.
There were rumblings that Ghost Rider might be coming to Agents of SHIELD awhile back when a casting call was put out for a pair of Latino brothers. One was described as "the most dangerous person in the room" while the other was "paralyzed in a wheelchair." And that description fits that of Robbie and Gabe Reyes from the more recent 2014 incarnation of Ghost Rider from Marvel NOW!
Here's an image of that more recent take on Ghost Rider from the comics: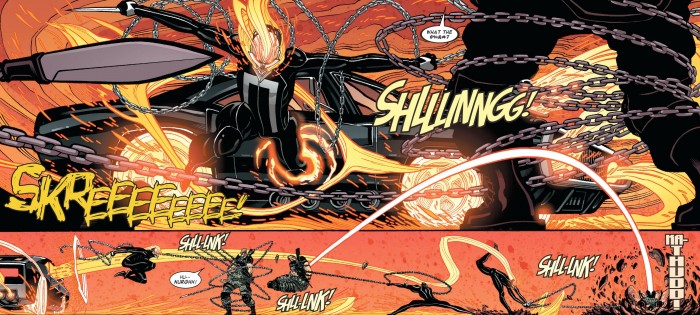 For those of you worried that this iteration of Ghost Rider won't be able to live up to the edgy and wild style of the comic, Agents of SHIELD is getting a later timeslot at 10pm ET/PT when it returns this fall. That should allow the show to be a bit edgier, though maybe not going for a full TV MA style on network television.
As someone whose interest in Agents of SHIELD has waned again after a solid second season, this just might be enough for me to catch up and tune in for the next season. Perhaps this could turn into a backdoor pilot for Ghost Rider to get his own series. We'll find out.
UPDATE: Entertainment Weekly has learned that Gabriel Luna will be playing Ghost Rider on Agents of SHIELD this fall. Here's in image of Luna from a film called Matador: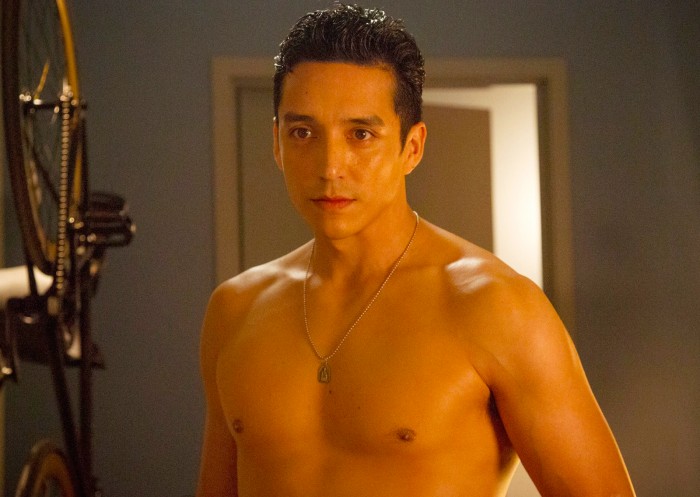 As soon as we get a first look a Luna suited up as Robbie Reyes, we'll be sure to let you know.