New Posters For 'Kong: Skull Island', 'The LEGO Batman Movie' And 'Fantastic Beasts' Arrive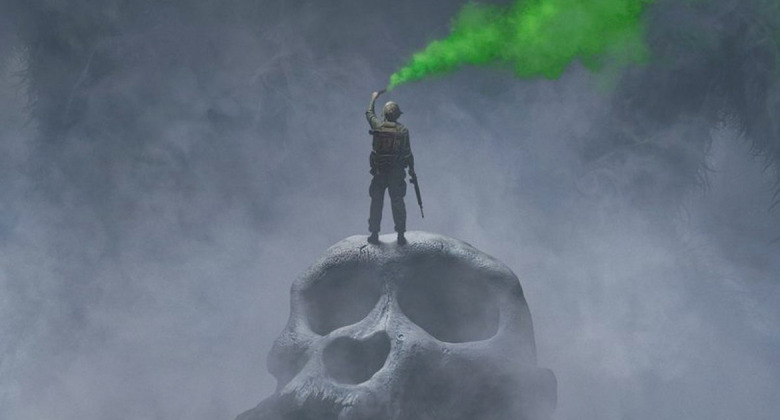 UPDATE: Warner Bros. has also released the first poster for Guy Ritchie's King Arthur: Legend of the Sword, which we have added to the post below.
UPDATE 2: We have now added the new poster for Kong: Skull Island the poster line-up.
The Warner Bros. Comic-Con 2016 panel isn't set to begin until tomorrow, but that hasn't stopped them from getting things started a little early. The studio has revealed new posters for two of the more promising films on their schedule: The LEGO Batman Movie, which spins Will Arnett's hilarious take on the Dark Knight from The LEGO Movie into his own solo adventure, and Fantastic Beasts and Where to Find Them, which examines J.K. Rowling's wizarding world across the Atlantic and nearly a century in the past.
First up is the new one-sheet for The LEGO Batman Movie, which finds Gotham's angry, lonely, oh-so-very-dark protector suiting up in front of a yellow LEGO background. It's very much a teaser poster, a way of saying "Hey, remember how much you enjoyed Batman in The LEGO Movie? He's back!" and it gets the job done. This poster arrives on the heels of new images from the film, which gave us our first look at Robin (played by Michael Cera, who previously worked with Arnett on Arrested Development) and the Joker (played by Zack Galifiankis). Tomorrow's panel will almost certainly debut new footage and reveal new details, so keep your eyes open. Our team on the ground will bring you the relevant information.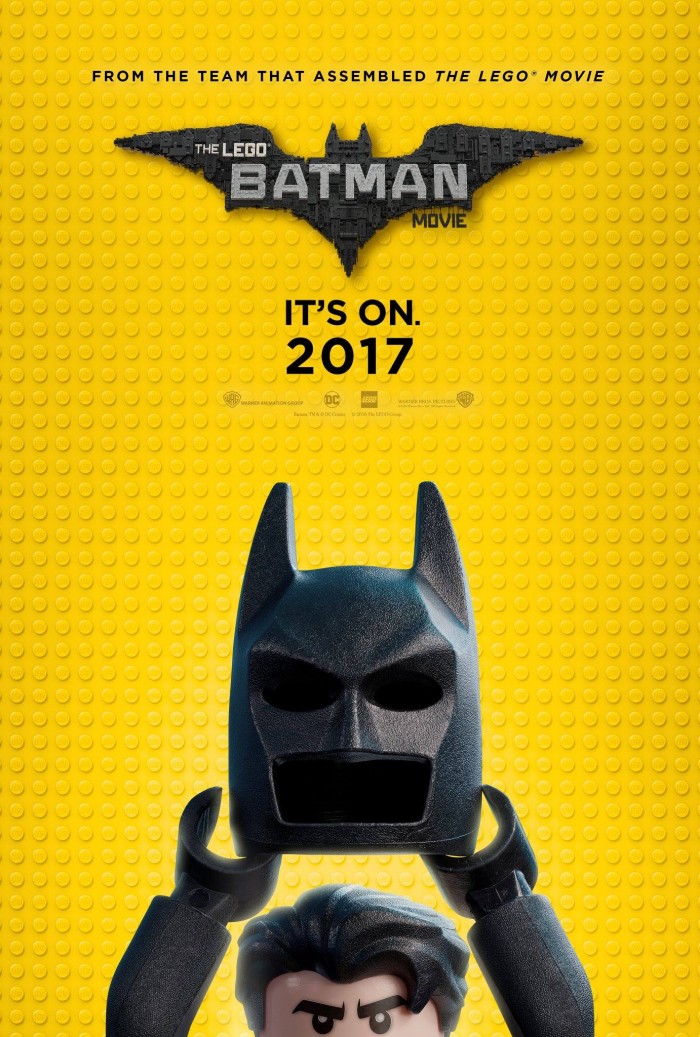 The new poster for Fantastic Beasts and Where to Find Them is a more stylish affair, taking advantage of the film's 1920s setting to render the whole thing in a very cool art deco look. Eddie Redmayne's magizoologist (otherwise known as an expert in magical creatures and monsters) takes center stage, armed with a lit wand (Lumos!) and his enchanted briefcase, which houses an entire menagerie of beasts. The film's supporting cast, which includes Katherine Waterston and Colin Farrell, occupy the margins. However, the coolest detail is the seal for Magical Congresss of the United States of America, the American equivalent of England's Ministry of Magic. We know from the trailers that Newt will get on their bad side when he accidentally unleashes a monster or two upon New York City. As with The LEGO Batman Movie, we can expect to know at lot more about this movie when the sun sets tomorrow.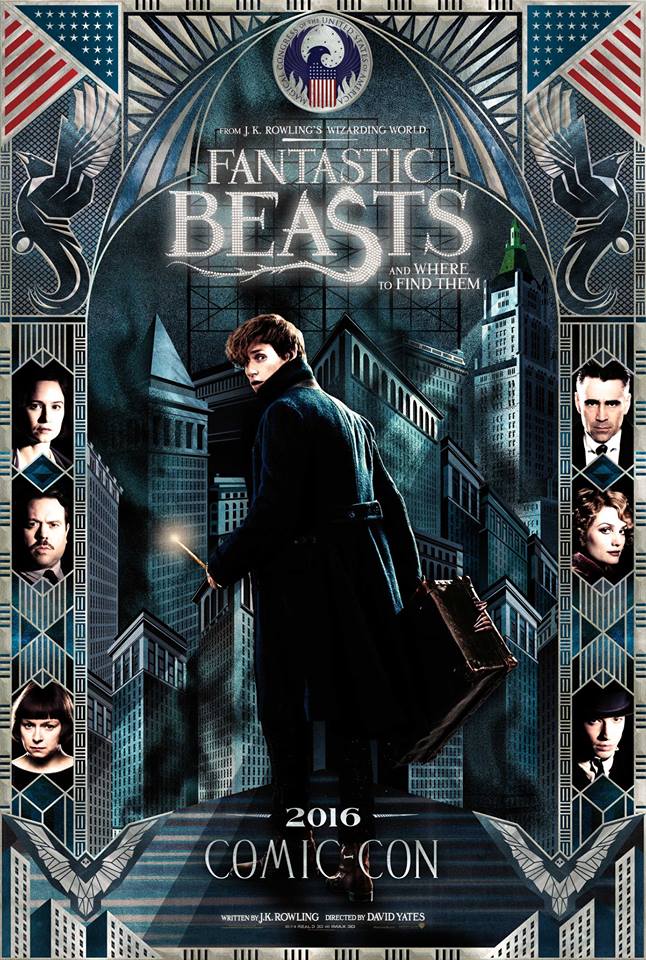 While I'm primed and ready for The LEGO Batman Movie and Fantastic Beasts and Where to Find Them, I have no idea what to make of the upcoming King Arthur: Legend of the Sword, which is intended to be the first in a series of Knights of the Round Table movies. The first poster is certainly in line with what we've heard so far: it's very gray and very serious.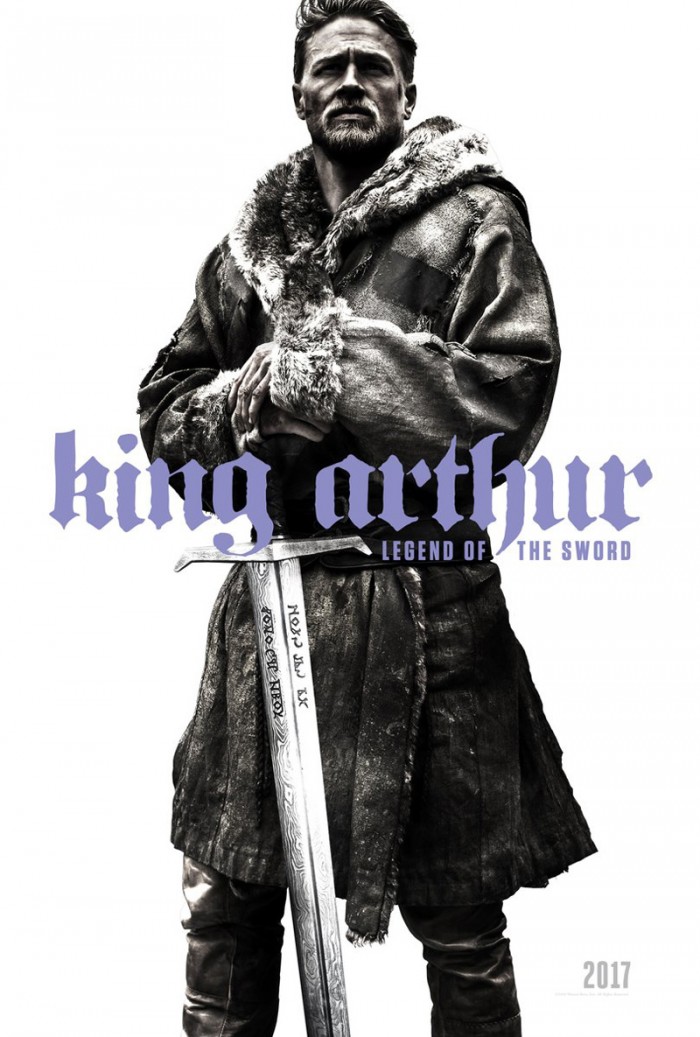 The first poster for director Jordan Vogt-Roberts' Kong: Skull Island offers our first look at the big ape himself and the emphasis there should be on big. We knew that this film would feature the biggest version of King Kong ever put on film and while he's shrouded in fog, it's clear that this new version towers over every previous incarnation.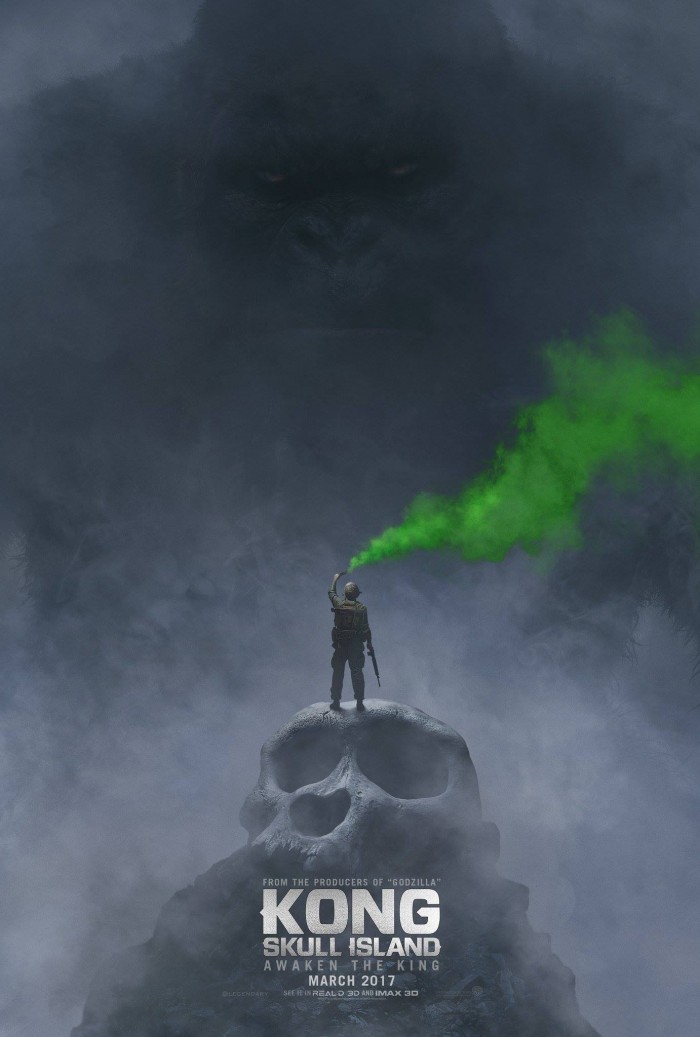 Fantastic Beasts and Where to Find Them, which is directed by Harry Potter veteran David Yates and written by J.K. Rowling herself, is set to arrive on November 18, 2016. The LEGO Batman Movie, which is being helmed by The LEGO Movie co-director and editor Chris McKay, will open on February 10, 2017. King Arthur: Legend of the Sword is set for March 24, 2017 and Kong: Skull Island for March 10, 2017.